Back to selection
Anatahan, Woman of the Year, Baby Boom and La La Land: Jim Hemphill's Home Video Recommendations of the Week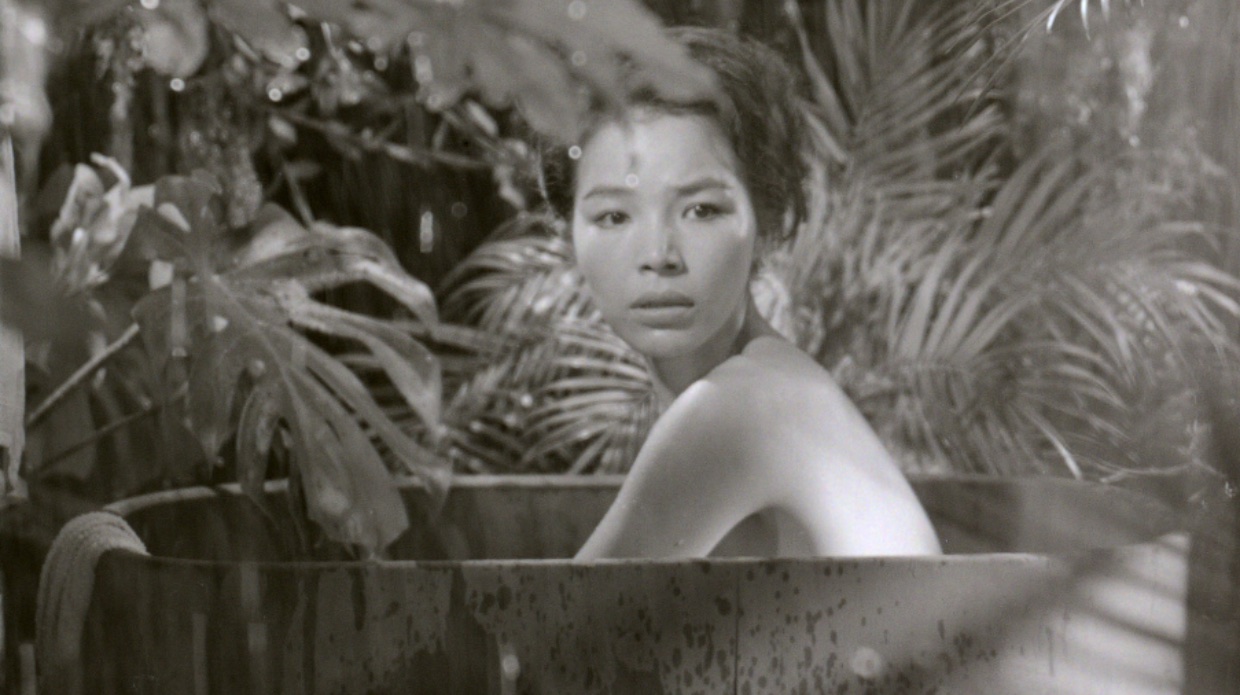 Anatahan
Director Josef von Sternberg's last film, Anatahan (1953), represents one of those rare cases where a director got to go out on the absolute perfect note: it sums up many of his philosophical and aesthetic preoccupations while also starkly departing from the kinds of lavish Hollywood productions that made him famous. Loosely based on a true story, it follows ten Japanese soldiers who are stranded on an island during World War II and remain there for years, reduced to their primal instincts by their surroundings as well as the lone woman they discover inhabiting the island. Von Sternberg shot the movie in Japan, though there's no real reason he needed to — everything was built on a stage constructed for the production, and the director reportedly complained about the one thing (the water) he couldn't fake. Shot with a Japanese cast speaking intentionally non-subtitled dialogue, the black-and-white movie contains von Sternberg's usual attention to delicate nuances of light and contrast but takes it to an even further level of abstraction than usual, at the same time feeling more realistic than it should thanks to absence of stars like Marlene Dietrich and Rita Hayworth. Von Sternberg never intended Anatahan to be his final movie, but it does bring him full circle as an independent filmmaker; his 1925 debut, The Salvation Hunters, was made outside the system with his own money, and Anatahan was partly financed via the sale of von Sternberg's art collection. Von Sternberg exerted total control over the production, down to hand painting the props and sets himself to achieve the lighting effects to which he aspired, and the movie represents the director's purest expression of one of his favorite themes: the way in which we are all made fools by desire. There's a rigorous simplicity and elegance to von Sternberg's almost entirely artificial approach, and the fact that the exposition is delivered entirely via voiceover narration (read by von Sternberg himself) adds to the sense of odd unreality that permeates the whole film. The style begins as distancing, but it grows on the viewer until von Sternberg comes out the other side, achieving a primal, direct link to the audience's emotions by stripping out so many of the elements that most narrative movies take for granted. Until Kino Lorber's recent restoration Anatahan was difficult to see in an appropriate presentation, but the new Blu-ray release is exquisite, and includes two outstanding supplements: a visual essay by Tag Gallagher and an interview with von Sternberg's son Nicholas, an accomplished Cinematographer in his own right (Texasville).
Another classic film by a great director of the classical studio system arrives this week from Criterion in the form of their deluxe edition of George Stevens's Woman of the Year (1942). Today Stevens is probably best known for his more serious prestige pictures (A Place in the Sun, Shane, Giant, The Diary of Anne Frank), but before he left America to serve in World War II — an experience that would darken his world view considerably — he was one of Hollywood's best purveyors of escapist entertainment. He started his career as a cameraman on Laurel and Hardy comedies before going on to direct the best Fred Astaire-Ginger Rogers vehicle, Swing Time, the rousing adventure film Gunga Din, and crowd-pleasing romantic comedies like Vivacious Lady. Woman of the Year is a bit of a transitional film; it's a comedy, but it's a comedy of serious moral intent and sometimes painfully affecting schisms between its lead characters, a pair of opinionated newspaper columnists played by Katharine Hepburn and Spencer Tracy who fall in love and get married only to discover almost immediately that marriage is incompatible with who they truly are. The first of Hepburn and Tracy's romantic comedies, it's also the weightiest, deftly weaving contemporary political matters into its narrative and in the process becoming the first of Stevens' great essays on the American character. The Oscar-winning script by Ring Lardner, Jr. and Michael Kanin is beautifully served by Stevens' moody visuals — he eschews the MGM house style (glamorous stars, brightly lit), in favor of something closer to film noir; one of the most tender, emotionally complex scenes in the movie is played between the two characters in near darkness, an approach that creates an exquisite sense of intimacy and fragility. The whole film is a master class in how to express feelings between two people with light, framing, and cutting, and Criterion's new Blu-ray is loaded with supplementary material that helps one fully appreciate Stevens' mastery — it's one of the best home video releases so far this year.
Meanwhile, Twilight Time has released an exemplary new limited edition Blu-ray of a 1980s film squarely in the early Stevens tradition. Baby Boom (1987) is, like Woman of the Year, an examination of the difficulties inherent in reconciling a demanding career with a satisfactory domestic life. Diane Keaton (whose performance here evokes, according to Pauline Kael at the time of the film's release, that of Jean Arthur in Stevens's The More the Merrier) plays a yuppie workaholic whose life is upended when a distant cousin dies and she's forced to care for the cousin's orphaned child. Nancy Meyers and Charles Shyer, who were at the time a very successful professional married writing, producing, and directing team (shades of the struggles in Woman of the Year again, this time in real life), split their narrative into two equally compelling halves, following Keaton's inept attempts at parenting in New York with a rural section in which she tries to start anew in rural Vermont. At the time, some critics groused that the movie was too neat and tidy, but that's part of the tradition it's operating within — and, in any case, Meyers and Shyer follow Stevens's lead in subtly hinting at the discord lurking around the edges of the lead character's triumphs. Once Meyers split off from Shyer she dug into the question of women "having it all" more ferociously in films like Something's Gotta Give, It's Complicated, and the extraordinary (and criminally underrated) The Intern; Baby Boom, like the equally fine Irreconcilable Differences, represents a fruitful early example of Meyers working out her obsessions. It's also beautifully crafted from a visual point of view, with cinematography by ace D.P. William Fraker that is lovingly preserved on Twilight Time's new disc; a lively commentary track by Twilight Time's house historians, Julie Kirgo and Nick Redman, makes the package all the sweeter.
My final video recommendation of the week is the extras-packed Blu-ray of one of the most popular and acclaimed — and in some circles derided — movies of last year, Damien Chazelle's La La Land. For my money, Chazelle's masterpiece is that rare movie that not only lives up to but exceeds expectations raised by months of hype, a film burdened by massive expectations and advance notice that shrugs the weight off with the same casual grace embodied by its singing and dancing protagonists. It's a kind of miracle movie: meticulously designed down to the frame yet teeming with life and spontaneity; profoundly philosophical and contemplative yet fast-paced and breezily entertaining; a film with loss and failure embedded in its DNA that leaves the viewer energized, inspired and elevated; a classically crafted jewel that's informed by the cinema of the past without being beholden to it. Chazelle hits the sweet spot between high art and accessibility and between tradition and modernism achieved only by masters like Welles and Scorsese (whose New York, New York stands alongside La La Land as one of the American cinema's great films about the difficulties creative types have sustaining romance — are you sensing a theme this week?), striking a perfectly calibrated balance between the personal and the archetypal. The result is a movie that works the way films as disparate as the best of Cassavetes or Ozu's Tokyo Story or Mean Streets do — whether or not you've had experiences like the characters, by the end of the story you feel like you have, and if you actually have lived out the film's exquisite triumphs and crushing defeats Chazelle's achievement feels all the more impressive in its combination of epic sweep and delicacy. By the end of La La Land I felt the way I feel after any truly great movie (and I mean all-time great, not just "Best of the Year" great): like it was made just for me and no one else. That's why I can brush off the dismissals of those who think it's overrated, or who just didn't respond to it, when ordinarily such disagreements might bring out my argumentative side. In the case of La La Land it doesn't really matter — I love it enough for everybody. The Blu-ray release is gorgeous and generously appointed with commentaries and featurettes that make it a must-own for my fellow fans of the film.
Jim Hemphill is the writer and director of the award-winning film The Trouble with the Truth, which is currently available on DVD, iTunes, and Amazon Prime. His website is www.jimhemphillfilms.com.