Back to selection
Django, Prepare a Coffin Leads a Western Blu-ray Roundup: Jim Hemphill's Home Video Picks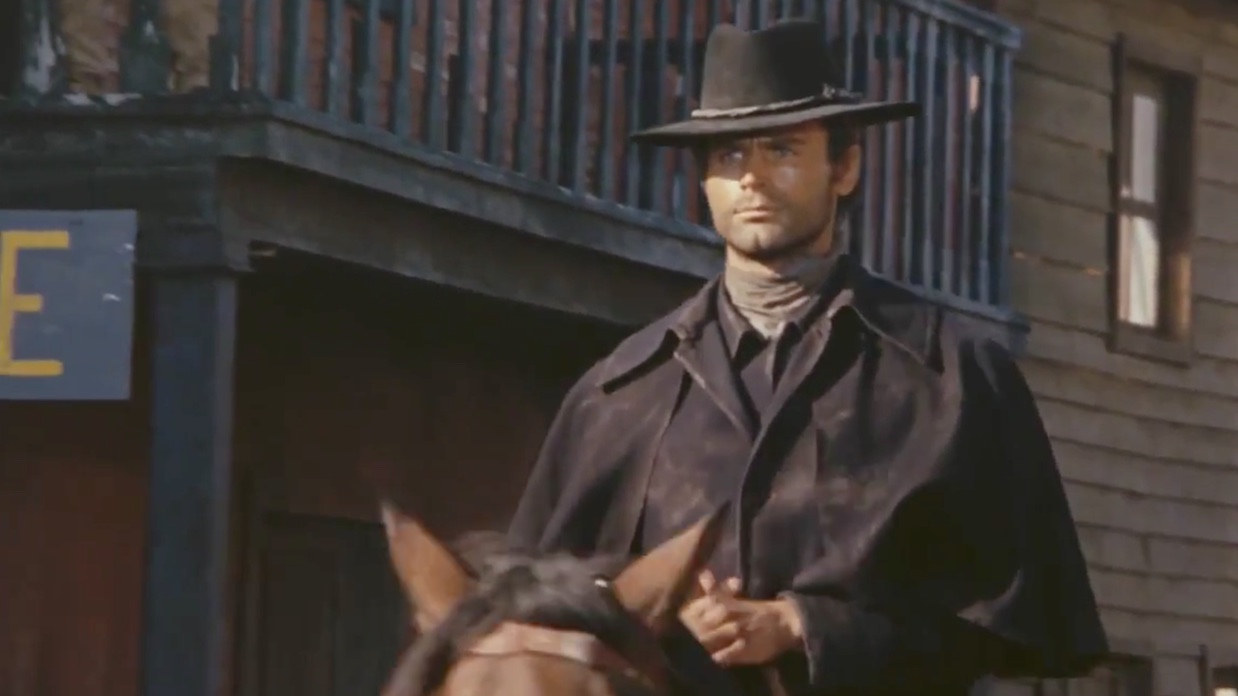 Django, Prepare a Coffin
When Sergio Corbucci's 1966 Western Django became an international hit, it kicked off one of the more surprisingly enduring series in the history of movies, though to call it a "series" is a bit misleading. In keeping with Italian cinema practices of the day, the movie spawned not only official and semi-official sequels but dozens of unsanctioned off-shoots — in some cases Westerns that had been made with no connection to Django whatsoever but which worked the name into their titles in the hope of making a quick buck. Over time the name Django became less a reference to the specific character Franco Nero played in the original than a signifier of a certain kind of Western — a darkly comic, often nihilistic revenge fantasy. (Quentin Tarantino kept this tradition going all the way into the 2010s with his own Django masterpiece, Django Unchained, which retained the flavor of the original and featured Nero in a small role.) The 1968 release Django, Prepare a Coffin has the distinction of being a relatively legitimate sequel, as it shares a producer, screenwriter and cinematographer with Corbucci's original. Nero was originally set to reprise his iconic role but left for America to appear in Camelot instead, leaving the Nero-esque Terence Hill (soon to become a star in the Trinity films) to take the lead. Hill acquits himself more than honorably in this incarnation, playing Django as a hangman who fakes executions in order to assemble a gang of men to avenge his wife's death. Under Ferdinando Baldi's direction, the movie is a model of expertly paced and choreographed action, leading up to a classic confrontation in a graveyard that strongly evokes Sergio Leone but is more than merely imitative of his work. Django, Prepare a Coffin is one of the smartest, funniest and most exciting Italian Westerns of its era, but it didn't get an American theatrical run and it's been hard to come by on home video. Thankfully, Arrow Video has now released the movie as a top-notch Blu-ray/DVD combo pack that contains excellent contextualizing materials and a flawless transfer. It's a must for Western fans in general and Django enthusiasts in particular.
It's a great month for Western releases all around, with Warner Archive finally putting Sam Peckinpah's elegiac classic Ride the High Country out on Blu-ray. Ride the High Country (1962) was only Peckinpah's second feature (following the previous year's The Deadly Companions, a powerfully haunting film that deserves to be far better known), but he already had dozens of hours of Westerns behind him in the form of TV oaters like The Rifleman and The Westerner that he wrote and/or directed. With Ride the High Country his voice emerges in fully developed form; the tale of two aging gunfighters (Randolph Scott and Joel McCrea) on one last job that forces a moral wedge between them, it's a deeply affecting meditation on age, regret, and friendship that lays the groundwork for the even richer pleasures to come in The Wild Bunch and Pat Garrett and Billy the Kid. Working with ace cinematographer Lucien Ballard, Peckinpah creates one evocative Cinemascope frame after another, laying out spatial relationships between the characters and their environments with elegance and expressive depth. And what characters! Warren Oates, L.Q. Jones, and R. G. Armstrong are just a few of the terrific supporting players who populate this expansive, beautiful film, which has never looked or sounded better than it does on Warners' Blu-ray.
Coincidentally, the movie that served as source material for one of Peckinpah's TV assignments, Delmer Daves' 1950 gem Broken Arrow, is also newly available on Blu-ray courtesy of Kino Lorber Studio Classics. Until recently, Daves was a somewhat forgotten figure, but thanks to the efforts of labels like Kino, Criterion, and Warner Archive (which, concurrently with Ride the High Country, has put out an exquisite Blu-ray of Daves' 1963 drama Spencer's Mountain), he's finally starting to get the attention he deserves as a helmer of first-rate adult Westerns. Broken Arrow remains his best known film, and deservedly so; its eloquent, tragic tale of Apache warriors betrayed by American settlers looks forward to later works like Dances with Wolves and Walter Hill's Geronimo: An American Legend, and Daves' direction of the actors — particularly James Stewart in the lead as a Union veteran who sides with the Apaches — is as delicate and nuanced as you're likely to find in any Western. The Blu-ray contains a 2K restoration that allows the viewer to fully appreciate Daves' subtle, detailed pictorial sense — it's one of several Kino Lorber titles on my recommendation list this week.
The label has also just released two delightful movies by William Witney, a director who, like Daves, was relatively undervalued for decades but whose reputation has seen a bit of a resurgence in recent years, largely thanks to the evangelical fervor Quentin Tarantino has displayed for his work. Witney got his start as a director in his early 20s helming serials for poverty row studio Republic Pictures; on many of them, he would direct the outdoor action sequences while Republic stalwart John English handled the interior dialogue scenes. Such was the case on Daredevils of the Red Circle, a thoroughly entertaining 12-chapter serial from 1939 about a group of circus stuntmen who take on a master criminal. Daredevils has everything one could want from a classic serial: death rays, secret passageways, dual identities, and spectacular action set pieces abound, all guided by Witney in his clear and concise yet utterly rousing style. After World War II Witney moved on to become a frequent director of Roy Rogers Westerns, and he steered Rogers' oeuvre in a slightly more serious direction — the emphasis shifted from music and comedy to action and drama, though Rogers' good-natured affability remained. One of the best of the Witney-Rogers collaborations, 1950's Sunset in the West, joins Daredevils of the Red Circle on Blu-ray this week, and it represents Witney's sensibility at its dynamic, unassuming best. Both films have been beautifully restored, a major event in the case of Sunset in the West given that many of Witney and Rogers' pictures of the era no longer exist in their original versions — Republic slashed them to under an hour each in order to fit television schedules in the 1950s, and in many cases only cut black-and-white TV prints remain. Thankfully, Sunset in the West is presented here in its original "Trucolor" format and at its complete 67-minute running time. Both Witney discs contain outstanding commentary tracks packed with information: Western buff Toby Roan weighs in on Sunset in the West, and the always engaging yet scholarly Michael Schlesinger guides the viewer through Daredevils of the Red Circle. Both commentaries are, like the films they accompany, essential.
Jim Hemphill is the writer and director of the award-winning film The Trouble with the Truth, which is currently available on DVD, iTunes, and Amazon Prime. His website is www.jimhemphillfilms.com.