Back to selection
The Handmaid's Tale, Donnie Darko and The Mephisto Waltz: Jim Hemphill's Home Video Picks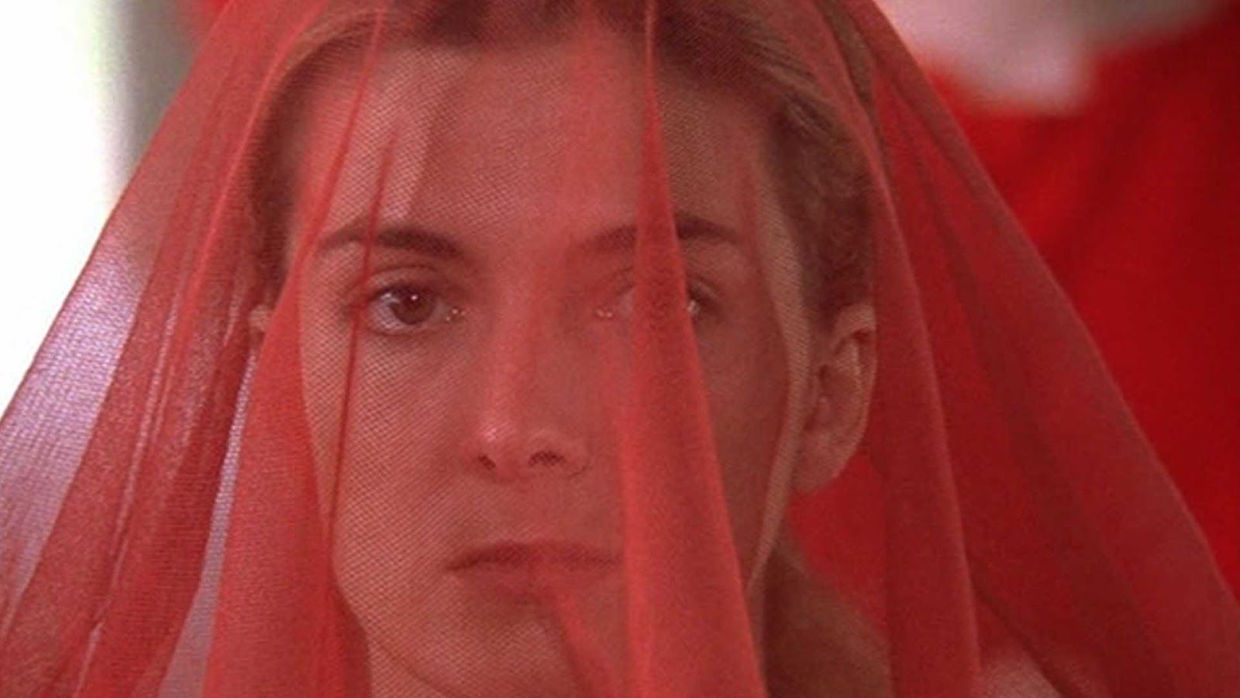 The Handmaid's Tale
Last month saw the premiere of Hulu's The Handmaid's Tale, a television adaptation of Margaret Atwood's 1985 novel documenting a future America in which women are oppressed by religious fundamentalists. The series has been garnering a lot of attention and acclaim, but it isn't the first time filmmakers have tried their hands at Atwood's dystopian classic; German director Volker Schlöndorff, working from a script by Harold Pinter, brought the book to the screen in 1990. His version of the story was considerably less well received at the time than Hulu's, but it's a compelling, distinctive film – one in which the strengths coexist almost inextricably with the problems. The movie was troubled from the start, as producer Daniel Wilson spent years fighting resistance from studio executives uninterested in releasing what they saw as a "women's film" of limited appeal.
Even when the movie did finally attract financing, it evolved into something different than Wilson and Atwood had initially envisioned; originally the picture was to reunite Pinter with his The French Lieutenant's Woman director Karel Reisz, but when Reisz dropped out and Schlöndorff stepped in the movie became considerably more stylized and less relatable. Natasha Richardson, star of another weird and wonderful 1990 film scripted by Pinter, The Comfort of Strangers, was directed by Schlöndorff to be virtually impenetrable, and the chill of Schlöndorff's blue and green palette combined with Pinter's stripped down dialogue to yield a cold, distant film with little chance for audience identification. The movie's made even stranger by the more lurid content that Schlöndorff inserts into the narrative from time to time; reportedly, he was looking to establish himself as a commercial Hollywood director, and the film thus becomes a peculiar mishmash of influences – pulp and literary, American and European, commercial and arthouse. Yet it's precisely this incongruity that makes The Handmaid's Tale endlessly fascinating and, in its own way, quite beautiful. The movie is designed within an inch of its life, with jaw-dropping costumes by the great Colleen Atwood (whose name is misspelled in the opening credits!) and elegant cinematography by Schlöndorff's The Tin Drum collaborator Igor Luther. For years The Handmaid's Tale was out of print – until recently used copies were going for a hundred bucks on Amazon and Ebay – but now Shout Factory has reissued the film in a pristine Blu-ray edition. It's the second of the company's Schlöndorff releases following their special edition of his 1985 Death of a Salesman adaptation; both discs are highly recommended.
Another film of pervasive, odd beauty, Richard Kelly's 2001 debut Donnie Darko, is also newly available on Blu-ray and DVD in a deluxe dual-format package from Arrow Video that includes new transfers of two cuts of the film along with hours of supplementary material. (While several commentary tracks and other extra features are carried over from prior home video releases, the disc's high point is an outstanding feature-length making-of documentary exclusive to this release.) While the pleasures of Schlöndorff's film largely derive from its stripped down purity, Donnie Darko is the opposite kind of great movie, a movie jammed to the hilt with disparate influences, observations, and ideas, all of which Kelly distills into a singular vision that's simultaneously hopeful and ominous. His story of a teenage time traveler (Jake Gyllenhaal) driven by both destructive and heroic impulses that ultimately enable him to save his family and community (maybe even the world) is one of those rare films like The Shining or Mulholland Drive that combines rarefied philosophical inquiry, a sophisticated commentary on genre, and a direct emotional line to the characters to create a film that's as moving and visceral as it is thought-provoking. And Kelly does one better than Kubrick and Lynch by bringing explicit social commentary into the mix – from the movie's opening line, in which Gyllenhaal's sister informs her conservative parents that she's voting for Dukakis, the more general apocalyptic tone is linked to a specific political moment of doublespeak, paranoia, and divisiveness – one of the many things that makes Donnie Darko play even better today than it did when it was released a few weeks after 9/11.
A sci-fi mindbender inspired by Stephen King and Philip K. Dick but beholden to neither, it's also one of the all-time great portraits of male adolescent angst; I can't think of another filmmaker who so perfectly found the proper framework through which to express the combination of vulnerability, longing, cruelty, optimism and terror that defines teenage existence. I also can't think of many other directors so prescient about the hyperactive sense of unease that would come to define American culture in the age of social media, Trump, and Youtube; although he hasn't made a new film since 2009, Kelly's three features (Donnie Darko, Southland Tales, and The Box) – all masterpieces as far as I'm concerned – sum up where we've been, where we are, and where we're probably headed as well as anything in the commercial American cinema.
My final recommendation this week is a horror film that doesn't share Donnie Darko's timelessness but has a different kind of appeal that comes from being a document of its own very specific era. The Mephisto Waltz was released by Twentieth-Century Fox in 1971 as a blatant attempt to capitalize on the commercial and critical success of Roman Polanski's Rosemary's Baby; like that film, it's a classier than usual occult tale in which a married woman (played here by Jacqueline Bisset) finds out that her husband (Alan Alda) is acting on behalf of evil forces. In Mephisto Alda is considerably less complicit than his counterpart in Polanski's film, as he's rather unwittingly possessed by the soul of an aging pianist conversant in the powers of Satanism. The Mephisto Waltz lacks the formal perfection and psychological nuance of Rosemary's Baby, but as a compendium of late 1960s/early '70s techniques and fashions it's irresistible; director Paul Wendkos, a journeyman who had previously mined this kind of material in the television horror flicks Fear No Evil and The Brotherhood of the Bell, revels in set pieces like a swinging costume party and a surrealistic nightmare sequence, employing extreme wide-angle lenses, distorting glass and filters, and garish wardrobe to keep the eye (if not the brain) consistently engaged.
Wendkos can't quite shake his TV sensibility, but there's a highly pleasurable nostalgia factor that comes from the way his dated style intersects with the slight burst of energy he gets from working with the relaxed sex and violence restrictions that come with an R-rated theatrical assignment. I've always had a soft spot for Wendkos' episodic work on series like Hawaii Five-O and the original Harry O, and Kino Lorber's new Blu-ray of The Mephisto Waltz provides not only a chance to revisit one of the director's more noteworthy films but a crash course in his career, thanks to an exemplary commentary track by historian Bill Cooke. And it's mesmerizing watching Alda, a few years before his star-making role on the series MASH, in a flat-out horror film. Alda didn't think much of the film and has rarely spoken about it in later years, but his performance is terrific – it elevates the film above its mercenary origins.
Jim Hemphill is the writer and director of the award-winning film The Trouble with the Truth, which is currently available on DVD, iTunes, and Amazon Prime. His website is www.jimhemphillfilms.com.