Back to selection
IFP Announces Series Lineup to be Presented at 2017 IFP Week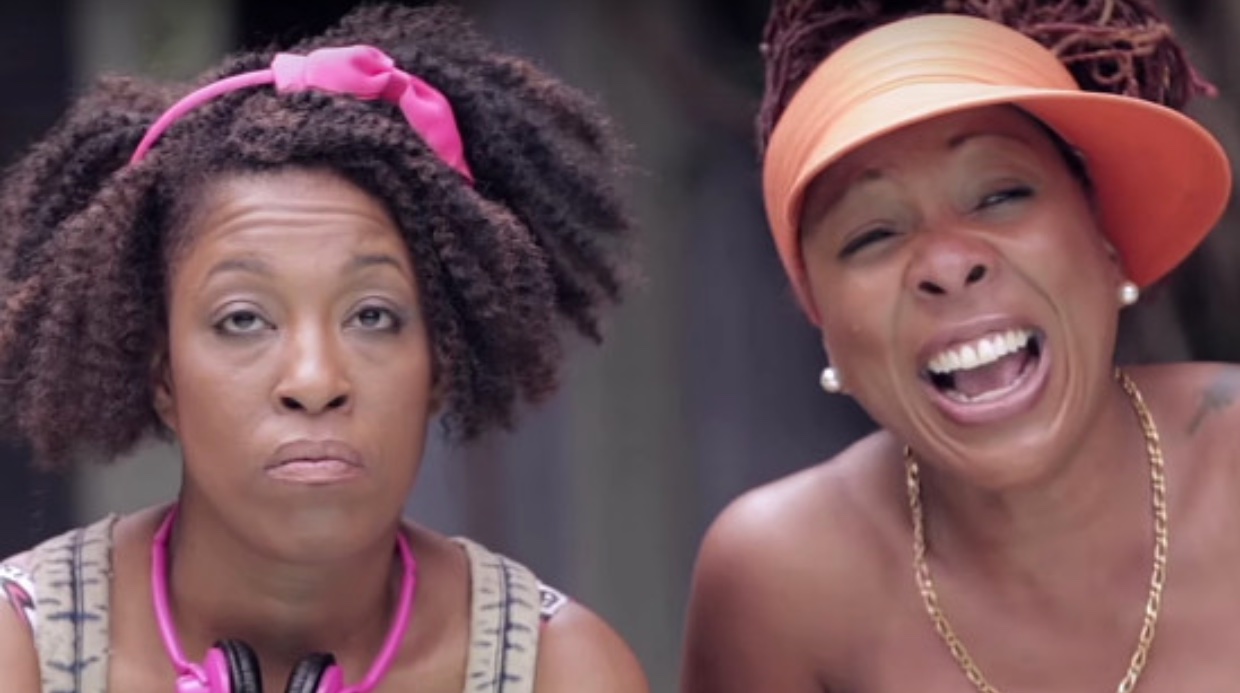 Angry Black Women
IFP, Filmmaker'a parent organization, announced today the more than 35 television, digital and app-based series that will be included in the 39th annual IFP Week, taking place September 17-21, 2017 in Brooklyn. For the last several years, IFP has been broadening its mandate to include both script and non-fiction series of all formats and genres. This year's IFP Project Forum, writes IFP in a press release, includes "series from veteran and new creators, with 70% of works at the scripted/early development stage and 30% with independently shot pilots. Of the series featured, 51% are made by women and overall, 74% of the series are made by diverse creative teams. IFP's Project Forum is the United States' only international co-production market featuring stories for all platforms."
IFP Project Forum is curated by Amy Dotson (Deputy Director & Head of Programming, IFP) and Milton Tabbot (Senior Director of Programming, IFP), and they cite this year's projects as embracing formal experimentation as well as subject matters including "race, identity, feminism, gender politics, gentrification and the environment."
"Our serialized content slate this year is both provocative and political," says IFP Executive Director Joana Vicente in the press release. "In this changing technological and artistic landscape, it is imperative to become more platform agnostic as an organization. While we've always helped those with bold, controversial and risk-taking stories to tell, we are particularly focused this year on giving voice to those artists no matter what medium the message takes."
IFP Week offers participating creators a number of activities aimed to connect them to the broader industry so that they find financing, distribution and audiences. From the press release:
• Series showrunners and creators will take part in the IFP Project Forum, the only International Co-Production Market featuring stories for all platforms. Specifically, over 5,000+ meetings are set up to connect content creators with financiers, executives, influencers and decision-makers in television, digital, and new media platforms.

• All projects will also participate in Screen Forward Pitches, a half-day, exclusive live pitching session for top television, new media and digital execs.

• 10 Projects will be showcased in the Screen Forward Showcase, highlighting independent produced pilots and series for acquisition.
The 2017 IFP Week Serialized Content slate is as follows:
SCRIPTED LONG-FORM SERIES

• America 1979 written and produced by Lila Yomtoob. Each season, this anthology series follows a different household or community through a different year, re-telling contemporary American history through the eyes of its people. (Historical Fiction)

• Angry Black Women written, produced and executive produced by HaJ Chenzira-Pinnock and Dahéli Hall. The journey of two Angry Black Women tired of being labeled as 'Angry Black Women' living in a world that makes them angry. (Comedy)

• Barker Street Boys written by Perry Janes. Three boys in Detroit, Michigan, find a body–and a mystery–in a locally foreclosed house. (Drama)

• Birds of Paradise written and directed by Lauren Fritz. In the near future, a rental agency specializes in the unusual task of providing professional "stand ins" to assume the identities of loved ones in their client's life. (Dark Comedy)

• Camp Abercorn written by Jeffrey Simon and Meg Grgurich, produced by Jeffrey Simon, Meg Grgurich and Matthew Andrews, directed and executive produced by Jeffrey Simon. When a national discrimination case rains down on the Compass Guides of America, the staff of Camp Abercorn find themselves divided. Will the bonds of brotherhood be enough to keep this motley family from falling apart? (Coming of Age)

• The Commons written, directed and executive produced by Laura E. Davis. In a world without disease, an agent for the Sustainability Program—which enforces compulsory suicide at age 65—wrestles with her role after the system begins to show cracks. (Drama/Sci-Fi)

• Country of the Blind written by Keir Politz. The violent death of a listener thrusts a talk radio personality deep into a dangerous conspiracy that threatens his family, and leads him to confront a force of evil that far exceeds his wildest fantasies. (Thriller)

• Demons written by Juliet Lashinsky-Revene. Demons chronicles the true story of the couple that set off the Satanic Panic of the 1980's, one of the biggest witch hunts in world history. (Based on a True Story)

• Fortune Bay written and executive produced by Robin Hayes and Tiphanie Yanique. In the Virgin Islands, the social position of Captain Owen Arthur Bradshaw and his multiracial family are impacted by intrigue and events in American history. (Drama)

• The Gentrifiers written by Philip Aceto, Du'Bois A'Keen and Jared Goodman, produced, executive produced and directed by Jared Goodman. The Gentrifiers follows the ups and downs of five intersecting characters living and working in a rapidly changing urban neighborhood. (Dark Comedy)

• Giving Up written, directed and produced by Kris Lefcoe, executive produced by Kris Lefcoe and David Wain. A sad comedy about a New York couple facing their own deadline to either 'make it' or give up their dreams. (Dark Comedy)

• The Mission written by Benedict Moran and Marie-Marguerite Sabongui, produced by Chris Agoston and Marie-Marguerite Sabongui. An idealistic Canadian diplomat tries to make a difference but must first navigate the eccentric characters and impossible clusterfuck that make up international diplomacy. (Comedy)

• The Nation written, directed and produced by Jon Kauffman. The real story behind the first Native American casino and the unlikely tribe that carved this billion-dollar kingdom out of a swamp. (Drama)

• Rollers written and produced by Isaiah Smallman. Rollers follows the hilarious and painful journey of Rufus and Brian Paisley, the co-owners of a well-loved, but struggling roller skating rink slash concert venue. (Comedy)

• Same Sex written, directed and executive produced by Sophie Webb, produced by Sophie Webb. A down on her luck and lonely heterosexual woman tries to become a lesbian in a desperate attempt to find a place for herself in the world. (Dark Comedy)

• Winterovers written by Nilanjana Bose-Ciupinska and Jakub Ciupinski, produced by Jakub Ciupinski. In the dark polar night of an Antarctic winter, a group of scientists inhabiting a remote research station discover a perplexing anomaly in a nearby lake, setting in motion series of events that upend their lives and notion of reality. (Sci-Fi)

SCRIPTED SHORT FORM SERIES

• Aeris directed by Lukas Huffman, produced by Amy Zhang. Teenage female snowboarders fight for a spot on the Olympic team and struggle to define themselves within a male dominated sport. (Drama)

• Anamnesis written, directed and produced by Alex Calleros and Michael Tucker. A group of strangers realize they're able to share each other's dreams. To understand why, they'll have to find each other in the real world. (Sci-Fi)

• Brazen written by Emilie Valentin, directed by Sarah Saidan, produced by Priscilla Bertin, Arnaud Colinart and Judith Nora. Whoever they were and wherever they came from, those Brazen ladies were out to tear down prejudice. (Animation)

• Campfire Poetry directed by Guilherme Araujo, Jon Boutin, Neely Goniodsky, Alicja Jasina and Tess Martin, produced and executive produced by Max Rothman. A collection of animated short films, dance videos, photographs, paintings, and immersive virtual reality experiences based on poems from the early 20th century and prior. (Animation)

• Caught in the Web written and directed by Stian Hafstad. Set inside the Internet, Caught in the Web is a behind-the-screens comedy that explores the inner workings of the world wide web. (Comedy)

• Cleaner Daze written by Daniel Gambelin and Tess Sweet, produced by Daniel Gambelin and Cheryl Isaacson, directed and executive produced by Tess Sweet. A newbie drug rehab counselor struggles to wrangle a misfit crew of teenage drug addicts while secretly battling her own addiction. (Dark Comedy)

• NowQuest written and directed by New Media Ltd, executive produced by Davey Spens. Two teenagers traveling the universe for 10,000 years must sober up and negotiate humanity's fate. (Sci-Fi)

• Trip written and directed by Nick Borenstein, produced by Brady Leifer. When a family road trip goes awry, the Greenblatt's start to unravel, as seen through each of their differing perspectives. (Dark Comedy)

• Utilities Not Included written, produced and executive produced by Jessica Mazza, Robert Moxley and Brian Petersen, directed by Jessica Mazza. Two jaded Brooklyn hipsters lease their spare room at double the rate to a clingy Midwestern girl whose personality creates havoc to the household dynamic. (Comedy)

NON-FICTION LONG FORM SERIES

• Cumari: Rainforest to Table directed and produced by Patricia FInneran. Latin America's chefs pair traditional Amazonian food with urban haute cuisine; culinary fusion meets cultural healing in a truly unique gastronomic adventure.

• Finding the Werewolf directed by Georgina Gonzalez and Rodrigo Iturralde and produced by Alejandro Duran. A real-life werewolf faces the challenges of being different and empowers others, including his fellow millions of immigrants in the U.S. during the Trump era.

• Frameworks directed by Charlie Hoxie and executive produced by Aziz Isham and BRIC TV. A city is a sum of its stories.

• Happy Jail directed by Michele Josue, produced by Carlo Velayo, and executive produced by Arleen McGlade, Linda Karn, and Liam McNiff. Amidst a brutal drug war, ex-convict Marco Toral struggles to keep the Philippines' most famous jail from falling apart.

• Mother America directed by Erik Shirai and produced by Masako Tsumura. A documentary series that explores the social fabric of America through the lens of five mothers as they navigate the varied and extreme circumstances that life has thrown at them.

• Selfies directed and written by Gregory Scott Williams, Jr.; produced by Gregory Scott Williams, Jr. and Seith Mann; and executive produced by Seith Mann, Gregory Scott Williams, Jr., and Germaine Williams, PhD. Using their social media content as a foundation, Selfies constructs portraits of disparate teens from different countries in search of common experiences, challenges and triumphs.

NON-FICTION SHORT FORM SERIES

• Exposed directed by Dara Kell, produced by Dara Kell and Julie Trébault, and executive produced by Julie Trébault. Exposed tells the stories of artists forced into exile because of their work. Life in America brings adventure and alienation, disappointment and new directions.

• Fanwei directed by Jessica Kingdon and produced by Kira Simon-Kennedy. An observational trilogy about the global effects of production, consumerism, and waste in China.

• I Lived: Brooklyn directed by Jonathan Nelson, written by Danielle Andersen, produced by Jonathan Nelson and Danielle Andersen, and executive produced by Jonathan Nelson. In short-form, character-driven episodes, long-time Brooklyn residents offer personal insights and uncommon access into their rapidly changing neighborhoods.

• Manimal directed and written by Maral Satari and produced by Cecilia Delgado. Similar in style to animal documentaries, Manimal studies how modern man behaves in his natural habitat: the city.

• Tea Time with Alex directed by Alex Hopkins and Brent Edwards, produced by Alex Hopkins, and executive produced by Alysse Campbell. Tea Time with Alex is our response to HB2, meant to educate on transgender topics with a dash of sass. Though based in NC, it was in Seattle that Alex was first harassed in a bathroom. Trans discrimination is worldwide. Let's solve it over tea!

• Waking Dream directed by Theo Rigby and produced by Rebekah Fergusson. Young. Undocumented. Future Unknown. With immigration enforcement on the rise, five young undocumented people with a tenuous protection from deportation strive for their dreams.