Back to selection
The Neverending Story of Self-Distributing The Upsetter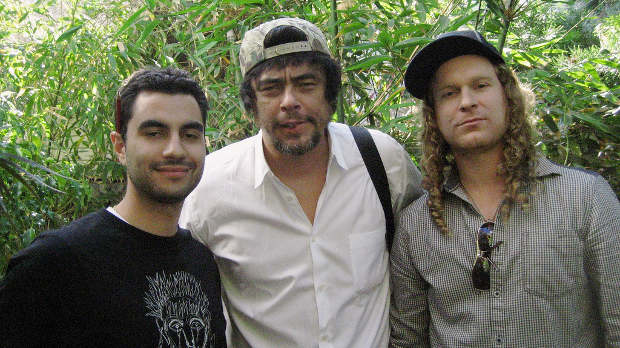 Indefatigable in their desire to find larger and larger audiences for their film, Adam Bhala Lough (Bomb the System, Weapons) and and his co-director Ethan Higbee have been self-distributing The Upsetter: The Life & Music of Lee "Scratch" Perry for what feels like an eternity. The film had its world premiere at SXSW in 2008 and bounced around the festival circuit for the next year and a half, picking up Benicio Del Toro as an executive producer and narrator along the way, while winning generally positive notices in most of its stops.
When Lough (one of 2003's "25 New Faces of Independent Film") and Higbee didn't receive the type of offers they had hoped and decided that service deals were a scam, they opted to self-distibute, booking runs of wildly varying lengths (one-offs and four-day runs were common, with the occasional week and two-week long run) at independent theaters both nationally and internationally. Since the beginning of 2011, the film has had an impressive 71 non-festival bookings. In a final turn of events, nearly four and a half years after the film's premiere, the filmmakers will now partner with Distrify.com for pioneering its new self-distribution platform which allows viewers who download the film to participate in a revenue sharing affiliate scheme where 10% of any sales generated from sharing it with their friends and followers via social media returns to the initial buyer.
This begs the question: has indie film gone Amway?
"You can now be your own iTunes or Netflix," claims Higbee, who notes that after making the film for over seven years and shepherding it through four more, it doesn't seem like that much more of a time commitment to guide it through a built-from-the-ground-up internet VOD model. "Independent filmmakers can now enjoy the same distribution apparatus that independent musicians have had for years."
Noting that the advent of the Tip Jar feature on Vimeo now enables viewers to pay content creators for their work on perhaps the most popular streaming site for high quality indie films to house private screeners, Lough says it's a matter of time before these type of endeavors are commonplace throughout the entire spectrum of indie film, from large budgeted works with recognizable stars to the newest microbudget film from the last standing video clerk in your hometown. "The old fashioned models will still be there should we want to utilize them," says Lough, who is currently developing a thriller with producer Ed Pressman, "however this is the future and I recommend all filmmakers from here on out carve out the rights to distribute their own films digitally through their websites and social media pages."
Here's a full interview with Higbee and Lough from last March's NYC release of The Upsetter.