Back to selection
Critic's Notebook: In Rotterdam, a Strong Crop of American Indies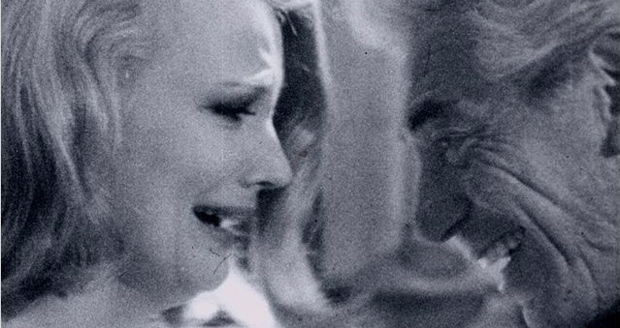 With its famously catholic tastes and sprawling slate, the International Film Festival Rotterdam is a place to get lost. A week into its 10-day run, a fairly subdued 42nd edition of the International Film Festival Rotterdam has unfurled a smattering of buzz-worthy world premieres and its usual mix of budding talents from unusually farflung spots on the globe, high-art provocations, exhaustive considerations of an emerging national cinema or two and obscure auteur retrospectives. However, I've found that it's always the surprises here that grab you, little films you'd otherwise never see except in this context, that make the trip worthwhile. I haven't encountered many so far, but quietly, on the edges of the festival, one can find its most remarkably strong crop of American indies. While I've yet to see Aaron Douglas Johnston's My Sister's Quinceanera, which has been one of the most talked-about American films here, the group I have encountered is wildly varied, running the gamut from James Benning's stunning dialogue-free re-envisioning of John Cassavetes' Faces to Eliza Hittman's fresh-from-Sundance It Felt Like Love, a Tiger Award Competition entry which elegantly details an inelegant young woman's squeamishly awkward, increasingly desperate introduction to sexuality over the course of one long Bay Ridge summer.
Both of those films, the two-and-a-half-hour experimental stunt and the now-traditional microbudget New York indie, rely on exquisitely executed close-ups to generate their emotional power, but what they have in common most likely ends there. Faces takes the already-long, loaded gazes that dominate Cassavetes' classic film and stretches them out, makes them fully the center of attention. Its glacially paced meditation on the faces of Faces creates an almost claustrophobic effect; by the end, Gena Rowlands seems more alienated than ever from this painful American life, but you feel remarkably close to her.
Hittman's film features a gallery of terrific adolescent performances and in many ways is a throwback to the type of "coming of age over a long summer" films that Sundance has in the past churned out with some level of efficiency. But that shouldn't be seen as a pejorative. What the narrative lacks in absolute originality it more than makes up for in style and thoughtfulness. As it wears on, It Felt Like Love grows into a magnificently bleak film; the title can only be read as ironic.
Our 14-year-old protagonist, plain and pale compared with her more vivacious sister with whom she shares a dance troupe, will do just about anything to get laid it seems, even if it means embarrassing herself in front of the local guys at her disposal, a completely uninspiring lot with their blunts, 40s, tank tops and general inarticulateness. She haunts nearly-empty arcades and even emptier beach front houses, rife for thievery, following around her sister, who has a fun-loving boyfriend who brims with the same insecurity as the girls when he learns he's had less sex than his partner.
That the protagonist is so expert at masking her emotions, hiding them in broad daylight from every significant person in her life — from her widower father to a young male compatriot from down the block, lying with an almost effortless panache — is perhaps driven home too hard by the sunscreen mask she wears during the opening sequence and the actual mask she dons during the dance-number finale, but Hittman's instincts are sure for most of the running time, and by film's end her debut work has intimations of the formal dynamism that made Lynne Ramsay's work so compelling a decade ago.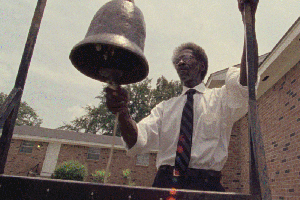 Rural communities and their relationship to bodies of water are central to a pair of new works by veteran filmmakers here in Rotterdam. IFFR stalwart Kevin Jerome Everson, one of America's most under-heralded filmmaking wunderkinds, is here year after year with new work, and this year he returns with The Island of St. Matthews, a typically austere, mildly boring, frequently riveting, wholly original meditation on the impact of a 1973 flood on a small black community in Westport, Mississippi, a town not too far from Columbus, where several of Everson's relatives still reside, having never made the trip north during the great migration.
Everson's films are historical without historicizing, personal without being particularly self-revelatory. He exercises a film grammar all his own, one that refuses easy categorization. Here he mixes interviews that would fit comfortably in a traditional documentary with brief, context-free digressions into the churches, barbershops and levy control centers of Westport. But the river remains central.
It's a place where the community baptizes its young, but also a place where a brother might go waterskiing, the spiritual and recreational springing forth from the same place as the catastrophic. Church bells are given symbolic force alongside landscape shots held so long they would make Bela Tarr weep, with Everson's usual preoccupation with black working-class labor in all its myriad forms coming to the fore. While not quite on par with his more formally rigorous and effortlessly lyrical pictures such as Erie or his sneakily moving Company Line, it's another major work nonetheless.
The prolific and versatile Michael Almereyda also meditates on a tucked-away town near the water, in his case the North Yorkshire town of Skinningrove, an old ore mining village built amongst gorgeous, completely undeveloped hills in the north of England. It is a rough-and-tumble place with a brief industrial history that had all but gone to waste by the mid '80s, when photographer Chris Killip went to this remote little town where the locals mysteriously worship the sea, where bar fights are common, parking is casual and amongst the kids, punk was all the rage.
Skinningrove is little more than 15 minutes of Killip talking about his photographs and the relationship he formed with a doomed group of boys there, several of whom were killed in a fishing accident. It has an unusual power, a confessional quality, that is not unlike the late experimental filmmaker Hollis Frampton's great Nostalgia, in which a series of black-and-white photographs is burned one after another on a stove as an unseen narrator remarks about what each photograph is, but in the wrong order, so that by the time you hear about a photograph, you may have seen it and forgotten its exact details, much like most experiences in your life.
It's been an especially bogus year on the "privileged white filmmakers going to far-flung locales and making mildly exploitative movies about impoverished indigenous people (or bayou people) front," especially when there's kids involved, but Jeremy Teicher's Tall as the Baobab Tree puts your fears to rest about its intentions very quickly. The 24-year-old New Jersey-bred filmmaker's debut is a smart, rhythmic and altogether respectful look at the attempts of two young women to self-actualize in a rural Senegalese village. When their brother is injured shearing leaves from a baobab tree, their tight-knit family, who herd cattle for a living, must find a way to pay for his health care. The cattle are not yet fat enough to go to market, so the father devises a plan to marry off his youngest daughter, who has yet to flourish in school in quite the way his eldest has. This enrages both young women, and they set out on a clandestine attempt to raise enough money to keep the younger sister in school.
Performed by non-actors, this is an unsentimental film with a great soundtrack, impressive cutting and an ending that is courageous and true and a bit of a downer. Perhaps more importantly, there isn't a whiff of ethnographic exploitation involved. No magic-realist flights of fancy to avoid the painful truths of an actual social reality can be found here. That Teicher extends his empathy to the conservative elders and the loving, if traditional, parents as well — there are no ignorant or backward semi-villains imposed for the comfort of Western audiences — is a sign of a rare maturity for a neophyte just coming into his own. He's a director to watch.
Harmony Korine is the type of filmmaker festivals like Rotterdam exist to support: singular in vision, a weirdo extraordinaire who makes films that pulsate with a sensibility all his own. That's true of Spring Breakers, his newest work, which finds James Franco as a silver grill-wearing, machine gun-totting, beach-front dope man in some Florida backwater that serves as a playground for youthful state college kids out for a week-long hangover. It eventually evolves into something of a crime tale involving four Kentucky college students (Amber Benson, Selena Gomez, Rachel Korine and Vanessa Hudgens) who come into his midst and get caught up in a turf war with the local black crime boss (Gucci Mane). Entertaining but tensionless, it's a beautiful fever dream, as if Korine took Grand Theft Auto: Vice City and Belly, mashed them up, and added his own bag of tricks. Also, Franco has never been better.
In Our Nixon, director Penny Lane explores the Nixon administration by juxtaposing secret White House discussions from the infamous Nixon tapes with incredibly intimate Super 8 footage taken by avid amateur cineastes H.R. "Bob" Haldeman, John Ehrlichmann and Dwight Chapin. The fact that these men also happened to be the chief of staff, special advisor and assistant to our much maligned 37th President is one thing; that they were also three of Nixon's closest aides and the key conspirators jailed during the aftermath of the Watergate scandal is another entirely. Although Our Nixon has little to no polemical value, Lane creates a relentlessly watchable portrait of a White House that is clearly doomed for some time, but that doesn't have an adequate self-awareness, that is too isolated from the realities of the country its governing or the practices of its henchmen, to know it before it's too late. She doesn't seem to be interested in making much political hay; everyone already knows Nixon was at turns insecure and all too assured, shrewd but intellectually uncurious, a bigot with a sentimental side who was ultimately too detail-oriented for his own good, and that's all confirmed here.
A Gotham nominee for his previous film, Little Rock, Mike Ott returns to the festival scene with Pearblossom Hwy, another slender road movie set amidst desert highways starring his Japanese muse Atsuko Okatsuka and her Little Rock co-star Cory Zacharia. I found Zacharia rather off-putting in Little Rock, but here he's effective as a closeted gay man and death metal singer who, along with his conservative, ex-soldier brother and his best friend, a Japanese-American who is saving money for a return to Japan by working as a prostitute, goes in search of his long-lost father. Although Zacharia has more screen time given that he's recording oddly confessional videos that he hopes will one day land him a reality show gig, it's Okatsuka who is the scene-stealer; Ott and his cinematographer Mike Gioulakis often photograph her in shadow or in night exteriors that aren't terribly flattering, but her otherworldly beauty and natural screen presence shine through regardless. As the mystery of her circumstances slowly unfolds, the movie gradually becomes more compelling, so much so that the storyline involving the two brothers and their lost father begins to feel somewhat extraneous.
Shannon Plumb's Towheads is an oddball look at a struggling well-to-do mother, the wife of a successful theater director (played by Plumb's successful movie director husband, Derek Cianfrance) who just isn't around enough, leaving her to do most of the childcare for their two adorable sons. She's a fading actress and an expert eccentric, and in this post-post-feminist look at the difficulties of aging and the impossibility of marital and parental fulfillment Plumb creates a character who is both achingly hysterical and frequently infuriating. It's actually a somewhat difficult film — there is very little driving it forward other than Plumb's malaise, but its formal ingenuity, even on a remarkably low budget, is impressive. Plumb uses blocking and production design to literally obscure her very present husband's face from the frame at all times, finding a clever visual analog to the narrative's themes. It, like much of the Yankee work in this Dutch seaport, is a promising beginning to what will no doubt be an interesting career.