Back to selection
The TIFF-Premiering Freedom Fields: It's All How One Plays the Game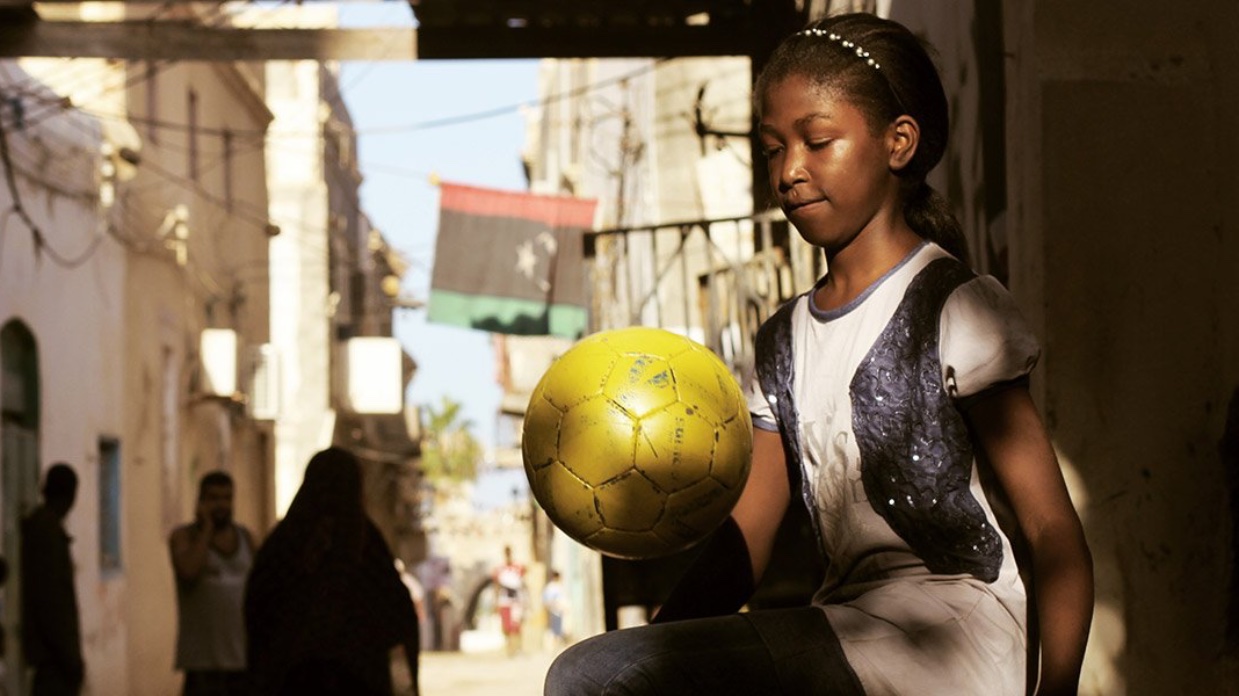 The ability to watch time unfold — to see its impact on both subjects and filmmaker — can be one of the greatest rewards in non-fiction filmmaking. As the protagonists on screen mature, morph, change, and grow, so does the point of view of the director. In the case of British/Libyan filmmaker and photographer Naziha Arebi and her TIFF-premiering documentary Freedom Fields, the moments captured over five years demonstrate how a modern, forward-looking woman, one devoted to family, education and profession, navigates a society in which women are directed to remain mute, defenseless and powerless.
For her début feature, Arebi embedded herself within a group of women who simply want the right to play competitive soccer and honor their home country of Libya – just like the country's celebrated men's team does. After the Arab Spring of 2011, Libya saw its hard-won bid at revolution devolve back into civil war, violence and mayhem. Nama, one of the three main characters Arebi follows, still lives in a refugee camp, as do 30,000 other families from the Tawergha community. They have been displaced for years due to their stance during the 2011 uprising, still unable to return to their hometown. It's an apt metaphor for the holding pattern that all the women find themselves in after the Libyan Football Federation has grounded the team into inactive play due to virulent anti-female attacks, the televised sermons of the imams (speaking to an audience of all men) loudly condemning this untenable situation of "tall, young, beautiful girls showing their legs." Because of course if that happens civilization, as we know it, would certainly disintegrate. At once ridiculous and infuriating, this is the ignorant and pathetic mentality these women are up against.
As they're biding their time, stoically refusing to let go of their dream of playing competitive sports but purposively subsuming that desire to pursue other more practical goals, these women finish their educations and start professional careers, allowing the demands and practicalities of everyday life to keep them moving ahead, keeping family pressure at bay to marry and have children as their country continues to crumble around them. Arebi started filming one year after the Libyan revolution began in 2011 and the film ends five years later, the capitol of Tripoli still burning, with constant power cuts and violence in the streets the order of the day. But there have been small triumphs, and the women become de facto activists to help raise a new generation of young girls into a world in which they can continue to own their power by illustrating that only by banding forces and supporting one another can there be true forward momentum for all.
Arebi's shooting as DoP, with camera backup by Sufian Arara, is immersive, energetic and bold, even when she's making an effort to keep her camera hidden, the visuals enhanced by a marvelously enveloping sound design by Giovanni Buccomino. Arebi keeps her film staunchly character-based, allowing us intimate access to Nama (in any other context, the woman would surely be a professional star athlete), Fadwa and Halima, the triad that moves the narrative from an all-too-familiar set of circumstances for women in repressive societies to a more profound portrayal of perseverance, lust for life, constructive anger management, an unending ability to laugh deeply and often, and love and commitment to the community they've built together.
Finally, after several years, they re-band and start secretly practicing again at night during the Muslim observances of Ramadan, a month of fasting, introspection and prayer. Twelve years after joining the national team and still finding no lasting support from the Federation, an organization that outwardly supports the women but in reality cowers at the prospect of censure from authorities, the women, along with some foreign supporters, form a private team and travel to Lebanon, alongside Palestine, Egypt, and Jordan in what appears to be a fairly clandestine tournament of sorts where female teams can meet one another, play football together, learn about one another's culture, and expand the Arab-world community of sisterhood. Upon returning to Libya, the women – having seen first-hand how their own management is still intent on keeping them sequestered and under strict control – leave the national team organization completely to form their own NGO. It's not precisely explained who ultimately hands over an abandoned field to them, but they build a community pitch and use the sport they adore for development and social change, passing the dream on to the next generation of girls. Fadwa, the most practical and worldly of the three main protagonists is now an engineer; Halima – the most passionate and emotional – has become an obstetrician and is about to be married; and Nama, still a refugee in her own country and forever fierce, runs gracefully, relentlessly, into the future.