Back to selection
'We Know You, But You Guys Don't Know Us': Female Filmmakers Talk Diversity And Inclusivity At IFP Week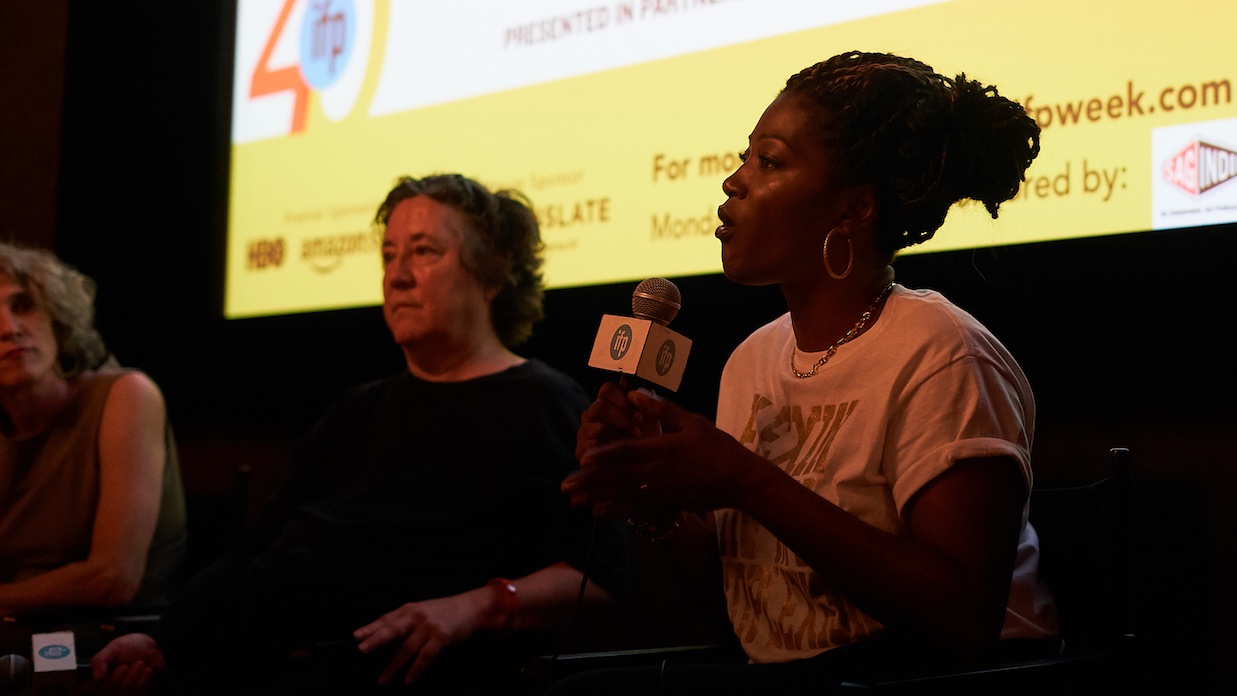 Yolanda Ross (r) and Christine Vachon at IFP Week
Gender and inclusivity are two key buzzwords floating about the film world these days, but how are these ideas being implemented? Are they being implemented? And are these issues always binary, black and white? Talking to filmmakers who aren't Caucasian, male and/or cis, you don't get clear-cut answers. You don't always get encouraging answers, though you sometimes do. One gets the impression that this is an industry struggling with ideas that may change it radically, and that some people — even well-meaning allies — are still glomming onto old traditions.
These issues were confronted directly during IFP Week, particularly at the panel "How Do We Frame the Conversation on Gender and Intersectionality?" For starters, gender remains a problem, at least for some in power.
"I wish I could say, 'Hey, you know what, now it's just so much easier,'" said Christine Vachon, longtime legendary indie producer, whose credits go back to Poison and  Go Fish and more recently include First Reformed and Vox Lux. "When we were making Still Alice, the pressure to find an actor to play the husband was enormous — even though we already had Julianne Moore. We would lament that maybe we should call the movie Still Alice and John." (The role of John, Moore's husband, eventually went to Alec Baldwin, by the way.)
Yolonda Ross has seen diversity issues from two sides of the business. She's an actress — currently of Showtime's The Chi — who's crossed over into filmmaking; she's about to start production on her feature directorial debut, Scenes from Our Marriage. As she sees it, the industry has long tended to see the black experience as monolithic. That's changing, she thinks, and in a way that reflects the diversity amongst specific groups.
"I'm black, but I don't act like that person, or like that person. We're not just that clump, or that clump," Ross said. She cited the radical differences between Black-run shows like Atlanta, Insecure and Random Acts of Flyness. "We all have different thoughts, we process things differently. I am not any of them, and they are not me. We're individuals." But this is a new idea, and the industry still isn't comfortable with it. "At this point, we've seen white people from A to Z. We know you, but you guys don't know us. We shouldn't have to push so hard all the time."
Another thing Ross has experienced is that though it's getting easier for black men to get their own projects going, the same isn't happening to black women. "I still feel there's, maybe not pushback, but they're just not helpful compared to Black males," explained Ross. She singled out Cinereach, the nonprofit film funding organization, as, she says, not being as diverse as they claim. "I've seen several male friends come through there, then they get to me and they're not helpful. I want to have a conversation about what they're looking for specifically."
Alexandra Juhasz — a producer and academic, who teaches film at CUNY — is white, but she saw how queer black women were treated when she produced Cheryl Dunye's 1996 indie classic The Watermelon Woman. One thing that makes the film hold up, she says, is that the identity politics issues are still largely the same — not just how people identity themselves but how they stand out among their tribes.
"We were saying there's a difference inside of identity, a difference inside blackness. A difference inside of a difference is harder," Juhasz said. "That's really what the movie is about: Cheryl's quest to not feel like the black girl, not feel like the lesbian, not feel like the good feminist, not feel like the good daughter. She's different inside every community that's supposed to hold her up. The movie's more poignant, in some ways, now, because this society is ready to embrace her struggle maybe more than the society of 20 years go."
Vachon noticed something similar with one filmmaker with whom she's worked: director Janicza Bravo. Her feature, last year's Lemon, is a deadpan, absurdist comedy, largely starring white actors, like Michael Cera, Gillian Jacobs and Jeff Garlin.
"She makes movies that people sort of think black women shouldn't make," Vachon said. "She says — with a great deal of humor — that at the end of the movie, when she comes out to answer questions, everyone's like, 'Wait, what?! You made that?!' She's not on message. And that's been very difficult for her."
These are the stories of filmmakers, trying to get their stories told. But they'll remind you that film is a collaborative medium. That means that the people working under the director need to be as diverse as the people who become directors. Thankfully they are.
"I have noticed, being in the business for 25 years, that the film crews themselves have changed," Vachon said. "You might look at one and go, 'Really?' But you don't know what it looked like 25 years ago." For example, when Vachon first got into the business, there weren't as many female cinematographers as they are now. She boasts of being the first to promote Ellen Kuras (Eternal Sunshine of the Spotless Mind) and Maryse Alberti (Creed). "They both said to me, 'Are you sure I'm ready?' I remember saying, 'Look, the boys think they're ready.'"
Then there's another female issue: Pregnancy. It's still a problem, at least for execs and the like, who tend to worry about maternity leave and child-rearing. Vachon, someone who loves hiring female directors, finds these conversations enervating.
"I can't tell you how many times financiers have said to me, 'But doesn't [this director] have a three-year old?'" Vachon said. "I'm like, 'It's not really legal for you to ask that question.' And of course they would never ask that [of a man]. Or they would say, 'Yeah, he has kids, but obviously he doesn't have to deal with them.'"
Karyn Kusama — the director of Girlfight, The Invitation and the Nicole Kidman-starring Destroyer, which just bowed at the Toronto International Film Festival — knows that struggle all too well.
"When I got pregnant, I was specifically told by my agent, in very unsympathetic terms, to just not tell anyone," Kusama recalled. "So I didn't. It was kind of like I had a Scarlet Letter. I actually had to hide the fact that I was pregnant, then kind of disappear because I was physically pregnant and I couldn't hide it any longer. I took that in, and I didn't fight it."
She felt differently about what she did years later. On Destroyer, she was looking to hire a production designer who was seven months pregnant. She hired her after talking to a line producer who had worked with her before, when she was also pregnant, and said she proudly, for example, breastfed in a production van.
"I felt sort of troubled that I accepted to have her work her butt off for me at that stage of her pregnancy. But she prepped the entire move pregnant, had a baby, came back to set two weeks later, nursing on set, day after day. I was like, 'This is teaching our crew more than my disappearing and coming back into the game.' It's just being pregnant and having your baby with you on set."
Important as diversity is, there is one way it's not always helpful: When you try to make your film be accessible to absolutely everyone. Sometimes aiming at a specific target audience, a specific community, is what will make your film bloom.
"Things can get muddled. If you start trying to take care of everybody, you're going to end up with some bland shit," Ross said. "If you start to think, 'They want this, they want that,' you're going to make a generic movie. Remember what you had originally."
"Every filmmaker wants the widest audience possible to see their work," said Vachon. But sometimes that doesn't make economic sense. "When we started out, we made a lot of movies that were for gay and lesbian audiences — Poison, Go Fish, Swoon. We learned if you make a movie for the right amount of money, and you just counted on that audience to show up, you can make your money back. I can't tell you how empowering that was."
That makes sense today, too, when the multiplex is becoming homogenous, when indies are having to think outside the box to recapture audiences. Perhaps going back to ideas from a quarter of a century ago may pay.
"You have to find your tribe, in the sense of who you're making movies with and who your movies are for, and being very pleased and proud that you can make movies inside your community," Juhasz said. "I support independent films that don't have movie stars in them. There's room for all of us. It's important that we can make our small little films that feed, for instance, our lesbian and gay community. It lives and breathes and nurtures people there. Stay true, stay small. There's joy in that."