Back to selection
The 24th Annual Palm Springs International Film Festival: 4 Days, 3 Greats, 2 Duds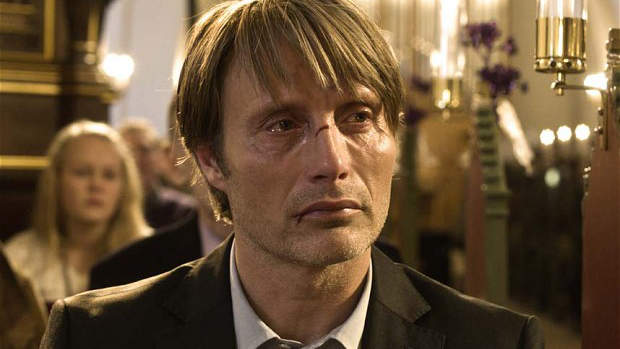 Palm Springs, California blossomed in the 1930s when Hollywood royalty started calling this Coachella Valley city, a couple hours drive from L.A., (second) home. It still has a sort of old-timey vibe, evidenced by the hundreds of names engraved in its downtown Walk of Stars, the majority of which faded from the collective celebrity conscious decades ago. And though the Palm Springs International Film Festival has only been around for 24 years – actually a ripe old age for an American film fest – it too feels like a throwback to another era, one in which the term "kick starter" had nothing to do with making movies.
All of which is another way of saying that PSIFF is programmed for an audience demographic that skews towards the older and wealthier set, which explains why I got shut out of a few screenings on my must-see, prestige flick list. (Actually, truth be told, the promise of indulging in PSIFF's cinematic smorgasbord of stellar foreign language films is what excitedly drew me out to this desert resort fest for four nights in the first place.) By the time I arrived 20 minutes before an early afternoon showing of Midnight's Children, based on Salman Rushdie's book that he also adapted, and directed by Deepa Mehta (forget Kathryn Bigelow – Mehta is one of the most underappreciated female directors around), the line snaking around the Camelot Theatre had been that long for an hour. (One volunteer at that out-of-the-way art-house helpfully suggested I avoid the popular family and Jewish-themed films if I was attending for my own enjoyment – rather than for coverage – if I wanted to be assured a seat. Which I thought was a bit strange since I always aim to see movies I think will be pleasurable to write about.)
Nevertheless, I did manage to catch the film at the very top of my list, Danish director Thomas Vinterberg's The Hunt. (I'd actually tried to see the movie at a local theater while I was in Amsterdam covering IDFA in November, but alas, I can't read Dutch subtitles!) Vinterberg's latest is what one would expect from the director of The Celebration, a no-emotional-holds-barred tale of a kindhearted kindergarten teacher whose life is horrifically turned upside down when he's trapped in a sex abuse scandal (and which recalled for me the '80s McMartin preschool hysteria here in the States). Starring an expectedly brilliant Mads Mikkelsen (it's only a matter of time before Mikkelsen gains an Oscar nomination for his work – his nuance in The Hunt is mesmerizing as usual) the film is Vinterberg's own Crucible, a complex study of the power of the "innocent" young to manipulate their authority figures. And of those in power to, in turn, manipulate those in their care – none of which is done maliciously.
Terrible things happen in the name of protecting society, the adult imagination can run wilder than a kid's. One stunning scene between an angel-faced accuser and righteous psychiatrist is as wonderful a primer in coerced confessions as anything in The Central Park Five or the Paradise Lost series. The inherent unreliability of minors, the notion that people will say whatever they think is necessary to avoid punishment, to keep from getting caught in a damaging lie, or simply to please – all these ideas are explored with cold calculation in Vinterberg's and Tobias Lindholm's dynamite tight script. Ultimately, The Hunt reminds us that witch-hunts were never an aberration, but rather an impulse lurking just below the surface of every "moral" society.
Another film that haunted me long after the credits rolled was Romanian filmmaker Cristian Mungiu's Beyond the Hills. Expertly edited – with Mungiu cutting moments before each crucial scene reaches its climax, leaving us hanging on his every frame – the film takes the form of a deceptively simple tale about two young women raised in the same Romanian orphanage, onetime close friends (and perhaps more) who chose wildly different paths. Conflict ensues, and events spiral violently downward, when Alina, who now lives in Germany, visits the convent where Voichita, now a nun, spends her days in deepest devotion to the Lord – a state rivaled only by Alina's unrelenting dedication to Voichita, who she's set on taking back to Germany with her.
Like Vinterberg (and his Dogme 95 comrade von Trier), Mungiu's interest lies in creating an emotional horror film, and one that harkens back to another time, a distant (or otherworldly) world. There are no saints, no sinners in Mungiu's universe – only those trying to do the right thing, which of course, has multiple interpretations depending on the viewpoint. Rather than render judgment or disrespect religion, the director chooses simply to ask questions with his lens. "What is the meaning of faith?" and "What is love – and what would you sacrifice for it?" are heavy with thematic echoes of both von Trier's Breaking the Waves and Haneke's White Ribbon. Indeed, Mungiu is an auteur to watch, quite possibly the next Haneke, blessed with a masterly control beyond his years.
The third movie to rock my world came from a country that's been on my indie watch-list for a number of years. And Mexican director Michel Franco's After Lucia has been on my radar since it nabbed the Un Certain Regard at the last Cannes. A quiet, patient study of a father and his teenage daughter, who have recently lost their wife and mother in a car accident, Franco's suspenseful film unfolds with a nearly European sensibility in tone and pace. (Between the rich cinematography and exquisitely long takes, After Lucia could be Czech or Romanian if it weren't for its Mexico City setting.) From the opening scene, shot entirely through the windshield from inside a car, right through the typical adolescent mistake that sparks a cruel unraveling of the pair's attempt at a new start, Franco's gaze never wavers. Unafraid of stillness he forces his audience to sit with the increasingly disturbing events that play out before our eyes, as pieces of the plot are rationed to us like mysterious breadcrumbs. And the payoff is worth the wait, the last half hour as brutal as anything Vinterberg or Mungiu – or von Trier or Haneke, for that matter – might have dreamed up onscreen.
Interestingly, the only foreign flick to truly disappoint played at my favorite PSIFF venue, the Annenberg Theater, a comfy sleek space situated snugly inside the Palm Springs Art Museum, located at the foot of one intimidating mountain. Unsurprisingly screening in the Modern Masters showcase, The Angels' Share is Ken Loach light – so light I'm shocked it took even the Special Jury Prize at Cannes. The film gets off to a hilarious start – with a black comedy opening that rings of Martin McDonagh without the vicious bite – and goes nowhere from there. Certainly the script, written by the British director's longtime collaborator Paul Laverty, about a petty Scottish criminal named Robbie who finds spiritual redemption (and discovers a knack for inventive thievery) through the art of whisky connoisseurship, is bursting with details that allow Loach's characters to feel real. (When Robbie gets beaten up he's more worried about his broken phone than any bones.) There are also some noble ideas broached, such as the near hopeless difficulty of breaking the cycle of violence, and creativity as a path to salvation – yet ultimately the film is unsatisfying, not nearly as strongly ingenious as the team's glorious 2009 comedy Looking for Eric. Add to this an ending so neat and tidy it's nearly Hollywood mainstream. Like the title, which refers to the spirit that is released into the air when a cask of whiskey is opened (and which elicited ridiculous "Ah's!" at the screening I attended when that cheesy tidbit was revealed) Loach and Laverty have decided to take the easy faux-deep route, leaving their important concepts only half-explored.
And while it seems director Jorge Hinojosa has ignored my longtime plea for a ban on Henry Rollins as default talking head for all things indie cool, Iceberg Slim: Portrait of a Pimp was the one American doc I most wanted to see. Sadly, despite appearances by truly thought provoking dudes like Ice-T, Snoop Dogg and Chris Rock, Hinojosa's straightforward account of the life and times of one of street culture's greatest chroniclers falls flat. Monotonous interviews with notably male academics – indeed, his ex-wives and daughters are the only women besides a token black female author that we hear from – and with the eloquent Slim himself before his death, broken up by comic book style animation, just doesn't do justice to this former pimp who found his calling as a writer while doing prison time (and didn't publish until he was in his 40s).
"I've never known a top pimp that didn't have a high IQ," says the suave fellow credited as the catalyst for Blaxploitation and gangster rap (and who nabbed a college scholarship to Tuskegee University only to be kicked out for bootlegging). There's a reason for this – and for why I personally consider Pimp one of the greatest S&M novels of all time, its author more than just the voice of the ghetto. Slim (whose real name was the less flashy Robert Beck) was a psychologist and anthropologist at heart, a curious soul interested in a self-reflective study of his own psychological power trip while pimping, and of the consensual domination and submission aspect at the heart of the pimp-whore relationship. (Like with sadomasochistic partnerships, life itself is played as a game of chess. Slim only mind-fucked women who wanted to be mentally controlled – to be taken care of, to be told what to do and be free to not have to think.) Slim's enlightening journey, and his creative ability to express it on the page, is much more intriguing than Hinojosa's dry doc allows for. A brilliant man who served as the loudspeaker for an entire misunderstood and marginalized world deserves nothing less than the artistry of a Spike Lee.