Back to selection
The Hurt Goes On: The 2018 Berwick Film and Media Arts Festival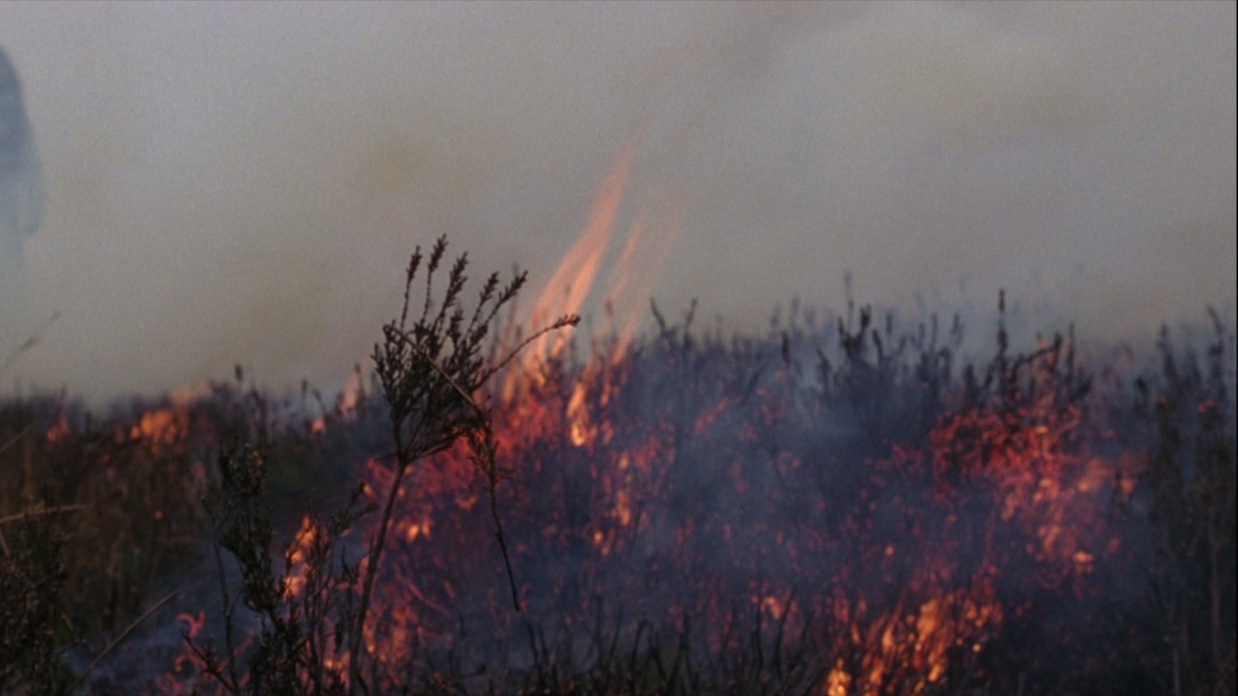 Crowtrap
"This film started from a place of anger, but as time has gone on I recognise that it's perhaps fear; history is starting to look like a set, Europe a wanton cathedral of the past….a shit incinerator." – from Callum Hill's Crowtrap
Once in a while a festival experience resembles a sort of fever dream. You arrive burning with emotions from rage to sadness to overwhelming angst that you live in a world where most people's limitations of thought and deed are just not even remotely acceptable to you. In this case, I called at Berwick-upon-Tweed in Northumberland County UK, the northernmost town in England just 2.5 miles south of the Scottish border, population ca. 12,000, not counting the seagulls. It's wee and charming and my blood pressure immediately lowered. You see, I had arrived in a high boil from my direct flight from Berlin to Edinburgh airport as a voyageur sans bagage because the combo of Tegel Airport and EasyJet is a bargain traveler's circle of hell.
But then I checked into my charming inn and the lovely proprietress there straight away brought me a nightgown, a spa robe, a toothbrush and paste, deodorant, etc. because it was after six and everything was closed. With quick swipes of a comb through the hair and of the lashes with the expired emergency mascara in my handbag, I headed out to make opening night just in time. The streets were empty, the air was fresh, the town was shuttered for the night, and the clock tower tolled seven as I rounded into a small street to The Maltings, the main venue of the festival. Everyone was so damned nice and welcoming, the small jewel-box theater was glowing and warm. After wolfing down a sandwich and glugging a small bottle of Prosecco I managed to grab before the restaurant attached to the cinema closed for the night, I took my seat in a slightly intoxicated state.
Peter Taylor, who generously proffered my invitation to attend this shindig, has been the Director of Berwick Film & Media Arts Festival since 2015, so this was his fourth go. Originally from Bangor, County Down in Northern Ireland, he's become deeply ensconced in the Berwick community and now lives there year-round with his family. He is a former decade-long programmer at International Film Festival Rotterdam, as well as the curator of some 300 programs and performances at WORM, Rotterdam's "Institute for Avant Garde-istic Recreation." He sounds and looks so normal but has wickedly perverse and adventurous taste in cinema and encourages that tendency in his curatorial team, which I appreciate. (In order to continue to expand my own repertoire and keep an aging mind as malleable as possible, I am more and more enamored of a type of cinematic work that is rigorous in its intellectual and philosophical positioning but can only be met viscerally and somewhat obliquely. I've learned to surrender to nonlinear or non-narrative work so that it becomes a voluptuous and soul-nourishing experience. I'm not sure, but I think I'm becoming more assured that I can tell the difference between meticulous and scrupulous art making that transcends the bounds of the intellect and those pieces that distinctly do not.)
So back to opening night and some of the wondrously eloquent work I managed to catch over the course of the four-day festival — even though, as always, I missed an awful lot too. Adam Khalil and Bayley Sweitzer's feature Empty Metal was the closing night film of the 2018 Art of the Real at Lincoln Center, and Berwick was its international premiere. This furious work is luminous and mysterious where it needs to be, but with a punk sensibility and finely-honed socio-political stance falling somewhere on the spectrum of numbness, disaffection and anarchy that allows Khalil and Sweitzer to weigh in on the unending violence of America, particularly the violence perpetrated against non-whites by whites. The co-directors decided that it's time to fantasize about what it might be like if gentler but no less fanatical marginal forces took revenge, murderous revenge, on some of the real life maniacs that have taken it upon themselves to serve justice in that special racist vigilante style so embedded in America's fascistic police state.
Using a disorienting mélange of form and style, and enlisting long-time friends and collaborators as their main protagonists, Khalil and Sweitzer attempt to find inventive forms that fit the content to reflect the surreal and deeply disturbing panoptic state of the USA as well as the larger world where black and brown lives do not seem to matter. The white survivalists are too ensconced in their own jungle gym, emboldening one another to steep themselves in the stink of death by rolling all over a giant pig carcass — one of my favorite scenes in the film. The film expresses a kind of irrevocable reckoning that has been centuries in the making, and one feels the tension of the juggernaut that's been waiting to be unleashed. Full of questions and not a small amount of spiritual angst accompanied by absurdist shenanigans and arcanic rituals, the ultimate deeds of revenge turn out to be somewhat flaccid and anti-climactic. Committing murder in America is awfully easy but if annihilation meets annihilation, where does that leave the state of the world? Most of us cannot lift ourselves onto higher planes of consciousness, try though we might; we must stay earthbound and deal. Khalil and Sweitzer are already building their next cinematic manifesto co-created with one of the protagonists from Empty Metal, the Trinidadian Rastafarian revolutionary and magic veggie chef played by the intensely handsome Oba — who now resides in East Williamsburg, as good a place to practice mind-melding as any.
Along with more ethereally exploratory work being done by many of the artists represented in the program, the crux of most of the pieces chosen for the New Cinema Competition (juried by artist Gail Pickering, curator and distributor Somali Joshi, and last year's BFMAF New Cinema award-winner for Dislocation Blues, filmmaker, writer and teacher Sky Hopinka) took confidential relationships with landscape, fire and brimstone, anarchy and burning, as the main alchemical tools to present their own statements of rage, sadness and fear. Standouts for me were Pathompon Mont Tesprateep's Confusion Is Next; Gelare Khoshgozaran's Medina Wasl: Connecting Town; I Hope I'm Loud When I'm Dead by Beatrice Gibson, featuring poets CAConrad and Eileen Myles; Tamara Henderson's gorgeous Seasons End: Out of Body; and, Callum Hill's 15-minute Crowtrap, the film that received the jury prize.
Hill's film fulfills the festival's ode to artistic practice and playfulness, but here Hill unleashes her own brand of political mayhem (and humor) using oblique profiles of two men of different generations. We get mere glimpses of them in medias res, but Hill stays purposively light on context here. According to the catalog notes, the elder is a man who had created a site-specific build in 1989 using 79 pieces of the Berlin Wall in a yard in East Berlin as a frame or border that encapsulates a giant coal pile. The younger is a heather burner in North Yorkshire who witnessed the Piper Alpha oil production platform disaster of 30 years before in which 167 men perished. The catastrophe led to the establishment of Britain's first post-Thatcher trade union. Hill provides a sly and potent commentary on the current climate in the UK and its imminent withdrawal from the EU. There are noises now that this, in fact, might not happen, but the ramifications of an ill-informed and reactionary voting public have come home to roost, and it's seemingly a reversal that will be nigh impossible to enact.
Hill is an artist who works with film, sculpture and photography, and this work reminded me very much of another multivalent artist's work. O'er the Land, Deborah Stratman's 52-minute film from 2009, which concerns itself with the ways in which various events, seemingly unrelated in space and time, can place an individual in a limbo that is at once familiar and irrevocably unrecognizable. Hill, using an emulsive substance that appears as some sort of shit stain covering her camera lens, shoots erratic searching footage in a museum where an art maker is equated with an arsonist. At one point the camera heads out of the pristine gallery spaces into the "Multifaith and Contemplation Room," where we see a tattered and dirty carpeted space with some throw pillows, a single chair and a forlorn prayer rug laying like a dried-up tongue on the floor under unforgiving fluorescent lighting. What, exactly, is one to contemplate or meditate upon here? Then moving through 30-year cycles of disjunctive sound and skeletal imagery, we see the titular crowtrap wherein a bird known for its intelligence and adaptability but also for its associations with death, disease, thievery and bad omens becomes acquainted with its new circumscribed "home." Just as in the final scene, where Hill herself stands as a homeless person warming herself by burning wood in a trash can on the lawn of someone's cozy domestic sphere, these cycles of disaster and bids for reactionary political resolution will continue to create populations of scavengers finding themselves equally at home in a variety of habitats from agricultural grassland to suburban neighborhood, a civilized space with all the amenities, or a once-open and free space now sequestering surviving life forms in a circumscribed corral.
BFMAF offered a program called Propositions, one session for each day of the festival. These are hybridic screenings/talks/performances taking place in the intimate Henry Travers Theater at The Maltings. The years-long collective collaboration of Giles Bailey, Jamie Hammill, Nellie Saunby and Sophie Soobramanien and their work-in-progress, Islanders, is a project specifically commissioned by the festival in conjunction with other local arts organizations and supported financially in part with public funds from Arts Council England. Melding live performance with moving image, the project explores the psychic and physical identity of pieces of isolated land and the political ramifications of such isolation, specifically the landmass of the United Kingdom and its relationship to other geographies separated by bodies of water. Fluidly exploring content and format, it is a CIRCA Project, an entity that is interested in exploring the topography of the northeast of England. As someone who has dipped in and out of this region in the past couple of years, this work was so indelibly moving to me because of this kind of specificity, its artistic extrapolations through a group of locals who have lived, educated themselves, and continue to engage with their little chunk of the world. This marked the third iteration, the first two being live events such as this one that played at Berwick in 2016 and 2017 — a commitment to a continuum with much heft and purpose. Like many of the filmic pieces in the program that deal with creating bespoke spaces that consist of both fictional and "real" elements, Islanders rang metaphorically true in a spot that is a living breathing manifestation of an always-vulnerable fortified city that's been standing since the 16th century, something that another festival commission explores through the work of artist and musician Luke Fowler called Enceindre. In collaboration with sound recordist Chris Watson, Fowler explores Berwick alongside that of a similar fortress town, Pamplona, in the north of Spain. At the festival, a "dark cinema" version of the film was screened, accompanied by an alternative soundtrack by Watson. This specificity of time and place and the embedded but ephemeral connections we have to those certain times and places are works well worth supporting, particularly in a world of perpetually shifting sands where the sense of permanent slippage seems perilously imminent.
Another Proposition offering was from American artist and linguist Sky Hopinka. He's a singular author, a writer using text and video, song, tincture and overtones of pigmentation to explore specific locations of identity interiorly as he physically moves himself through explicitly meaningful geographies. The session included five films of his, including his latest piece, Fainting Spells, which was also exhibited as a single-channel installation in Coxon's Tower, a 14th-century structure close to the town's rampart walls, part of the medieval fortifications in Berwick started by Edward I in 1296. Like a spelunker, or a miner, Hopinka donned a small headlamp attached to a strap that encircled his head and in the darkened room he read selections between films from his début publication Around the Edge of Encircling Lake. His explorations lie squarely in the domain of speculation. His is a deep and abiding quest for a constructed language with very little semantic transparency, traversing the mysteries of how spoken and written word and song and their myriad ambiguities can reveal ever deepening (as well as increasingly elusive) syntax. There is so much value in that ambiguity, and it creates a generous space for playful misdirection, innuendo, and hesitation, a code of connection with the past as well as providing possible semaphores and guideposts on ever-forward journeys. John McDowell, Professor of Folklore at Indiana University has stated: "…imagine living in a society in which people have no alternative but to state precisely what they mean to say. It would be a place devoid of grace, humor, and, perhaps above all, deniability." It is always in the far peripheries of whatever the center is of the agreed-upon center where these explorations happen and where the student becomes the teacher becomes the student becomes the teacher. Hopinka writes: "…For some time now, I've written down the names of people who have taught me things. It's far from complete; with every name I write, I try to remember the names I've forgotten or didn't see for their gift. Still, it's a small gesture toward keeping track of those flashes of uncertainty, and how someone added to a constellation of voiced and voiceless ways of being."
My next-to-last morning in Berwick-upon-Tweed was a gloriously beautiful day. Inconsolably bereft because I still didn't have my stuff — it would come the evening before I departed — I had a good cry in my hotel room (there's always that moment for me at festivals, don't ask why), I took myself out into the day for therapeutic walking. As I did so, I dipped in and out of some of the ten exhibitions embedded into the surrounds of the town. Taking over both the sublime historical buildings scattered around, as well as some less glamorous empty storefronts on the High Street in the center of the tiny commercial district, the festival mounted installations by Lucy Clout (this year's Berwick Visual Arts Artist In Residence at BFMAF), Patrick Staff, Agnieszka Polska​, Heather Phillipson, Carolyn Lazard, Hopinka, Sophia Al-Maria (this year's artist-in-profile), Rehana Zaman in collaboration with the Liverpool Black Women Filmmakers, Kevin Jerome Everson, and Berwick Youth Project. It was this last installation by the Youth Project that somehow personally touched me the most and where the title of this mess of words comes from.
The day before, I had been wandering around with a Spanish friend I adore and hadn't seen in ages; really never expected to see him in Berwick. I was freezing my ass off because it was 30 degrees colder than the sweltering swampland of Berlin had been and of course I had packed my jacket and other warm things in my missing suitcase. I told him I really needed to buy some outerwear posthaste. As we were walking up and down the main drag looking for affordable puffy jackets — Mountain Warehouse was the ticket — a tall slender young man with a head of light brown curly hair and a maniacal gleam in his eye gestured wildly at us from the other side of a large vitrine: Come in, come in, please come in! This was The Hurt Goes On exhibit and he and another high schooler, bored silly, needed some marks to come take a look at the goods in the back room.
Imagine if we shared our posts, photos, memories, birthdays, high- and low-lights on 16mm film? The Newcastle-based moving image collective Film Bee worked with 15 local teens to present a scenario about the dissociative aspects of a digitalized world — which is odd since that's all they know. Using slide projectors, 16mm projectors, loops, photos and interactive media, they dip back into family archives, fake or real, and other ephemera shot on Super 8 and transposed into a variety of forms. This created a crackling aural and visual "memory lane." For me, the sound of film running through sprockets, or the click-whoosh of a slide carousel, create madeleine moments. The young guy manning the exhibit told me working on this project made him want to be a projectionist because he now loved those sounds too. It was a glimpse into my own childhood and the ways in which those preserved Kodak Moments became the medium of memories, as the advertising slogan stated way back when. Unfortunately, I don't even really remember many of those moments; I just know they happened because my dad filmed them. "It's really boring to be a teenager in Berwick, and this project gave us the opportunity to try something totally different and learn about art in a new and interesting way." In the words of the great poet and songstress PJ Harvey: "Let England shake."