Back to selection
Glitches in the Matrix: Adventures in the CGI Wilderness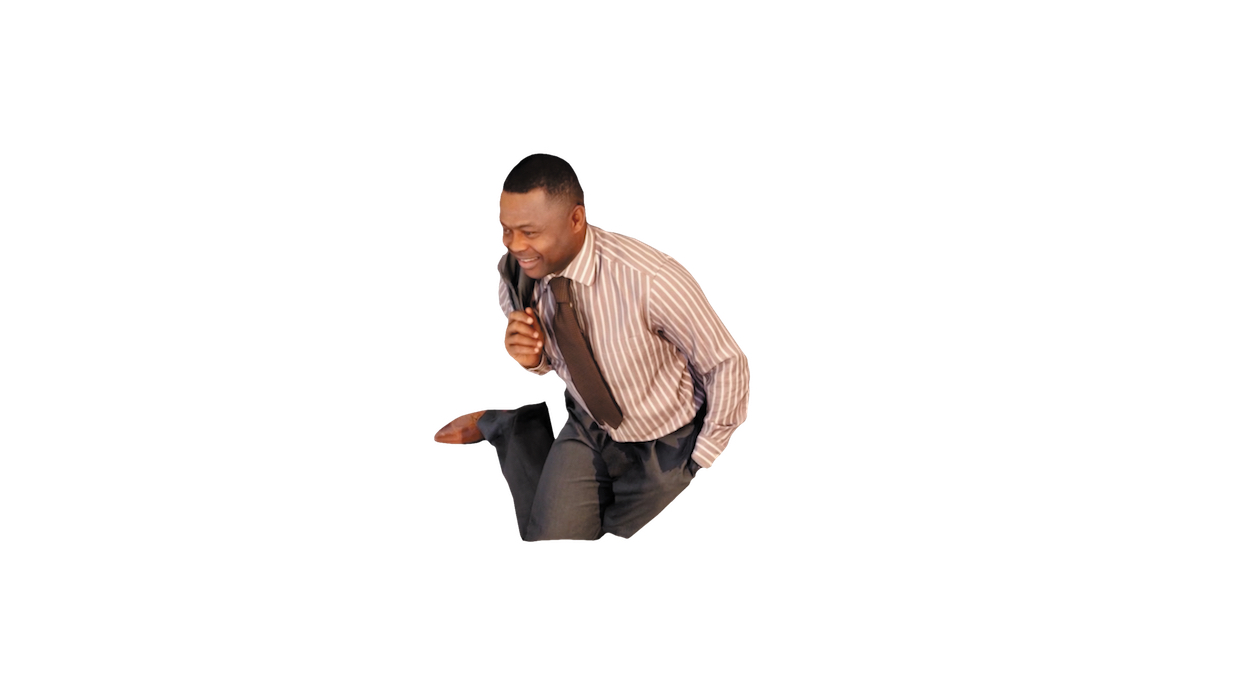 Homo Economicus
"Working with computer graphics, labor becomes so present in your mind because you're hunched over a computer for such a long time trying to deliver something that looks right," the artist Alan Warburton told me. What's "right" tends to be a seamless and effortless look, which means there is a paradox to the trade—all that work, at best, appears as if it never happened at all. 
Warburton's art practice, which mines his commercial work at post-production studios, departs from these objectives. His labor is noticeable, rather than invisible—imperfect and unfinished in projects like his animation series Homo Economicus (2018). That series is reminiscent of Robert Longo's Men in the Cities for an "auto-fill, auto-content-aware generation," as the bodies of three business men are animated to inflate and deflate—motion that is familiar to the human eye, yet unnatural to a human form. Their ankles and shoulders roll and unfold like the corners of an airbed, and their heads billow with no stability. Warburton deliberately dialed back photoreal elements to emphasize its construction; still, the verisimilitude is that of a nightmare come to life. 
Warburton is also present as the narrator of his widely shared video essay Goodbye Uncanny Valley (2017), which addresses another industry incongruity: It used to be that excellence was measured in how lifelike a rendering might be, but what counts as advancement in CGI when just about anything can be simulated? The video essay begins with a short history of photoreal computer rendering. First possible in the mid-1990s, blockbuster releases served as mile markers over the subsequent two decades, with new techniques to replicate hair, fire or other natural phenomena developed for specific films. But there have been no more breakthroughs like, say, the fluid simulation in Pirates of the Caribbean: At World's End in 2007. That has been done. Just about everything has been done. Now "we're at the point where we can conjure just about anything with software," and "the battle for photoreal CGI has been won," Warburton argues in Goodbye Uncanny Valley, so there are new goals for productions. If you are making a Hollywood blockbuster, that goal is about scale. If you are an independent artist, like Warburton, it means using computer graphics to get super weird.
The goal of scale has brought about hyper-spectacle set pieces like the city of "Sokovia" uprooted in Avengers: Age of Ultron (2015); a feat of labor, infrastructure and workflow that is impossible without a Marvel-size budget. There, the volume of special effects is ratcheted up to recapture the novelty that simulation once offered. As for the weird, or what Warburton in Goodbye Uncanny Valley calls the "CGI wilderness," that is the work of artists and hobbyists, who are often using the same software and graphical libraries of fluid and motion simulation, while constrained by resources and time.
The CGI wilderness is a spectacle of contrasting finesse and amateurism. There's a noticeable lack of the finishing touches that special effects studios might spend years on, and that roughness exposes the "magic trick," as Warburton puts it. Other practitioners revel in the grotesque and surreal, like Cool 3D World, which shares their animations on YouTube. The artist duo conjures up hellscapes: rotting bodies, mottled food, crude landscapes and monstrous scenarios. (In one of the tamer animations, a grotesque figure plants tiny disembodied heads like seeds, which then sprout head-trees.) In these videos, a photoreal human figuration might move with hiccups, or abstract figurations will have all the grace of Hollywood CGI. This disjuncture reveals the work for what it is: the creation of human beings at a computer.
Animators might be made invisible in blockbuster productions, but computer-generated character performance is labor that is increasingly acknowledged. Andy Serkis is legendary for his motion capture work, and Rosa Salazar, who played the title character in Alita: Battle Angel, was front and center in publicity for the film, while acknowledging the part Weta Digital played in constructing her character's doll-like face. Human performances are also where the uncanny valley has lingering relevance. When CGI mimics a human face—or, for example, de-ages Will Smith, as he will appear in the forthcoming Gemini Man—there remains the possibility of a marionettish quality, which that film's VFX team is undoubtedly working hard to avoid.
Hollywood productions also dabble with abstraction and surreal special effects. When I spoke with Warburton, he mentioned Doctor Strange as a particularly striking example. After all, many of its set pieces include riffs on fractals—that old standby trick in computer graphics—but, presented with Marvel's economies of scale, it is dazzling. It seems inevitable that Hollywood will eventually co-opt the grotesque spectacles of Cool 3D World and other examples from the CGI wilderness. After all, future audiences, raised on apps with morphing effects like Snapchat's "puppy filter" and virtual influencers like "Lil Miquela," must have a tolerance (or even an appetite) for weirdness and experimentation. 
A blockbuster in the future might do for the CGI grotesque what Doctor Strange did for fractals—or maybe not. Rejecting the invisibility of their labor is integral to Warburton's work and Cool 3D World, and it is what gives their animations an unsettling power. An actual marriage of weirdness and scale in CGI would have to indicate the presence of the computer effects artists: the fingerprints of all of the thousands, or tens of thousands, of workers would be, in this case, detected on the screen somehow. Now, that would be a spectacle.