Back to selection
The Parasite Eight-Minute Meal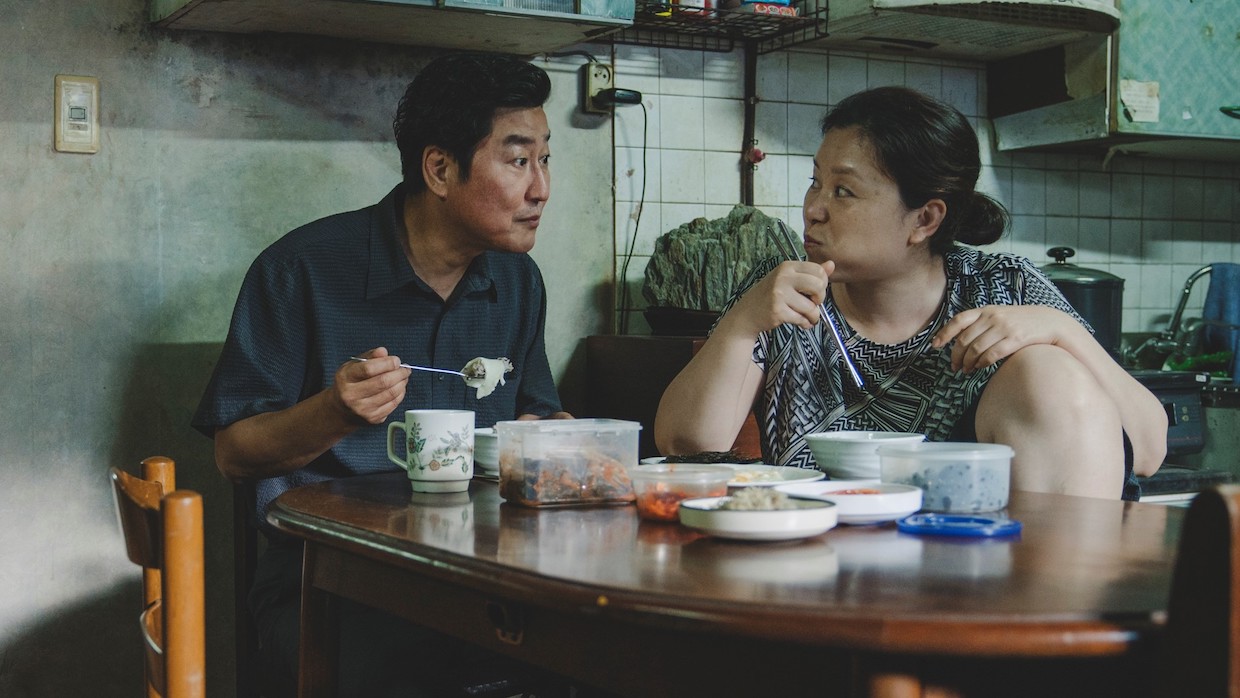 Song Kang-ho and Jang Hye-jin in Parasite
Bong Joon-ho's class warfare thriller Parasite has already entered the food film canon, and its signature entrée sits in the dead center of the highbrow-lowbrow matrix. Jjapaguri (translated as "ram-don" in the subtitles) is a mashed-up concoction of two different types of instant noodles: jjapaghetti (an abridged version of the Chinese-Korean black bean noodle dish, jjajangmyun) and Neoguri (a brand of packaged spicy seafood udon). The dish is prepared in just under eight minutes in Parasite, as the wealthy Park matriarch, on the way home from a cancelled family camping trip, calls in an order to her new housekeeper. Against all odds, the dish is made; all that trouble just to please the Parks' young son, who decides he doesn't even want to eat it—just another example of the servant-class Kims bending to the Parks' whimsical wishes. The highbrow cherry on top of this whole meal, in case the rush order wasn't inconvenient enough? Slices of hanwoo, the expensive Korea-bred cattle turned into sirloin steak. 
Director Bong had explained to the Los Angeles Times that the dish itself is liked by kids rich and poor, but he came up with the idea of adding steak because "the rich wife couldn't stand her kid to eat this cheap noodle, so she adds sirloin topping." It seems ingenious, but Bong's not the first to think of it: The marriage of junk and gourmet food has become, as in so many other cuisines, a trend in Korea, such as chadolbaegi ramen, which, in its simplest form, requires adding slices of chadolbaegi (Korean BBQ brisket) on top of instant ramen. Since its inception, recipes for jjapaguri have been everywhere: YouTube, Reddit, various traffic-chasing editorial platforms. In at least one case, a non-Korean writer, calling it "the height of Korean comfort food," literally combined ramen and udon, as indicated in the simplified translation, rather than the ingredients making up the Frankensteined portmanteau "jjapaguri." And, of course, it wasn't long before I saw this meal on my very own Instagram feed, posted by a Caucasian friend, no less—it made me stop mid-scroll, though I should have seen it coming. 
Part of the shock is that I got made fun of for my "weird" Korean lunches the few years I spent going to school in the United States. Now, it's in vogue to eat Korean food, in all its contrived medleys, which is as heartening as it is slightly alien to witness. It's not just Parasite that has everyone running out to H Mart; last year, there was a spike in Yakult sales thanks to To All the Boys I've Loved Before, and soju has become the default liquor for a small faction of Hong Sang-soo lovers who have seen his characters go through all the stages of grief after a few swigs.
The Alamo-ization of Korean food has made the cuisine both so approachable and, well, not. Just as the Parks elevated the jjapaguri dish by adding sirloin, a certain kind of inflation happens when Korean food is westernized. At a hip restaurant-cum-karaoke joint, I found a standard on-the-house banchan dish—priced at $19. Anthony Bourdain once gushed about "a land where soju is cheaper than water," but that kind of magical trashiness doesn't exist when soju is quadruple the price or packaged as artisanal. Once, I was at a five-course tasting for Park Chan-wook's Oldboy at Nitehawk Cinema (an experience I should point out I hadn't paid for). Forgoing the iconic tentacle-slurping, they served us easier-to-stomach dishes, all paired with a luxury soju brand founded by a white guy.
Upon the release of Parasite, Alamo Drafthouse (of course) created a menu inspired by the movie. From peaches to pizza boxes, there's so much to be influenced by—though surprisingly, jjapaguri wasn't on there. Instead, there were wings with gochujang (red pepper paste) slapped on top and bulgogi dropped on top of pizza. It felt lazy and uninspired—or, as a Korean friend said, "low-key racist." It felt considerably less racist when compared to what the Alamo menus rolled out for Nacho Vigalondo's Colossal. The concept was a dinner party where Korean food was pitted against its American counterpart (scallion pancakes [pajeon] versus buttermilk cornmeal ones, for example), along with a special line of ale called the "Seoul Crusher" (sigh). The movie itself sounds like an Alamo-concocted recipe. The Drafthouse's marketing team failed to see that Colossal is literally about Seoul getting actually destroyed. The film was hardly about the city but used it as mere collateral damage—it cared so little about Seoul, in fact, that in its opening scene, it used actors who could barely speak Korean, playing supposed natives, before the first instance of destruction. It's still endearing to see non-Korean friends exploring their palates, trying their hand at making Korean food and making trips out to Flushing, but this corner of commercialization still leaves behind a gross aftertaste.