Back to selection
The American Pavilion Announces Emerging Filmmaker Showcase Winners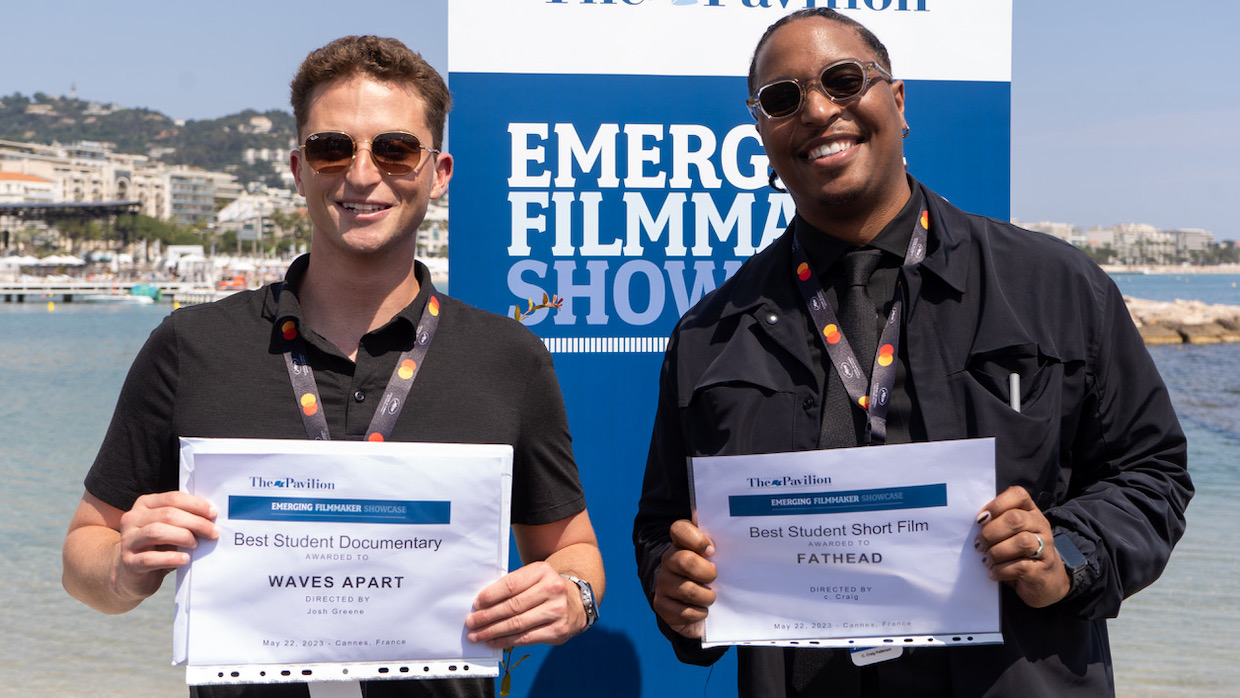 Emerging Filmmaker Student Showcase winners Josh Greene and c. Craig
The American Pavilion announces today the six winners of the 2023 Emerging Filmmaker Showcase at Cannes. Selected from 38 short films in competition, winners were chosen by a jury that includes agents, managers, producers, and industry members in the following categories: Student Short Films, Student Documentaries, Emerging Filmmaker Short Films, Emerging Filmmaker Documentaries, Emerging Filmmaker LGBTQ Showcase Films and an Alumni Showcase. 
Now in its 26th edition, the Emerging Filmmaker Showcase serves as an opportunity for young filmmakers to have their work seen by Cannes Festival and Film Market attendees. Prize packs this year were sponsored by Final Draft, Write Brothers Movie Magic Screenwriter, International Documentary Association, Screening Services Group, Simple DCP, Michael Wiese Productions Books, and ESE Film Workshops Online. 
Read about the winners below.
2023 EMERGING FILMMAKER SHOWCASE SHORT FILMS WINNER: 
Employee of the Month
2022, 18:56 min., Nigeria, Drama 
Producer/Writer/Director: Goga Clay 
Cast: Tope Tedela, Elma Mbadiwe 
Ibinabo, a young husband and father-to-be, lives an unremarkable but exemplary life. He strives to prove himself to his boss, but gets caught up in the horrors of the October 2020 protests against police brutality. 
2023 EMERGING FILMMAKER DOCUMENTARY WINNER: 
Handwritten
2022, 8:48 min., USA, Animation/Documentary 
Writer/Director: Jaime Sunwoo 
Producer: Alex Griffin, Jessica Simon, Jaime Sunwoo 
Cast: Jaime Sunwoo 
After discovering old diaries and notebooks, artist Jaime Sunwoo examines her shapeshifting penmanship and wonders why she's never had a consistent style. Through playful paper puppetry and animation, she reflects on what handwriting means to her personally, its significance throughout history, and its relevance in our computerized world. 
2023 EMERGING FILMMAKER SHOWCASE STUDENT FILMS WINNER: 
Fathead
2023, 20 min., USA, Action/Fantasy, University of Southern California 
Writer/Director: c. Craig 
Producer: Mitchell Graham Colley, Anthony Gaitros, Letia Solomon, Alexa Villarreal, Brandyn Johnson 
Cast: Kapri Ladd, Tremari Limbrick, Tika Sumpter, Notlim Taylor 
When one of the last free children of Junkyard Paradise has her brother stolen away from her, no Ragamuffin army or vicious beasts will stop her from getting him back. 
2023 EMERGING FILMMAKER SHOWCASE STUDENT DOCUMENTARY WINNER: 
Waves Apart
2022, 24:55 min., USA, Documentary, University of Southern California Director: Josh Greene 
Producer: Aslan Dalgic, Ela Passarelli 
What happens when your passion conflicts with your heritage? A Jewish surfer confronts the dark, antisemitic history of the sport he once loved.
2023 EMERGING FILMMAKER LGBTQ+ SHOWCASE WINNER: 
Benny & James
2023, 14:50 min., USA, Drama/LGBTQ+ 
Writer/Director: Logan Vaughn 
Producer: Laurie Bernhard, Ria Pavia, Mayon Denton, Robert Arnold 
Cast: Phillip James Brannon, Calvin Leon Smith 
A man, unsettled by his imminent life-changing decision, suspects his terrifying dream and his husband's daunting parallel encounter might be a signal from God to cancel a long awaited arrival. 
2023 EMERGING FILMMAKER HIGH SCHOOL SHOWCASE WINNER: 
My Sisters in the Stars: The Story of Lee Yong-soo
2022, 9:55 min., USA/Korea, Animation/Documentary, Harvard-Westlake Writer/Director: Ian Kim 
Producer: Harry Kim, Kay Park, Sophie Kim 
Original Score: Abe Effress 
Cast: Yong-soo Lee 
An animated documentary about the life story of Lee Yong-soo, one of 11 remaining known survivors in Korea of the Japanese WWII-era Comfort Women system of human trafficking and sexual slavery.