Back to selection
Five Questions with The Rambler Director Calvin Lee Reeder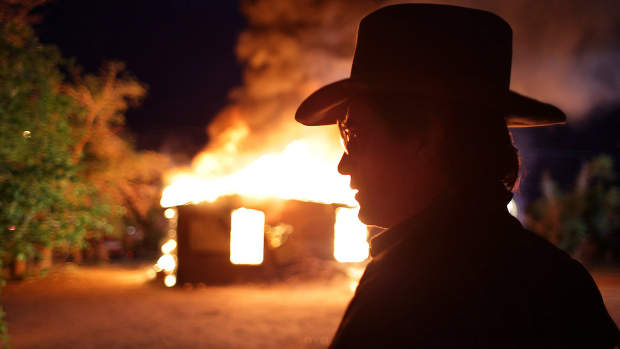 Over the past half-decade, Calvin Reeder has carved out a filmmaking niche all his own. His debut feature, The Oregonian (which premiered at Sundance two years ago), as well as his much-praised early short films, are a strange mix of psychological horror, high-minded surrealism, camp, and a soundtrack and filmic texture that hint at both nostalgia and discomfort. His second feature, The Rambler, is an adaptation of his 2008 short film of the same name, and follows a man (Dermot Mulroney) recently released from jail who embarks on a journey to reconnect with his long-lost brother. It premieres today in the Park City at Midnight section of the Sundance Film Festival.
Filmmaker: Was it always your intention to expand the short into a feature? Or was there a more recent inspiration that made you want to return to this story?
Reeder: Well, at first my intention was just to make a solid follow up to Little Farm. Kodak had sent the lab I worked at, Alpha Cine (Seattle), a bunch of expired stock for scratch testing the processors, so of course we used that to make these shorts. But right after completing The Rambler short it became my prime directive to expand the story and make a feature, I moved to LA and everything. People really liked the short and the script, but it took a really long time to lock in the funding. I used The Rambler character in a short called The Snake Mountain Coloda, but that didn't really get me there either.
I pretty much gave up on the idea and made The Oregonian. After that, the people at Anchor Bay started asking me about The Rambler again, and it finally happened. I had written the script four or five years before, so I had to get reacquainted with whatever it was that inspired me in the first place. That came pretty easy, but I had to do some time travelin'.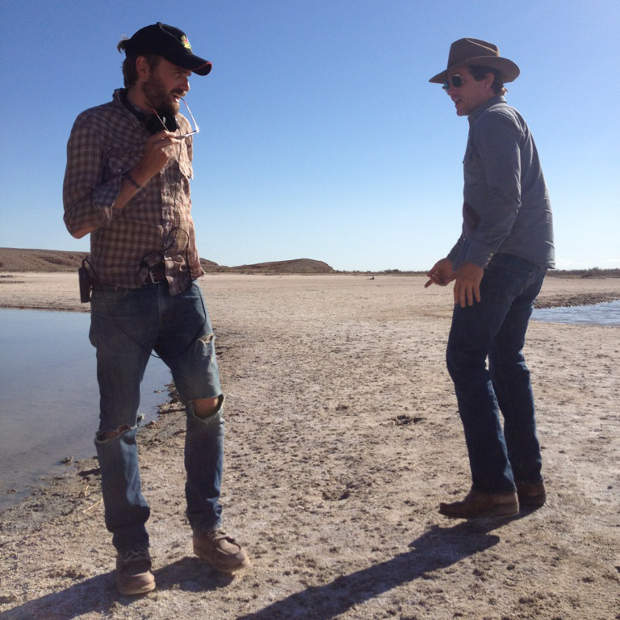 Filmmaker: While you played the main character in the short, here Dermot Mulroney takes on the lead role. What made you decide to recast? What convinced you that Mulroney was the man for the job?
Reeder: The main reason I was The Rambler in the first place was because of how much gnarly shit that guy had to go through. I didn't want or even know how to explain that stuff to an actor at the time. I felt I could make the character live in a short, but I'm really not that into acting. So I always knew the feature would have to be someone much better and more interesting than me. A mutual pal of Dermot's and mine suggested him, and I really got excited about that. He's got a total Ramblin' Jack Elliot thing going on look-wise, and he's really talented. I'm lucky to have him.
Filmmaker: Was there a lot of improvisation on set? How closely did you stick to the script?
Reeder: No. Somehow improvisation doesn't really jive with my stuff. I have tried it but I'm so specific about everything that it must not leave a lot of room for actors to do that. We stayed to the script all the way through. The actors really knew what they were doing. It was cool to be around it.
Filmmaker: The horror found in your films is pretty out-of-line with contemporary stuff, instead owing more to the surrealist works of Bunuel, Lynch, or Jodorowsky. Is there a conscious effort on your part to make your films "scary?" What's your writing and brainstorming process like?
Reeder: I appreciate that. Most of my ideas come in pieces and it's a struggle to connect them at first. So far I've been most interested in feeling and tone, so I do my best to write stories around that. If something comes out scary I try not to edit or fix it too much. Same goes for stuff that I think is funny. I like it when a movie makes its own shape.
Filmmaker: Another important element of your previous work has been the camera itself – the way the look of the film, usually 16mm, has informed the tone of the piece. Is this something that you feel has carried over into The Rambler?
Reeder: I love 16, I was really dedicated to that look through all the shorts and then into The Oregonian. Ryan Adams was the DP on most of that stuff and his style and instinct really helped guide that. The Rambler just had to feel bigger and wider, I opted for a distinctly different look. I guess we'll see if any of the feel has carried over, it definitely has for me.