Back to selection
Heart of Darkness (and Light): The 29th Sarajevo Film Festival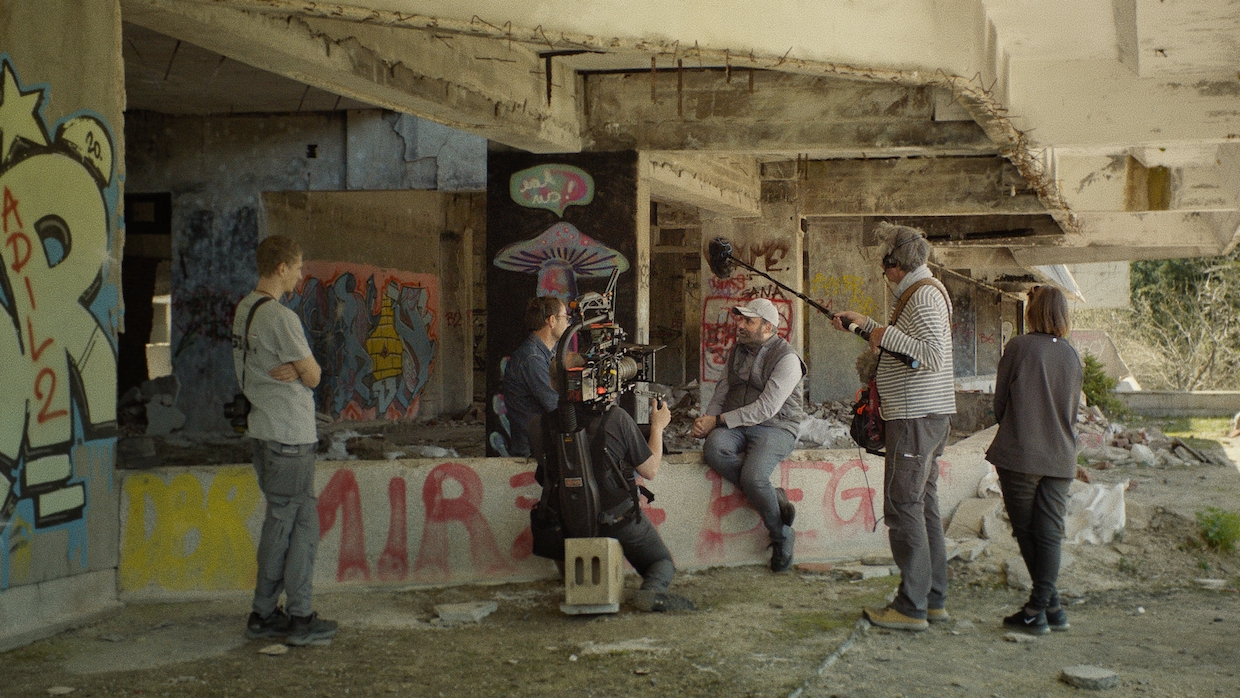 Facing Darkness
Taking place from August 11-18, this year's 29th edition of the Sarajevo Film Festival, the largest film fest in (and focused on) Southeast Europe, unsurprisingly presented a wealth of cinematic gems to choose from. (And in a variety of venues, from the storied National Theater, built during the Austro-Hungarian takeover, to the evening-only Open Air Cinemas.) That is, when one wasn't scrambling to catch the numerous talks and masterclasses—taught by this year's Honorary Heart of Sarajevo recipients/hot tickets Mark Cousins, Lynne Ramsay and Charlie Kaufman—or attending the equally busy CineLink Industry Days (which, like the festival itself, is smartly geared towards filmmakers working in the region).
But as a first-time visitor (okay, clueless American) to the festival and surrounding Balkan neighborhood, I first needed to absorb a bit of history to get my bearings. And serendipitously for me, I was able to learn about both in one of the most unexpected ways. "The First Wartime Cinema Apollo," an exhibition held at the Gallery of the Academy of Fine Arts (which sits beside Sarajevo's famous and lovely Miljacka river) featured the work of Milomir Kovačević Strašni, an urban and heartbreakingly humane photographer who's been called Sarajevo's "chronicler of life" during the war. Indeed, the exhibit was really a 30th anniversary commemoration of the First War Cinema Apollo, birthed at the Obala Open Stage at the Academy of Performing Arts. (Which later became the less formal-sounding Obala Art Center, founder of a small upstart christened the Sarajevo Film Festival.)
Accompanied by (thankfully English) text by the event's curator Lejla Hodžić, the roomful of strikingly moving B&W images (the one of a couple locked in an oblivious kiss nearly brought me to tears) served as an often surprising, photographic testament of culture under the three and a half year long siege: Elderly women assessing a painting. Euphoric adolescents thrashing about at a punk rock gig. A camouflage-clad soldier standing arrestingly at ease. A spry Annie Leibovitz engaging in deep conversation during her own "Sarajevo Portraits" exhibit. Even a decades-younger version of honorary guest Mark Cousins, who went on to direct, along with Šejla Kamerić, a film about none other than the First Wartime Cinema Apollo makes an appearance. (Alas, no photos of the ubiquitous Bono, star of Kiss the Future, Nenad Cicin-Sain's doc centered on U2's relentless efforts to wake the world up to the slow-motion tragedy unfolding in the Bosnian capital in the '90s. That said, Bono himself did actually show up in the flesh to walk the red carpet for the film's opening night. Or so I heard the next morning, as my 20 hours of travel had caught up with me by then. Luckily, I'd already encountered the decades-younger version outside his tour bus back in the day.)
Duly inspired, I then decided to take a cinematic walk down B&H memory lane in the form of the intriguingly curated "Dealing with the Past Programme," a wide-ranging (both fiction and nonfiction) selection from "authors who became famous with films about real events, as well as new authors who question the position of individuals whose lives have been marked by trauma from the recent past" with an eye towards a stated mission "to initiate dialogue in the countries formed from the disintegration of the former Yugoslavia and to deal with problems arising as a result of the wars in the region." (The program was likewise accompanied by the True Stories Market, which culminated in the chance for participants to apply for a 3000 euro grant from the cheekily titled "Heartefact Fund.")
And while the program spotlit such festival doc darlings as (SFF panelist) Mila Turajlić's expertly crafted Ciné-Guerrillas: Scenes from the Labudovic Reels and Mark Cousins's (exploration of fascism in Italy) The March on Rome—along with of course Teona Strugar Mitevska's terrific TIFF 2022-premiering, Sarajevo-set, based-on-a-true-story narrative The Happiest Man in the World—it was a trio of nonfiction films that served as a sort of Rosetta Stone for my overall understanding of the former Yugoslavia. Or at least as much as one could possibly discern about a place in which a journalist can pass both a tourist in skimpy shorts and a woman in full burka on the way to grab a vegan wrap at the festival's Coca-Cola-sponsored Eating Point.
Indeed, today sacred religion and unholy capitalism seem to have formed a fragile post-war ceasefire, on display in both Aleksandar Reljić's Mamula All Inclusive and Georg Zeller's Souvenirs of War. The former revolves around the elderly Ivo Marković, one of the last survivors of the WWII prison camp established (by the Mussolini-led fascists of Cousins's doc) on Montenegro's Mamula Island, and his Sisyphean and heartbreakingly futile efforts to prevent the 19th-century fortress from becoming a 21st-century luxury spa and hotel. Despite a relentless, grassroots geriatric effort involving phone calls, community meetings, memorial services and rallying of both the press and the last of the fellow onetime inmates, Marković is finally forced to accept the inevitable: The site of mass war crimes, many of which he witnessed firsthand, will now feature a marina and chichi wine bar.
Similarly (and coincidentally, with an Italian director at its helm), Georg Zeller's Souvenirs of War is a surreal road trip through the contemporary capital, less a cohesive and coherent city than one giant and chaotic, tourist industrial complex. From battle reenactments waged by young camo-clad men (and a few women) who weren't even alive during the real thing, to the psychically horrific plight of a PTSD-suffering former soldier, now forced by economic circumstance to make his living as a dark tourism guide, re-traumatizing himself for profit on a daily basis. Indeed, it's enough to make one think twice before visiting Sarajevo's much-publicized Museum of Crimes Against Humanity and Genocide. (For the record, I also skipped the Siege of Sarajevo Museum just in case.)
And then there was Jean-Gabriel Périot's counterintuitively illuminating Facing Darkness, a France/Switzerland/B&H collaboration that deals with the past through a dual lens. During the 1,425-day siege young men were called to defend their city; few had military experience but far more had video cameras. When not firing weapons, these band of amateurs shot film, intent on getting their hastily framed dispatches out to the wider world. Thirty years on Périot and his team revisit these images through the eyes of the now middle-aged men behind those lenses, who reflect candidly on not just their still vivid experiences of the war but also on what moved them to filter such brutality and desperation through their own crusading cinema. As one cameraman (now professional filmmaker) explains, regarding the fact that so many in Sarajevo during the siege asked foreign journos to bring back not food but movies, "If you are a civilized person you can't survive without art or culture. Water and bread are merely for physical survival." A passionate proclamation the Sarajevo Film Festival undoubtedly would agree with heart and soul.