Back to selection
Secret Cinema: The Eastern Oregon Film Festival's Remarkable 5th Edition
Unlike nearly everywhere else in the culture, bigger is not necessarily better at the Eastern Oregon Film Festival. It's a slender event in a small town. Eleven features and 21 shorts across three days and two venues. Still, they don't call this stretch of fully enclosed valley "La Grande" for nothing. Despite only containing about 12,000 souls, this mountainous hamlet, like Ian Clark and Benjamin Morgan's program, leaves you plenty of room to explore.
The festival opened on a Thursday night in late February, commencing with a dinner for its supporting members in the town's recently renovated arts center. Over beer, steak and salad, Christopher Jennings, the festival director, exhorted some of those gathered to give more. It's difficult throwing a film festival, especially an ambitious one with few resources. Folks milled about, caught up; the group of Pacific and inland Northwest cineastes that seem to travel here every year, whether they have new work to show off or not, is pretty tight. Eventually people moseyed over to The Granada, the three-screen house that lends out a theater to the festival, and watched Bending Steel. Producer/d.p. Ryan Scufaro and subject Christopher "Wonder" Schoeck were on hand. Schoeck bent some steel, and everyone went home happy. The Olympics were going on, but we weren't yet at war with Russia, so myself and a few others cheered for the Soviet women's curlers from the bar at the after party before sauntering home to get ready for the next day's early start.
The guest list is small enough for a festival with 11 features that Clark has everyone out to his parents Brenda and Joad's home, at the base of a large mountain and overlooking the vast expanse of La Grande, for a Kombucha and quiche-powered breakfast early on day two. A bunch of narrative filmmakers got into a row at one table about the velocity at which the documentary film form seems to be evolving alongside narrative film's aesthetic rut. A snowball fight broke out toward the end of the affair as people headed back to various vehicles. Then the day began with a film that had screened in Toronto last year, Robert Lepage and Pedro Pires' handsome and but uninvolving Triptych. It was followed by Lofty Nathan's SXSW hit Twelve O'Clock Boys ("I been on this earth for a decade and couple years, what that makes me? I'm a grown ass man!"), a selection of shorts from the recently concluded 40th edition of the Northwest Filmmakers Festival, the longwinded and oddly revelatory Bob Birdnow's Remarkable Tale of Human Survival and Transcendence of Self and a Bryan Poyser movie with an unpromising trailer. There was more Olympics and more drinking and more live music (seek out a Portland two-fer called Sad Horse), and everyone got home later than civilization normally requires.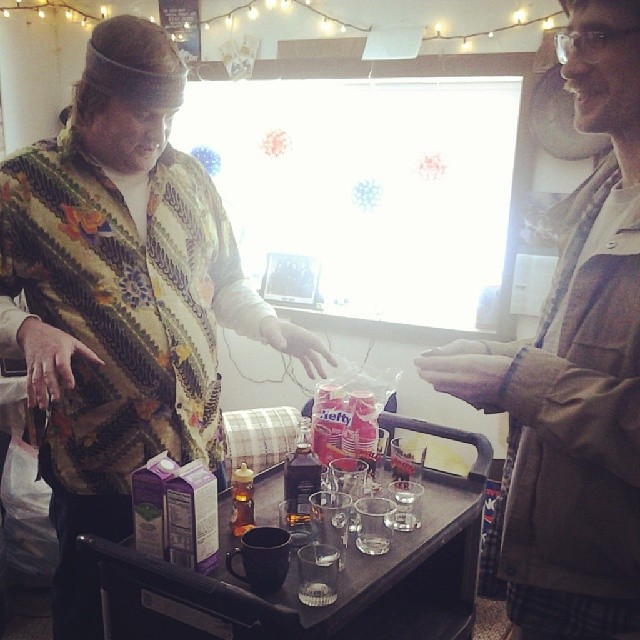 Day three began with hatchets, guns and cocktails. We journeyed up to Dusty Decker's residence. He's among the stars of Clark's magnificent film, Country Story, and a true American eclectic. Decker was decked out: patterned black-and-yellow satin shirt, grey headband, generous paunch. He made a concoction for those in attendance on this Saturday morning called the albino bumblebee (Jack Daniels, goat's milk, honey) and offered them BB guns and hatchets with which to cause havoc of his beer can and tree-stump strewn property. Toward the end of the morning, before the caravan headed back down the hills to the Art Center for an 11:00 AM panel, a trio of visiting filmmakers climbed into a blow-up canoe and allowed Decker to propel them around his icy driveway to great approval from the BB-gun toting hordes.
The panel didn't happen as planned; no one from the town showed up. So the filmmakers and their friends sat in a circle and talked long and loud about the crisis of independent film. There's no money in it. It's impossible to compete with Hollywood for eyes. And few of us were sober. We schlepped back into the grey Oregon day and went to lunch with our vouchers to the local Mediterranean grill.
The third day of programming was full of movies long celebrated by yours truly on the virtual pages of this very magazine: Jessica Oreck's lovely Aatsinki: The Story of Arctic Cowboys, Jeremy Teicher's gallant Tall as a Baobab Tree, the Safdie Brothers' sublime Lenny Cooke, and Andrew Droz Palermo and Tracy Droz Tragos's Sundance winner Rich Hill. The festival closed with Eddie Mullins' Doomsdays. Selected by our editorial staff as one of 2013's Best Films Not Playing at a Theater Near You, it was curated by our recently departed Managing Editor Nick Dawson as the festival's Filmmaker Magazine Showcase. Before the film, Morgan made another plea for financial help. The town government decided to end its financial support of the project this year he claimed, to the dismay and unease of some on hand. One middle-aged man confronted the programmer afterward in a rather strident manner, all red-faced indignation.
I was asked to do the Q&A and it was quite a pleasure, even though Mr. Mullins was piped in via Skype; he was quite drunk, or at least feigning to be, although I was convinced once he began swigging from a nearly empty bottle halfway through the affair, his slurred words still offering a concise and gently humorous explanation of how his film's peak oil alarmists run amok in suburban America narrative came about. There was an after party at the arts center again. AU, a Portland based experimental pop band, got everyone dancing. It all spilled into a house party later on. And then it was in the books.