Back to selection
Asger Leth, Ghost Of Cité Soleil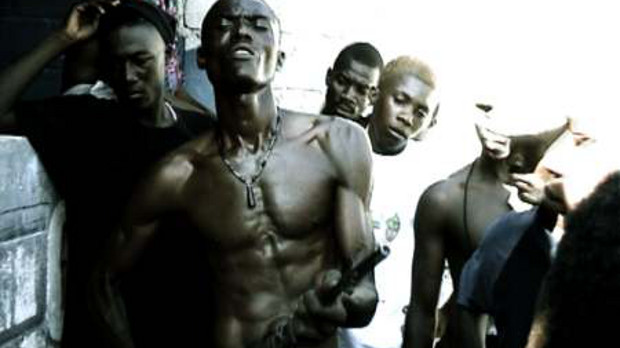 2PAC AND HIS SOLDIERS IN ASGER LETH'S GHOSTS OF CITÉ SOLEIL. COURTESY THINKFILM.
Asger Leth grew up with film as a way of life. His father, Danish film giant Jørgen Leth, featured him in Life in Denmark (1971) before young Asger could even walk or talk, and he also appeared in two more of his father's documentaries, Good and Evil (1975) and Moments of Play (1986). Keen to escape his father's shadow, Leth initially considered a career as a lawyer but ultimately could not resist the lure of filmmaking. He started directing short films in the mid-1990s, while simultaneously working on his father's projects, most notably the celebrated The Five Obstructions (2003), in which Lars von Trier forced Leth Sr. to remake one of his films five times.
Leth's experiences as writer and assistant director on The Five Obstructions gave him the confidence to go out and make his feature debut, and he found an ideal subject in Haiti, where Jørgen Leth has lived since the late 1980s. The resulting film is Ghosts of Cité Soleil, an immediate and compelling documentary about the Chimères, the gangs who run Cité Soleil, the dangerous and impoverished slum section of Port-au-Prince, Haiti's capital. It focuses on two of the gang leaders, chalk-and cheese brothers Bily and 2pac: Bily is politically-minded, while all 2pac really wants to do is be a rapper and escape Cité Soleil to make his music. Stylishly shot and edited with all the pace and verve of a thriller, Ghosts of Cité Soleil arguably has just as much genuine drama as the majority of Hollywood movies, and considerably more emotional impact simply because what's happening on screen is not fiction, but real life.
Filmmaker spoke to Leth about shooting in one of the most dangerous places in the world, the current state of documentaries, and being attacked by Werner Herzog.
Filmmaker: You've spent a lot of time in Haiti because of your father. How old were you when he first moved there?
Leth: He moved there already in 1989, so I've been going to Haiti every year since then. Actually a few years before that, he did a feature film there in 1982 and a documentary in 1986 where I was also out there. I've been going there for a month or two every year for many years, so I know Haiti very well.
Filmmaker: And where on the island does your father live?
Leth: On the south coast. It's about three hours away from Port-au-Prince, and it's across a mountain range, so it feels like it's a different country. It's very beautiful and very quiet, and the political mayhem of Port-au-Prince is nowhere near. It's very, very nice.
Filmmaker: How much time did you spend in Port-au-Prince?
Leth: My father used to live in Port-au-Prince for the first 10 years, so I know Port-au-Prince very well. I used to go to Cité Soleil quite often – actually, on every trip I would go there, and it used to be a place you could actually go. It was poor and miserable and horrible, but peaceful. But then things started changing and the gang phenomenon started. It became worse and worse, and Cité Soleil became a no-go zone, totally dangerous. I saw that whole development and heard all the rumors about the Chimères, and it was just fascinating.
Filmmaker: When you first went to Cité Soleil, it was presumably a place that was safe for a young white man to go. In the film, we see that what it's becomes is radically different to that.
Leth: You used to be able to go there. It was not the place that young white men would go, even back then, but it was a place that you could go. When people visited, from time to time they would ask us to take them there. So we would, because there were very important stories to tell. There have always been important stories to tell in Cité Soleil. In a sense, you could say that Cité Soleil has always been the thermometer for Haiti: you could feel and see and report exactly what the situation was in the country. You should always go to the worst places to check out the temperature.
Filmmaker: How did you gain the trust of the Chimères, particularly 2pac and Bily?
Leth: Well, Milos Loncarevic, a Serbian guy, and Lele, the French girl you see in the film, were in there for months. She was doing work for aid organizations and he was taking still photos. So they knew these guys intimately, also because they were the only foreigners going in there. They went in there fearless, and that in itself gave them a lot of respect. Especially Lele, who actually wanted to do something. A lot of aid organizations go to a place like that and do a lot of stuff in the country but they are not necessarily keen on going into the worst place. So nobody would go into Cité Soleil, but she was like, "Well, I'm gonna do something. I wanna go there." I heard about those two people and contacted them, and they introduced me to 2pac and Bily who wanted to tell their story. Even if there hadn't have been a rebellion, they probably knew that they were not going to live that long. They had a feeling that the president – who they worked for – was going to leave, and they were going to be stuck with the bill. The bill being [that] the rebels were going come in and kill them. So they wanted someone to tell their story, they wanted to leave their mark, and not just disappear like a blip.
Filmmaker: How did Wyclef Jean get involved with the project?
Leth: Well, Wyclef was born right next to Cité Soleil and he is the one symbol of the guy who made it out. He's not a celebrity, he's like a beacon of hope; he's the only example of somebody who made it out and made it big that they have in this area. So 2pac wanted to get in contact with him, [because he thought that] then his life would change. He tried desperately to find him, or some way to get to him, and then he met a Haitian-American who came down to record some stuff at a studio in Haiti, and he knew somebody who knew somebody who had a number for him. Then they hooked up on the phone, but the first time 2pac called him, Wyclef still didn't know this guy was for real. Then I went to New York and said, "Yeah he's for real," and then immediately he was like, "Oh, man, I better get back on the phone with him!"
Filmmaker: The film plays like non-fiction, particularly in the way it's shot and edited.
Leth: Yeah, that's exactly what I wanted. But it's difficult, it's extremely difficult, because sometimes you get get stuck and you need some fresh eyes, and it's good to have people around you who are not close to the project who will come in and talk to you about it. I had way too little time editing this film, and I think we did a fantastic job, comparatively speaking. I financed the shooting of the film myself, had very little money to finish it with, and had technical difficulties with editing the 500 hours of material. My editor doesn't speak any Creole and didn't know the story nearly as well as me, so the process would be that he would come in at 9 o'clock in the morning, we would edit till 6, 7 at night, he would go home to his family, I would stay, look through the footage, find scenes I wanted to cut, subtitle all of it for him all night until 5 or 6 in the morning, then sleep two hours, and then he would come in again. So the process was hard, but we edited the film in record time. We probably did it in half the time we should have, but we did a fantastic job.
Filmmaker: Your father's films have typically blurred the lines between fiction and documentary, so was his style of filmmaking an influence on you?
Leth: Absolutely, absolutely, in the sense that he taught me from when I was a child that documentaries can be so many things, that it's almost an unexplored territory. I share his interest in more talking heads-style documentaries, and these university-educated, socio-anthropological pieces where people are talking, talking, talking and studying subjects from the outside and being clever about issues. You could be clever about these gangs and say, "They're gangs because of the hip-hop music," but it's bullshit. So I wanted to do a documentary that felt like a feature film in the structure of it. I think you could push it even further. It's a totally true story, there's nothing written, but the way I tell the story with cinema verité, it's a different kind of grammatic storytelling. I think that you can tell stories like that – I wanted to prove that you can. For arrogant, filmmaking-loving reasons, I have to tell you that I specifically looked for this, so if I hadn't found that in Haiti, I wouldn't have done the film.
Filmmaker: The timing of the film was certainly excellent.
Leth: But that was easy. I know Haiti so well, I knew it was happening, and all of a sudden things were clicking into place. The thing in Haiti is that when the rebellion starts in the specific city of Gonaives it always ends up with the president or the dictator leaving the country. And it's always at the end of February! It's crazy as a documentary filmmaker that you can already [know that]. So I knew I had these two brothers, gang leaders in the world's most dangerous slum, totally different, one a Ché Guevara-type and one who wants to get out of the violence and be a rap musician. So there's personal drama going on, the rebels are coming in, the guy that these two gang leaders are working for is gonna leave them, they're going to be stuck with the bill and they're all going to know it. So that's a fantastic drama – you couldn't write it! But it was there, and I knew it was there from the beginning. I mean, I wrote two pages of the story on the first day, and it all panned out. It all happened.
Filmmaker: What was it like premiering the film?
Leth: The first screening of the film was at Telluride, and I was very, very nervous. It was way up in the mountains, it was late at night and I was scared shitless. I was hiding out in the theater and after the screening I didn't really want to hear what people had to say about the film, but then everybody left and 15 minutes later I went out, and outside were two of my big heroes, Werner Herzog and [Alejandro González] Iñárritu, both of them totally fucking crazy about the film, attacking me and saying it was "Amazing!" After that I was like, "I don't care what reviews I get, that's all I need." It's the biggest honor, and I'm very proud of that.
Filmmaker: Do you think the current interest in documentaries will last?
Leth: It will definitely last, and it will get stronger, I think. The box has opened, and it opened a few times before with different kinds of directions in documentary filmmaking that were waves, but this wave that is coming, and that I want to be a proponent for, can also be dramatic, and even more dramatic than a [fiction] feature. That's the important last step, because you need to convince people of that. If you go see my film, it will touch you, and you will sit on the edge of your seat — and I cannot say that for 95% of the feature films you go and watch in the cinemas. When people start realizing, slowly, that you can get this kind of experience and that documentaries are not PBS and that stuff, then I think you will get an everlasting audience.
Filmmaker: Has this film prompted offers for you to direct Hollywood fiction films?
Leth: I got a lot of offers, actually, which was very interesting, and I'm developing a film with Imagine and Universal, and looking at other stuff also.
Filmmaker: What's the strangest thing you've experienced during your time in the film industry?
Leth: The strangest thing was doing The Five Obstructions, because I wrote part of it and shot most of it, and [it was] doing a film where you really didn't have any clue where the fuck the film was going, and the only one who knew was Lars von Trier. That was kind of weird, because it was three years where we had no idea where this thing was going. That was three strange years.
Filmmaker: If you could do it all over again, what would you change?
Leth: I wouldn't have gone to law school. I was there three years, and it kind of threw me off track for altogether probably seven or eight years. I feel that I'm altogether trying to catch up with maybe nine or 10 years of missed opportunities in filmmaking. My father's fame in the [Danish] film industry is like Scorsese over here, and it's very difficult to follow in your father's footsteps. So you're hiding and working for other people and learning and making sure that when you actually do it you're not going to fuck up. If you come from the outside, you can fuck up, you've got a few more shots. Because it's so fucking great to make films, I would have done it earlier.