Back to selection
John Hillcoat, The Road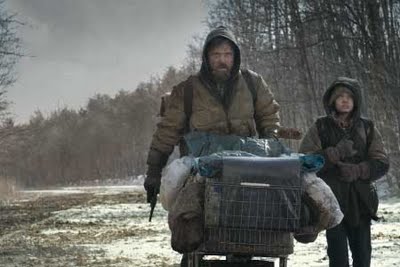 In life and art, John Hillcoat takes the road less traveled. Born in Queensland, Australia and raised in the United States, Hillcoat got a crash course in mid-sixties American music and culture from his parents, who took him to folk festivals where Bob Dylan, Leonard Cohen, Joni Mitchell, and old-time blues musicians left a distinct impression. "As a young kid, I was thrown into the sixties in America, which was an unbelievable period, and my parents were very swept up in the civil rights movement," he recalls. "I remember going on marches and seeing the profound upheaval of that time." Hillcoat returned Down Under as a teen and, having soaked up the influence of Southern writers like Flannery O'Connor and William Faulkner, as well as Canadian author Michael Ondaatje (The Collected Works of Billy the Kid remains a touchstone), began making short films. While bouncing around Melbourne in the late '70s, he met Birthday Party front man Nick Cave, who became a close friend and, many years later, an important collaborator on Hillcoat's critically acclaimed Aussie western The Proposition (2005), which the rock singer wrote and scored. "He watches more films than anyone I know," says Hillcoat, explaining their natural affinity. "Whereas in my free time I'm listening to music, so there's another connection I think works."
In his three previous features, Hillcoat has adopted a more visceral approach than his hippie-youth history might imply, immersing us in a series of isolating environments, whether physically constraining (a barbaric prison in Ghosts…of the Civil Dead), emotionally claustrophobic (a New Guinea jungle town in To Have and To Hold) or, in the case of The Proposition—a brutal, late-19th-century parable of justice filmed in the outback—austere and forbidding. Mired in obsessions of one kind or another, his characters also push back against such enforced limitations, displaying all the paradoxes and complexities of human nature in their quest for freedom. His latest is The Road, a harrowing, gray-scaled adaptation of Cormac McCarthy's Pulitzer Prize-winning novel about a father (Viggo Mortensen) and son (Kodi Smit-McPhee ) heading South to the ocean after an unnamed apocalyptic event has ravaged the Earth. Civilization has been wiped out, and now militia-like gangs with cannibalistic proclivities are on the prowl. Anguished by the suicide of his wife (Charlize Theron, glimpsed in flashback), the Man's sole purpose is to protect and feed his child, who "carries the fire" of hope and begs mercy on a few of the pitiful survivors (like Robert Duvall's blind old scavenger) they encounter. Both are archetypes of human endurance, ragged, starving ghosts wandering a benighted landscape where they scrounge for whatever's edible or useful and mostly try to stay out of view, hiding at one point in a fallout shelter stocked with imperishables. Yet it's the devastating tenderness of their relationship that Hillcoat foregrounds against such a cynically bleak and inhospitable backdrop, letting a small act of filiation, finally, justify the Boy's innate decency.
Filmmaker sat down with Hillcoat to discuss the anxieties of adaptation, the challenge of creating a futuristic world with natural light, and why Cormac McCarthy's favorite film is La strada.
The Road opens today, November 25, in New York and select cities.
Filmmaker: When I first heard that an adaptation of The Road was in the works, I couldn't imagine that a movie could approximate the emotional effect the book had on me. It sticks with you so long. So I was curious about the impact it had on you, and also what your main concerns were going in.
Hillcoat: Well, that was one of them, certainly. [Laughs] It was a real gift having this material, because it works on so many levels. I've rarely come across something that has moved me so deeply. How do you deal with that? Luckily, I got it before it was published. But there were several points of concern. There was the legacy of McCarthy–his writing is so amazing. How do you create that world on this kind of budget? Above everything was how the hell do you get a kid to pull it off? So all that gave me pause for thought. But I thought anything that moves me like this I've got to embrace. Also, I've got an eight-year-old boy, and that certainly added another wallop to it for me. I tried not to get overwhelmed. McCarthy helped a great deal. A huge weight came off my shoulders when, during our first conversation in pre-production, he said "A book's a book, a film's a film. I've done my thing, you do yours." He never asked to see a script, and we never volunteered. He was there to answer questions.
Filmmaker: What kinds of questions did you need him to answer?
Hillcoat: I asked him loads, I'd be on the phone for hours. Some he would actually not commit to because he said "Well, that's for you to decide. It's up to you."
Filmmaker: So what ideas or themes did he clarify?
Hillcoat: He finally let me know what he thought of the Big Event. But the point leading up to that was that it was irrelevant, because if anything on that scale happened, we wouldn't have the media [to tell us] what had happened. It wouldn't exist. The here and now of survival would totally kick in and make all of it irrelevant. You know, [McCarthy's] very precise with his words, he's like a scientist. His passion is science, he doesn't read prose anymore. And yet he's also a great poet, so that combo was amazing. He said that it's a book about human goodness. And really [it's] that simple kernel–the idea of the boy being born into all of this and yet still becoming a moral compass and taking that leap of faith. McCarthy's giving [us] an unflinching look at how we can easily slide into base nature, which we're constantly reminded of too often. We had a lot of conversations about nature and human behavior and the types of people in this world.
Filmmaker: Did that help you sharpen some of the character portraits?
Hillcoat: It helped me in the discussions with the actors. The whole rehearsal was really more about sharing our own points of view, how this big macro thing, the apocalypse, is really just a huge projection of humanity's worst fears. It's ancient, in a way. And this situation with the child is every parent's worst fear, so we were trying to keep it at that very simple human response and not get sidetracked by the cannibal stuff or any spectacle aspect. We showed them locations, we showed them pictures and talked about the homeless. And then the next big leap in the process was when the actors were in the actual world. And it was like enforced Method. [Chuckles] For them, it was really useful in the end, because they were reacting off it like it was a three-hander as opposed to a two-hander.
Filmmaker: You put together a position paper that included some themes and photos you wanted to work with. What were those visual references?
Hillcoat: A lot of that was style notes, too: the cinematography, the music. We never even saw this as a futuristic thing. We looked at books like Jared Diamond's Guns, Germs and Steel, the way civilizations come and go. So we looked at preexisting [locations], whether man-made or natural, and the aftermath surprisingly looks very similar. Apocalyptic films can almost be in a cul-de-sac [where it's] all about the Big Event and the spectacle, and there's no human dimension or reality left. And The Road seemed to be about simple things—a shopping cart full of possessions, oh that's the homeless. So it was trying to tap into all of that. We did this location scout across eight states—our apocalyptic tour. It's Apocalypse Now, really, whether it's strip mining in Pennsylvania or the cleanup of Katrina in New Orleans or Mount Saint Helens. Those were our visual references. On a more thematic level, the big influence for me was [John Ford's] Grapes of Wrath and [De Sica's] The Bicycle Thief. When I looked at father-son relationships, I was amazed that in cinema there are mainly tyrannical or absent fathers. Whereas in The Bicycle Thief, there's a father and son struggling under huge pressure. Again, the kid becomes the moral compass, the father takes the weight, and the fear pushes him into a [corner]. McCarthy was very influenced and inspired by that generation of filmmakers, too. In fact, La strada, by Fellini, is his favorite film.
Filmmaker: You mention all these levels you had to consider, so in terms of style …
Hillcoat: We wanted to avoid Mad Max. I think it was so ground-breaking, but it just spawned an endless genre. It was more of a samurai film in many ways. Visually, some things with the [body] suits, the road gang, and the army with the slaves in chains we deliberately avoided. Our own road gang we modeled more on Deliverance, because we figured hunters and ex-army and people like that would probably form their own gangs and that's what it would be like.
Filmmaker: The post-apocalyptic scenario gave you an allegorical realm to work within, too. Did you flesh that out together with your writer, Joe Penhall?
Hillcoat: There were a lot of discussions. We initially put out a little web for screenwriters, which included some very big names, Hollywood writers. Some of these guys said "Impossible, this can't be translated." Even some filmmakers told me that. The thing that Joe and I kept reminding ourselves is that even though it's got this great canvas, it's incredibly simple, almost a timeless parable. If we just focus on that and protect this emotional journey and don't get intimidated by the poetry or the language or the legacy of McCarthy or all this other stuff, we'd be [all right]. I have always been drawn to extreme worlds and environments that put people under pressure, that show the best and the worst. We talked about the fact that hope is most special when it's surrounded by hopelessness.
Filmmaker: That seems consistent with things you've been interested in as a filmmaker, from Ghosts…of the Civil Dead on. Why do you think you're drawn to material that encapsulates those themes?
Hillcoat: I left Australia when I was four. When I returned, I did this incredible trip with The Proposition, through the desert and in the outback with my production designer, Chris Kennedy. And the extremity of that landscape and the alienness of western Europeans trying to control and inhabit this land—the power of nature and all of those things—really hit me. I think Australians are very aware of that. Look at Picnic at Hanging Rock or even Mad Max. There's an elemental disjunction, where there's this tradition that comes from Europe but [people are] living in this place that's primeval.
Filmmaker: The visual look of this film is key to selling an audience on this world. How did you find working wth Javier Aguirresarobe?
Hillcoat: He's a great poet, he's got a lyrical quality to his work. He's also very sensitive to natural light.
Filmmaker: Victor Erice's Quince Tree of the Sun, which he lensed, is a favorite of mine.
Hillcoat: Yeah. Also amazing is Talk to Her, which is stunningly beautiful. He's a true master and I did want this familiar world to be slightly unfamiliar. And this was Javier's first American film, so I think that had a positive influence. He had a huge task, and it was a total inverse: how do you keep out the sun? Every day when the weather was gorgeous, we'd be miserable and Javier would be screaming at the sky in Spanish, he was very fiery. He was so passionate, he would do anything for this film. When it was freezing and the rain was sideways he would come out, roaring with enthusiasm, because this is a world where electricity has ceased to exist. So that was major.
Filmmaker: McCarthy's book is so much about the thought process of the Man. How did that influence the way you handled the voiceover?
Hillcoat: If you started writing a script like this and you start using that voiceover with the brilliance of McCarthy's writing, we would have wound up in a lot of trouble, because there was a simplicity to the tale. So I believe that the voiceover [can't be] just exposition and that the plot isn't depending on it in that way, that it's an added thing. For me, the voiceover is thoughts the Man's having in his head that he can't share with the Boy. It's a way of internalizing characters. We wanted it to feel like the thoughts of an actual character, not a literary commentary, and to avoid it being self-conscious or pretentious. So there was navigating around that and Joe [Penhall] did a great job at stripping it down. Cormac also loved that. He wasn't ever pushing any of his poetry.
Filmmaker: What are your thoughts in general on literary adaptations?
Hillcoat: Well, I'm actually one who thinks part of that problem is being too sidetracked by the poetry or the language of the book or the legacy. I think simplicity is key when it comes to adaptations and to really capture the essence of the book, so you don't feel like you have to be literal. You just need to capture the spirit of it. With pulpier books, they can be transcended. But I do think it's a totally different medium. When you start to physicalize everything, and the actors embody the characters, it takes on a different dimension, and you have to work with that.
Filmmaker: Your ongoing collaboration with Nick Cave, who composed music for The Road with Warren Ellis, has been very fruitful lately. He's like your Ennio Morricone and your Paul Schrader.
Hillcoat: Yeah. I realized [that in] his narrative songwriting, the characters are so vivid, and that's why he can script something great. It's the new revelation since The Proposition. Then he wrote Death of the Ladies Man' for me. This is a smaller film that we wrote for Ray Winstone, in Brighton, and it's more of a black comedy, actually. He got frustrated so he's turned it into a novel [The Death of Bunny Munro], and now it's taking off. And we're hopefully getting Channel 4 to step up to HBO, which actually has some of the best dialogue writers, the best characters. The best drama, full stop, comes from HBO in recent years.
Filmmaker: You must be a fan of Deadwood, because you cast Molly Parker in the role of the motherly woman, and Garret Dillahunt as a predatory gang member.
Hillcoat: Yes. Actually, I tried to get David Milch to write a screenplay! I've got Pete Dexter [Mulholland Falls, Deadwood] writing a screenplay for me. Also, there's The Sopranos and The Wire. I tried to get George Pelecanos and Dennis Lehane, who've both written [episodes]. That, to me, has raised the bar on [TV drama].
Filmmaker: What are your thoughts on the state of indie cinema in Australia right now, in terms of where it's been and where it's going?
Hillcoat: I think it's always been [about] the dominance of the studios. Countries struggle with trying to protect their own industry. It's very tricky when you have crews used to well-paid studio jobs. There's so much emphasis on gaffers or grips, and [they've had] a choice between making next to nothing working their guts out [on an indie] or doing a fairly nicely paid, endless studio shoot. But then circumstances changed, the dollar went up, New Zealand was a cheap, better option, and suddenly studios were [bankrupt]. Because Fox and Warners had built these huge studios, and suddenly this infrastucture of crews they used were left with nothing. On an aesthetic level, since the heyday of the Australian New Wave in the '70s, there was a resistance to genre in the '80s and '90s. What they did was hit on their own genre, which was the quirky comedy. And that became such an overwhelming thing for decades, that for a filmmaker like myself it was an uphill struggle. I could not make films, because it was outside the box. But now, it's a lot more positive, there's been an incredibly inspiring shift of indigenous talent coming to the fore. I know there's been a rebirth of genre, particularly with horror, and I think variation is a good thing. So hopefully, it will be a new healthy state.