Back to selection
THE 6TH EURASIA INTERNATIONAL FILM FESTIVAL
The sixth edition of the Eurasia International Film Festival (Sept 21-25) in Kazakhstan was a showcase of films from Central Asian and Turkish-speaking countries, but what particularly stood out in its various programs was the strong output of Kazakh films, a result of increasing government and private backing in project development, production and post-production facilities.
High above Kazakhstan's former capital and current cultural center Almaty, construction crews were racing to finish buildings for the 2011 Asian Winter Games in the foothills of the majestic Tien Shan mountain range. A country larger than Europe, Kazakhstan spans the oil-rich coast of the Caspian Sea on its Western border to Almaty in the East, which borders China. In its 20 years of independence from the Soviet Union, it has been the only nation in Central Asia to have avoided ethnic violence and civil war. Its oil-fueled economy has created a solid middle class feeding the country's film, art and journalism schools with young talent, often sending them to the U.S. for further education.
A strong demand for commercials, music videos and TV series catering to this middle class has attracted investors to back private studios, which handle anything from 3D special effects for oil field graphics to feature films. The state-owned Kazakhfilm studio overhauled its post-production facilities two years ago and operates on a three-year budget of $70 million, working on 76 projects including eight feature films.
From Moscow to LA: Creatively, Kazakh films are no longer categorized by certain common characteristics, such as the "Kazakh New Wave" in the early '90s. This wave was the result of Russian filmmaker Sergey Solovyov inviting a group of young Kazakh directors to the Moscw VGIK film school in 1983. His students turned into internationally recognized directors with their closely observed, tautly filmed portraits of marginal life in the aul (ancestral village) and in the capital (then Alma Ata).
The most successful of this group was Darezhan Omirbaev whose debut feature Kairat won Locarno's Silver Leopard in 1992. His third feature Killer (co-produced with France) won Cannes' Certain Regard section in 1998 and found worldwide distribution. Killer is a tautly narrated portrayal of the country's violent, money-grabbing Wild East days after gaining independence from the Soviet Union in 1991. A young, unemployed man is sucked into Almaty's booming gangsterland when he accidentally rear-ends a shiny new Mercedes.
A very similar theme pops up in one of this year's strongest Kazakh films. Tale of the Pink Bunny (pictured above) by Farkhat Sharipov is about an earnest, provincial student who makes some extra cash dressed up in a promotional rabbit suite. Money problems push him towards a group of rich, privileged kids whose parents supply bodyguards in Escalades, bail them out of marijuana busts and even murder reps.
But whereas Killer was Bresson-esque in its minimalism, Tales of the Pink Bunny embraces the visual playfulness of Guy Ritchie and Wong Kar-wai. The film's 27 year-old director says the inspiration for his film came from some of his privileged friends, who asked him to shoot a film about them and their lifestyle.
As jury president for the international competition of this year's Eurasia International Film Festival, Darezhan Omirbaev spoke out against commercialism and MTV-style aesthetics in film and stressed the importance of seeing film as art. He may have alluded to Tale of the Pink Bunny, which was released theatrically in Kazakhstan with a full-blown marketing campaign in mid-September.
Its 27-year old director Farkhat Sharipov was one of four young Kazakhs who received a government grant to follow a workshop at the New York Film Academy in Los Angeles. His first AD, Akhat Ibrayev, a graduate from Chicago's Columbia College of Art, has the children's feature Fairytale Forest in development at the Kazakhfilm studio. "It was my childhood dream to go to Hollywood because it's the filmmaking center of the world," comments Sharipov. "The Soviet-style film and art schools in Kazakhstan emphasize the creative process, opening up your soul as an artist, and to show that internal world, but the story remains secondary. At the New York Film Academy, I learned about the three-act screenwriting structure and that the story should be made clear in the first five minutes. Hollywood understands that. They also gave me hands-on experience with the logistics by giving me very specific tasks and teaching me how to fulfill them. I also learned about hiring crew members, about the overall organization of the production process."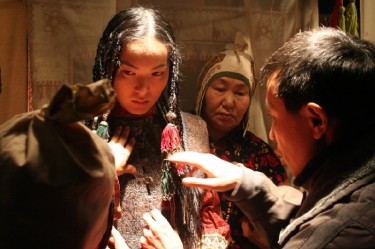 National identity: Recent Kazakh films that have done well internationally are no longer easily identifiable, consisting of a wide variety of styles, genres and financing structures. Rustam Abrashov's A Gift to Stalin recounts the ethnic deportations to the barren Kazakh steppes ordered by Stalin, who also designated the area as a nuclear testing ground. A Jewish boy sheltered by a Kazkh railway worker manages to escape both. The film was produced by Aliya Uvalzhanova and Boris Cherdabayev's independent studio Algondar Productions and co-produced by Kaakhfilm. It opened the Pusan International Film Festival in 2008 and has had a solid festival run with a U.S. Senate screening in the works.
Last year's Kelin, also shown at the festival, by Ermek Tursunov is a lyrical depiction of the country's historical shamanistic (tengri), nomad lifestyle, spellbinding despite its lack of dialogues. Kelin was long-listed for this year's Best Foreign Oscars. The filmmaker skillfully reduces life to its very recognizable basics: power, greed, lust, survival and some tengri power courtesy of veteran actress Turakhan Sadykova who noted that the Kazakh industry needs better screenwriters in a Q&A, where she was dressed in traditional tribal clothes and insisted on speaking Kazakh, rather than Russian, which is the norm.
The country celebrates its 20 years as a sovereign state on December 16 and its government is keen to define a clear Kazakh identity and culture. As much as the state has supported films in the last couple of years, distribution and theater infrastructure is lagging.
Apart from big Hollywood fare and to some degree Russian action movies, there is room for growth in terms of general attendance for Kazakh films, which only account for 10% of the box office. The potential to reach larger audiences and to create a national demand is wide open, but it will need films with a clear audience in mind and consistent marketing campaigns.
Commercial path: So far the country's biggest homegrown hit was Racketeer, a drama about a young boxer who becomes involved in Almaty's underworld in the wild '90s, which reportedly grossed $1 million in 2007. Director Akhan Satayev had been steadily growing his own production company Sataifilm, which produced that feature debut.
"Sataifilm started doing commercials and video clips in 2003," Satayev said. "We made commercials for Procter & Gamble for all of Central Asia. They had such high standards that we learned a lot from this period, especially about how to stay in control of the whole process. Once my team had formed a certain way of working, it was easy to take the same team and shoot Racketeer."
Satayev's subsequent feature, the horror-thriller Strayed premiered at the Montreal Film Festival last year and picked up this year's award for best male actor (Russia's favorite action man Andrei Merzlikin) at the Eurasia Film Festival. Satayev steadily continues his commercial path, having just wrapped his third feature Liquidator, starring UK tough guy Vinnie Jones as a mute assassin.
For his fourth feature, Satayev will leave behind Kazakh gangland to shoot the $7 million historical epic Myn Vala ("A Thousand Boys") produced by Aliya Uvalzhanova (A Gift to Stalin), Moscow-based producer Anna Katchko (Newsmakers) and with Kazakhfilm's president Ermek Amanshaev as executive producer. The project was presented in Pusan's PPP co-production platform and shooting is scheduled to begin next year.
With its 20th anniversary as a nation around the corner, the Kazakh industry is looking at its own national identity and hoping to reach local and international audiences about events that shaped that identity. Myn Bala is based on the legend of a thousand boys and their leader who fought against an enemy tribe, thus asserting a Kazakh identity for the first time. With Kazakhfilm's many projects in the pipeline, a vibrant private investment sector and young talent to spare, the next edition of the Eurasia International Film Festival promises to draw even more attention to the region's strongest film-producing country.
Thessa Mooij is the owner of New York publicity firm Silversalt PR. As a journalist based in Amsterdam, she covered the Kazakh New Wave in the early '90s. In London, Thessa was the Benelux correspondent for Screen International and later joined the Goethe-Institute to curate German film programs. Three of her screenplays received development support from the Dutch Film Fund, one of which, The Wild Field, she is now adapting as a novel.