Back to selection
STARS ON STAGE IN MARRAKECH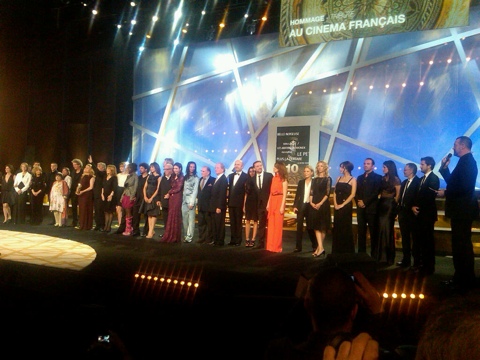 Before arriving, invitees traveling to this 10th anniversary edition of the Marrakech Film Festival were presented with an eye-popping list of stars — actors and directors both — who would be in attendance. Keanu Reeves, Martin Scorsese, Susan Sarandon, Eva Mendes, Francis Ford Coppola, Harvey Keitel (the subject of a retrospective), the Dardennes Brothers… the list went on and on. Some of these stars showed up to promote their films — Reeves, for example, arrived with James Caan (also the subject of a tribute) to support their opening night picture, Henry's Crime. Coppola and the Dardennes along with Lee Chang-dong are doing "master classes" later in the week. Others — Maggie Cheung, Gael Garcia Bernal — are on the jury. Still others are simply traveling with retrospective titles because they love this festival and the city. (Sarandon, for example, is appearing at a public screening of Joel Schumacher's The Client at a square adjoining the city's famous souk.)
For the French, though, the stars journeyed here not singly but en masse. The Marrakech Film Festival's ties to the French film industry are long and deep — the fest was originally launched by Gallic producer Daniel Toscan du Plantier, the subject of the opening night tribute. And if Marrakech's ceremonies, with their opulent stage sets, beamed-into-the-theater red-carpet arrivals, and parade of stars descending a staircase to the stage, seemed reminiscent of Cannes, that's explained by the continuing organizational influence of the French: the production vendors, the companies that mount the galas, provide the cars, etc., also handle Cannes each year.
While the opening night celebrated a specific French film person, the second night's tribute was a general one hailing French cinema itself. And who better to extol on its history, from Melies and the Lumiere Brothers through its pre and post New Waves, than cinematic Francophile Martin Scorsese? In his brief remarks, he referred to the country's early love of cinema and the transference of that love to his generation of American filmmakers. Asked to select a movie for the festival's overwhelming French cinema tribute, Scorsese picked Alain Resnais's Mon Oncle d'Amerique which he called "a light, playful film that builds to a sense of mystery and grandeur."
And grand was the special effect that followed — the curtain rose, and there was contemporary French film (or at least a whole hell of a lot of it) on stage. Forty of so key figures were announced one by one — Catherine Deneuve, Marion Cotilliard, Guillaume Canet, Leos Carax, Charlotte Rampling, Nicole Garcia, Christophe Lambert, Sophie Marceau, Emmanuel Seigner, Sadrine Kimberlaine, Agnes Varda… the names kept coming, the stars all smiling before making their ways to center stage for one massive photo op (pictured here in less-than-living color by my Blackberry). For those of us impressed by the Academy of Motion Picture Arts and Science's wrangling of five movie stars to honor a single Best Supporting Actor nominee at the Oscars, it seemed an impressive feat. And one that produced an image that in its density divorced star power from the individuality of any particular visage. Here were stars as sheer presence, conveying their authority by simply being here.