Back to selection
DUBAI INTERNATIONAL FILM FESTIVAL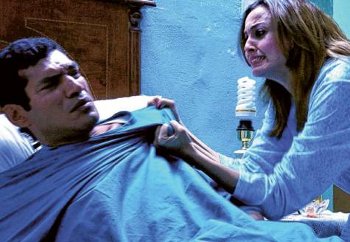 It's all in the mix. I'm going to borrow from the overly quoted urban sociologist Jane Jacobs, who maintained that for a city to be vital it requires a blending of old and new neighborhoods, cultural sites, and areas of commerce. For Jacobs, Lincoln Center was poisonous, a large, concentrated collection of arts facilities that is usually lifeless and could have worked better spread out around New York City.
As far as I know, Jacobs never got to Dubai. Almost everything there is new, oversized, and sanitized; the scale is not human. After all, the Emirate boasts the world's largest mall and tallest building, and much of its architectural profile is comprised of skyscrapers, many of them quite beautiful, in fairly rigid lines. It is as if you were looking at models Ray Bradbury might have created had he gone to architecture school. Between its grids and the rule of Shariah Law, spontaneity does not have much of a chance in Dubai, although the seaside location does break the monotony.
The seventh edition of DIFF, the Dubai International Film Festival (December 12-19, 2010), reflected this sense of organization—the best and most efficient video viewing spaces anywhere. For example, and this is as it should be, the emphasis is on films from and about the Arab world. (The main focus is the Muhr Emirati Awards and the Muhr Arab Awards.) These competitions for best Arab fiction feature and doc offer big-money prizes: $50,000 for best feature, for example, and to boot $110,000 in seed money is split among 12 young Arab filmmakers from the Dubai Film Connection Awards.
A section called Arabian Nights screens films about the Arab world made in non-Arab countries. Gulf Voices is comprised of a few shorts made specifically in the Emirates. Given the emphasis on various stages of production in the Arab world, it is strange that there is no year-round venue for non-mainstream movies, Arab or not, in Dubai, especially when the festival is trying to build a local audience, and there is certainly no shortage of expats looking for events to attend.
Oddly, there are also competitive and non-competitive sections of films from Asia and Africa, with a small sidebar of Indian cinema thrown in. Where is this going? A place of prominence for Third World films? But no, a thin In Focus-Mexico is included in the stew, and The Cinema of the World has a very uneven selection of movies from the First through Fourth Worlds. One longs for a more focused program, perhaps fewer strands with more films and meatier choices.
From its inception as a modern city state several decades ago, Dubai, city and festival, has opted for the outsized, the grand, the exhibitionistic. Parties and galas carry the day during the fest. This year's honorees who walked the red carpet included Colin Firth, Sean Penn (a no-show), Malian filmmaker Souleymane Cisse, and the Egyptian actress Sabah.
This writer, and not for particularly noble reasons, passed over the more meretricious offerings of the festival. No parties, a few intimate dinners, and all the rest was film viewing and a couple of interviews. You have the chance to set up meetings with programmers, filmmakers, and other critics if you don't box yourself in too tight.
I did not find one good Arab documentary that I responded to—but there are specific reasons, which came out in a panel I moderated. Almost all institutional support for films in the Arab world goes to fiction, tied to an ancient storytelling tradition. Docs are a new genre in the culture, and the experts admit that it will take some time for them to get official backing.
The Arab fiction was much better. Of the most interesting features, most had as their central subject the plight of women—no secret that they are second-class citizens in most of the Arab world. The system is a bit out of whack: The directors of these more alluring features are men. But at least women get screen time, and it is rarely wasted.
One of the most heralded films, an Egyptian feature put in a Gala slot, turned out to be one of the worst, in direction and in screenplay. But Hesham Issawi's Cairo Exit is intriguing nonetheless. The lead character at the center is Amal (Maryhan), a Coptic Christian, pregnant by her Muslim boyfriend. They live in Dar El Salaam, a slum on the outskirts of Cairo, and Issawi does pick up some of the area's unique textures without aestheticizing its depressive feel. Amal is torn between her lover and the expected child: He wants to take her with him outside the country illegally, but only if she will agree to an abortion. Her options thin out: She discovers her single-mother sister is a prostitute in order to make ends meet. Ultimately she chooses life away from home with her lover.
A much better, if slightly derivative, film is Transit Cities, shot over 10 days by Jordanian filmmaker Mohammed Al Hushki. A cleverly minimalist production, Al Hushki inserts quiet scenes of an Amman, an enticing city, that most of us are not familiar with. But life is not so pretty for Laila (Saba Moubarak), who returns to her family after 14 years in the States. A tough-talking former academic (she taught university mathematics), she has become fully westernized.
She divorced her husband without telling her tight-knit family, which has become much more conservative during the time Laila was away. Her sister is veiled and judgmental, her father, formerly a liberal activist, has given up and retreated from life. A bank manager asks her to cover her legs during an interview for a loan. Al Hushki makes it clear that some things are globalized, no matter the culture: She is taken advantage of by both American and Jordanian banks. By the end of the film, which shared the best film prize with Georges Hachem's Stray Bullet from Lebanon (and won the FIPRESCI prize), we and Laila realize she is a complete stranger in her home city and will never be able to adjust to its norms.
The gem of the festival, though, was an Egyptian film called 678 (pictured above), a feature directorial debut occupying a Gala slot by the noted screenwriter Mohamed Diab. The movie is stunningly directed, and it courageously takes on a topic taboo in its home country: the sexual harassment of women. And for a man to take on such a topic: The Egyptian media is buzzing about the film, which opened mid-December in Egypt, and its subject. Many have attacked it without seeing it, accusing Diab of presenting a negative image of his country. They think such issues should just be pushed under the rug.
"I saw gang sexual harassment of a woman at a sporting event, and began talking to both victims and harassers," Diab explains over dinner. "But I had trouble casting: Women did not want to participate in a film dealing with this topic." He explains the desperation of the harassers, who often put a lemon in their pocket before testing a woman's response to their brushing up on a crowded bus. "Because of money, most men marry now around the age of 35," Diab adds. "That means that they have 20 years of mostly unrequited sexual desire to deal with. Did you know that in 2007 the number one country using Google to search the word porn was Egypt?"
Wisely, he made his characters complex; no one is all good or all bad, just participants in a closed, repressive social order. He focuses on three harassed women, all from different social strata, who come together on account of their similar experiences. To Diab's credit, he even has them go a bit too far in their vendetta—jabbing the too-forward men with a needle to the groin–as if their new-found power to defend themselves needs to be expressed. Fayza (popular singer Bushra) is a veiled working-class mother who is forced by the family's dire financial situation to take the bus daily. "If you're a woman on a bus, it will happen," says Diab. "They are so crowded that people are already touching each other."
Fayza attends a seminar conducted by Seba (Nelly Karim), an upper-class jewelry maker who wants to help other victims. Strangely enough, none of the women who attend the class, which they know about from television, will own up to having been harassed: That is the extent of the shame. And Seba, who had been sexually roughed up at a sporting event, has to deal with an unsupportive husband who can barely look at her after the assault. The most promising in terms of social change and partner support is middle-class, aspiring stand-up comic Nelly (Nahed El Seba'i), whose experience is based on a true story. With the support of her fiancé (against his family's wishes), she filed the first sexual harassment lawsuit in Egypt in 2008. Diab says that there have been 200 cases filed since then, and sees his film as "a wake-up call."
The director rounds out his characters further. The women argue: Fayza accuses Nelly of dressing and acting in a way that turns men on, and makes women like her suffer as a result. Once word gets around about the "stabbings" on buses, a large, lethargic detective, Esam (comic Maged El Kedwany) is assigned to find the perps, but he begins to understand why the women are so enraged. He is perhaps our and the Egyptian audience's surrogate in the film.
Diab wants his next project to be "something set between East and West. We have preconceived notions about each other, but in fact we are all the same." 678 cost $2 million. He's going to need a lot more if the new film comes to fruition. "I would love to get some big Hollywood actor, like Clooney or De Niro, to play an Arab." If either of these guys gets a chance to see 678, I think he would seriously consider it. If one of them visits Dubai, which exists in some parallel universe that is neither East nor West, he might realize that the idea is not so far-fetched. After all, it's all in the mix.