Back to selection
"ANOTHER EARTH" | co-writer-director, Mike Cahill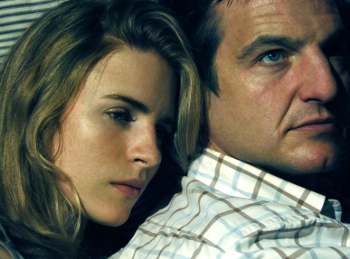 [PREMIERE SCREENING: Monday, Jan. 24, 12:15 pm — Eccles Theatre]
The biggest surprise is how the movie began, and how it ended.
We started with no money, a basic treatment and a Sony EX3. I didn't really care about getting all my ducks in a row before starting. We just started. Brit Marling, Morgan Marling (her sister), Liang (my friend from China) and I went to Connecticut where I grew up and we set out to make this epic indie minimalist science fiction drama.
On the first day, Brit came back from a run in the morning and told us that there was a beautiful fog over New Haven. My response was, "Let's shoot the final scene in the movie!" She of course thought this was a bad idea, having the impossible burden of imagining and experiencing her character's entire journey from start to finish in order to perform this crucial scene. It was a lot to ask of her in five minutes. So I changed my tone, "Let's practice shoot the final scene in the movie!" And I promised her that after we shot the whole film, we would return and shoot the scene again.
The initial approach of just getting out there and making the film created the momentum we needed to get the project completed. The very brilliant producers Paul Mezey, Hunter Gray and Tyler Brodie signed on to finance the film and guided us into a full-fledged production. William Mapother joined on to play the lead. And after a year we had completed filming everything.
And as promised, I shot the final scene again, now with a budget and production support. We filmed it identically, shot for shot, but this time on an autumn New Haven morning bursting with bright orange leaves. In the edit room we watched both final scenes back to back and it was clear. The first day of shooting, almost two years ago, was magical, and there was no question that this is how the film should end — as it began.