Back to selection
Five Questions with Jack & Diane Director Bradley Rust Gray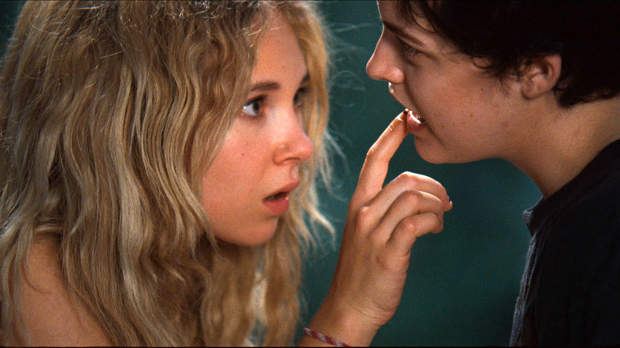 On the surface, director Bradley Rust Gray's Jack & Diane tells a typical tale of romance spawning from an immediate attraction. The kinetic chemistry between the title characters (played by Riley Keough and Juno Temple respectively) is reminiscent of the unnerving beat of Gray's previous directorial effort The Exploding Girl. However, one doesn't have to look too deep to find the dichotomy between romance and horror that Gray brings to the screen with this experimental film.
It's a pulsing story of two girls who are drawn to each other against an ambient soundtrack of modern beats and '80s rock. Diane, a flighty wallflower, is vacationing in New York when she encounters the intense punk-loving skater girl Jack. Together they fumble hastily through the many firsts that come with the frenetic urgency of young love. But a sense of foreboding constantly overhands the all-consuming tryst as the audience is clued in on the grotesque werewolf rapidly encroaching inside Diane's body. As the stakes run high throughout the fledgling couple's exploratory push-and-pull, the internal climax builds within Diane.  With the help of visionary experts the Brother's Quay, Gray fuses splices of stop-motion animation with an emblematic character study on the ultimate horror of falling in love. The director took the time to discuss his latest project with us.
Filmmaker: The juxtaposition of the grotesque werewolf and the nature of Jack and Diane's relationship was very striking. You don't normally see the genre of horror mixed with romance. What was your inspiration behind the film?
Gray: The very first film I made in Iceland was based on a folk film that was a similar love story about people finding love for the first time. I was always kind of influenced by this Argentinian writer, Julio Cortázar. He uses a lot of folk tales and different magical realisms in his story. When I did my first film I was using this folk tale, and when I started on this project I knew it was going to be about these two girls and part of me was still looking for this different element that could sort of explain that feeling. Then I started thinking about folk tales; but we don't really have folk tales per se that aren't thousand year old stories. In a sense we have genre films that are our folk tales, so I thought of it like that. It's something that people are a little bit familiar with, but hopefully used in a different way.
Filmmaker: There's a line in the film said by Jack that stood out. She says, "You've taken my insides and I'm not myself anymore, and it's so evil." The piece of dialogue represented desire and how much you can give pieces of yourself over to a partner without realizing it until you're in the thick of it. Did you always imagine that line would anchor the film?
Gray: I don't know. Thank you, I'm glad you liked the line. I don't remember. I think when you're writing the dialogue the characters just start talking, Jack especially because it was hard to shut her up. I think when you're thinking about the film and you're really writing, you're just listening to what the characters say. For me it was just something she said based on how she felt. I hadn't thought about it before, but I guess you're right in a way the line really does sum up the film. It's that you're so in love that you realize just how, if that person's gone, it's just going to destroy you. You push so hard for it and then you realize just how fragile you are suddenly. The smallest thing can go off and you have this fear that this person suddenly doesn't like you anymore, and they didn't return your phone calls or something.
Filmmaker: The energy between Riley and Juno felt very natural. Did you have anyone in mind specifically when you were writing these two roles?
Gray: I made a photo booth slide of these two images of two girls I'd seen. I think one was from Barcelona; she was the Diane girl. I had those two pictures always looking at me and I would think about those two people. I also had met two girls on the sidewalk named Jack and Diane six years ago and the film is sort of my idea of what their relationship could have been like because I lost touch with them. I didn't have anyone in mind. The cast went through different people and I think everybody who worked on the film, even if we didn't shoot it with them influenced the roles in different ways. I worked for several years with different actresses. Everything happens for a reason and I think that Juno and Riley made waiting on the film for so long worth it. I thought they were really great together.
Filmmaker: How did the Brothers Quay get involved with the animated sections of the film? Did you have to storyboard anything for them?
Gray: I'd always hoped that they would do this film. My wife and I have known them for 17 years now. I wrote my masters thesis on their films when I was in school in London, and that's how we met. They've always been real supporters of what we do, and obviously I'm a big fan of their work. I think we met them at a festival a few years back. When we met them I asked, "Do you think you can maybe work on this film we're working on?" and they said, "Yeah, yeah, yeah, no problem." They were really casual the whole way through up until the point when we were doing the film, they asked, "What is it you want us to do?" That's what you want with them. You want to give them as much freedom with the range and the horse, and the whole field, and they came back with some amazing stuff.
There was a time where our schedules didn't line up and I was in the middle of working with another company who is a huge, really beautiful, special effects company in France that had done massive Hollywood films. They wanted to do it also stop-motion and they wanted to put a pig underwater and shoot it with a medical camera. It was crazy and exciting but they also wanted me to storyboard everything. I had said what I had hoped was that they would just run with it. I had a certain feeling that I want to get but I want them to artistically run with it. They said, "Yeah, but we would really like to know what you want." Which was nice, and I understand where they were coming from, but that's when I emailed the Quays and said, "Please, please, please, can you help me?" They didn't want a storyboard or anything. I have a friend that I went to school with that goes by the name of Shoplifter and she makes art out of braided hair. When I worked on the film in the beginning for some reason there was this rope going into the girl's body in my script. Later I was at my friend's house and she had made her name out of hair, so I was giving those elements to the Quay's too.
Filmmaker: Singer John Mellencamp had put out a statement that was kind of adverse to the film's title. Since music is so heavily featured in the film, did you think people would immediately compare the title of the film to the Mellencamp hit?
Gray: Well, I mean, I had done a short film in Los Angeles when I was in school about these two guys. After I graduated I had came to New York to live with my wife and I ran into these two girls on the sidewalk that looked exactly like the two characters I had just created, only they were girls. I stopped them and said, "This is uncanny how much you look like these characters." I was just talking to them about this coincidence, and their names were Jack and Diane. Of course I was like, "Wow, like the song." I'm not oblivious to the song. I love the song and I think it's definitely part of Americana. From that point when I thought about making this film it was hard not to think of the film being called Jack & Diane. It's something that would remind you of the song but three or four of our film titles are song titles. My last film was The Exploding Girl based on "The Exploding Boy" by The Cure.  When I heard that he was offended by it or miffed I felt bad. I tried to write him a letter, but you can't write John Cougar Mellencamp a letter, so I wrote a letter to whoever had submitted the thing. I don't know if it got to him or not but I didn't mean to cause him any offense.