Back to selection
"THE CONVINCER" | co-writer-director, Jill Sprecher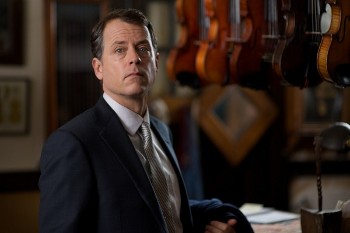 [PREMIERE SCREENING: Tuesday, Jan. 25, 6:15 pm — Eccles Theatre]
I was surprised at how often life imitated art on The Convincer. Starting with my own behavior, which mimicked that of the main character, who is a salesman who uses any tactic he can to get others to do what he wants them to do. I had to convince people to work on a low-budget movie in the middle of winter. I'm from the Midwest; I know what it's like. We had actors on a frozen lake at 3 a.m. in street clothes, and doing their own stunt driving on slick country roads. One poor performer stood on a pile of manure at a dairy farm, within charging distance of an angry bull. Those were details I left out of my sales pitch.
Strange parallels between our fictional world and reality continually emerged. One of the characters in the film is an ice fisherman who drives a van and has ties to a meth lab. Apparently he has a real-life counterpart, who we met quite by accident when he rammed his van into an intern who was directing traffic. We later learned the fellow had been suspected of making crystal meth in an ice hut; in the event of a police raid he could send his stash through a fishing hole down to the bottom of the lake. The violin business turned out to be as odd and shady as we had imagined. A few of the pricey instruments used as set dressing went missing, then mysteriously showed up a few days later on a doorstep, wrapped in garbage bags. And at the train station, our biggest and most expensive location, filming had to be shut down due to a gas leak, one of the "worst case scenarios" our protagonist cites in an effort to sell insurance. The irony did not escape me, particularly when my own hopes for an insurance claim never panned out.
We set out to tell the story of a character whose detailed plans begin to spiral out of control, leading him to a place he couldn't have foreseen. I'd say that's a pretty good description of the filmmaking process itself. You're constantly hit with the unexpected, trying to stay one step ahead, doing the best you can under the circumstances, never fully knowing how everything will turn out. The fact that a movie actually comes together in the end is undoubtedly the biggest surprise of all.