Back to selection
"THE SALESMAN" | writer-director, Sebastien Pilote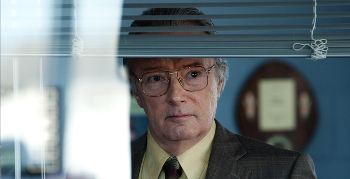 [PREMIERE SCREENING: Friday, Jan. 21, 12:00 pm — Egyptian Theatre]
Before I started to shoot my first feature, my experience had been working alone or with a very small crew, two or three people — that's all. That was the key that gave me the versatility and more importantly, the freedom I need when I shoot, because I like to switch quickly to get the unknown, to go for the unscripted… to react fast for the bonus that cinema gives more often then we think. So I was worried and a little anxious about how I would react when working with a big crew, a real schedule, a film ratio that I could not go over every day. For me those new rules sounded heavy — I thought it would be "hard to move fast." I was really scared of losing my personality and the way I see things in my work. I was certainly afraid that my first feature would be an alien thing, something that I could not recognize myself in and totally unlike my other work.
In the end, I was totally surprised to realize that I could keep my flexibility and the freedom I need so much. Michel La Veaux, my director of photography, is a well-known professional and he had enormous experience in documentary shooting and helped me very much. Also the crew were all pros with experience. So I had the happy revelation that I could shoot the same way, as though I were making a short film with three friends. Sometimes I truly felt that I was working in the cinéma vérité tradition, which was very exciting for me. For sure it was more difficult on some days, but now that I know it is possible I would love go even farther… far enough to do my own Apocalypse Now or my own Heaven's Gate!
I'm kidding of course, but making this movie left me feeling pretty exuberant about the potential of cinema.