Back to selection
"THESE AMAZING SHADOWS" | directors, Kurt Norton & Paul Marian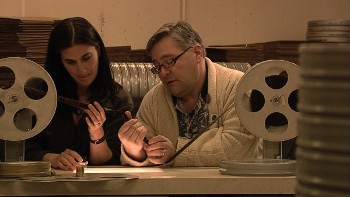 [PREMIERE SCREENING: Saturday, Jan. 22, 3:00 pm — Redstone Cinemas 8]
We were really surprised by the extraordinarily wacky and absurdist humor of early filmmakers. Our documentary, These Amazing Shadows, focuses on the National Film Registry, so naturally we immersed ourselves in the incredible diversity of the 550 films on the list (Hollywood classics, avant-garde, documentaries, animation, home movies, silents and more). What quickly jumped out was that Monty Python, Saturday Night Live and Seinfeld have nothing on early filmmakers. Let's just take two silent films as examples (I know some of you are thinking, "Silent films are boring!" but come on, stay with us): There It Is (1928), a short directed by Harold L. Muller starring Charles Bowers and The Gold Rush (1925), written, directed by and starring Charlie Chaplin.
There It Is concerns the investigation of the zany domestic disruptions caused by the Fuzz-Faced Phantom (that name alone should entice you). What ensues is a series of surreal events: animated antics by a bug named MacGregor, the Fuzz-Faced Phantom rolling through scenes carrying a variety of objects for no particular reason, and a kilt-wearing Scotland Yard detective fiercely wrestling with a telephone. (Warning: An African-American character seen throughout this short is portrayed through a despicable stereotype typical of the era. One of the powerful things the movies do is preserve each era's attitudes for all time. Especially our ignorant ones.)
In The Gold Rush, Chaplin's portrayal of the Lone Prospector character is boisterous yet tender, smart-alecky yet poetic. His simple transformation of two dinner rolls pierced by forks into the legs and feet of a dancing figure is crazy clever; his hunger-induced hallucinations of his prospecting partner as a five-foot tall chicken establishes a comedic visual style that has been copied ever since (see Seinfeld, season 9, episode 1, where Newman thinks Kramer is a turkey).
There are 100 more madcap moments in early filmmaking and we have not even gotten to Duck Soup! Find them, watch them, share our surprise, and you'll see just how funny the early greats really were.