Back to selection
PARK CITY CRITIC'S NOTEBOOK #3: GEMS FROM THE OTHER FESTIVAL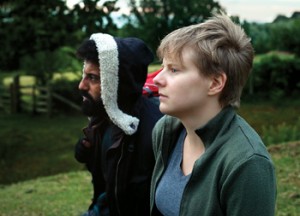 While introducing a screening one afternoon this week in the Treasure Mountain Inn's cramped banquet hall that the Slamdance Film Festival converts into its main cinema every year, Slamdance Co-Founder and expert hat-wearer Dan Mirvish remarked with a bit of awe that this was the 17th annual event, meaning that Slamdance, once referred to pejoratively as Sundance's "parasite" by Robert Redford, had now been around for over half Sundance's life span. Continuing, Mirvish claimed that "about a third" of the participants in Sundance's 2011 lineup were Slamdance alumni. "The inmates have taken over the asylum," Mirvish joked. Someone sitting behind me remarked under his breath, "If you can't beat them, join them."
No need. Slamdance has come into its own, receiving well over 3,000 submissions a year and routinely playing films that don't deserve the "Sundance rejects" moniker. The film Mr. Mirvish was introducing that afternoon was Eleanor Burke and Ron Eyal's elegant and evocative Stranger Things, which last night won Slamdance's Narrative Competition Grand Jury Prize. While most of the campfire and water-bottle refill talk concerning Slamdance this year centered on iconoclastic Indian director Q's Gandu (which translates to Asshole), the Grand Jury Prize-winner, a moody and clear-eyed drama from a pair of our 25 New Faces in Independent Film, is as tranquil and refreshing as an autumn afternoon along the rural British coast, where much of its story is set.
A young, lonely woman named Oona (Bridget Collins), coping with the recent death of her mother (with whom she was clearly not close) and hoping to sell the home the deceased woman spent her last years making art in, returns to the home's seaside village to settle the estate. She quickly finds a shaggy, Arab homeless man named Mani (Adeel Akhtar) squatting there. Frightened, she kicks him out, but after she's driven him away she discovers a sketchbook he left behind that shows great promise. Tracking him down in a nearby shack, she returns the sketchbook, remarks about its quality and offers him shelter and food.
So begins a delicate and brief friendship, as this odd pair try, in fits and starts, to get to know one another and to transcend their disappointments and grief. Shot in a gauzy, standard-def digital format, the film has a delicate, strangely evocative, digitally noisy sort of beauty, but more importantly it tells a story that, without seeming to try, gathers great emotional resonance by its final frames. Lesser filmmakers would make this an occasion for unfulfilled desire, but Burke and Eyal are savvy enough to realize that what they have on their hands is a story about two people who have nothing in common but find each other at a moment in which they both desperately need the kindness of an objective stranger, one who can see through the baggage they've accumulated and help them rediscover the person they want to be.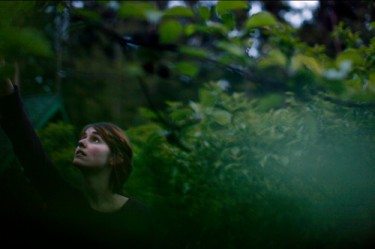 Receiving the a Special Jury Mention in the Narrative Competition, which amounts to a Second Place prize of sorts, was Mark Jackson's rigorous, provocative debut feature Without. A chamber drama that is heavy on longish, brooding takes and light on music or exposition, it's powered by a brave and stunning performance from newcomer Joslyn Jensen, who willingly steps into Isabelle Huppert territory as a young woman whose sexual and psychological lunacy in the wake of a terrible tragedy recalled for this viewer Ms. Huppert's unforgettable work in Michael Haneke's The Piano Teacher. Charged with housesitting for a stuffy island family who must provide constant care for the homemaker's infirm, elderly father, Joslyn (also the character's name) spends her waking hours cleaning, cooking, and feeding the helpless old man apple sauce, but her obsessions with photos of an unnamed Asian woman on her iPhone and unhinged demeanor when alone signal to the audience that something is rotten in Martha's Vineyard. Without an internet connection, hit on by a boneheaded local counter top salesmen and forced to watch fishing shows with the mute old man, she breaks out of her malaise with suggestive, ultimately anti-social behavior toward the local man and increasingly abusive actions of the sexual, verbal and physical variety, toward her helpless housemate.
Charting the slow, painful dive off the deep end of sanity taken by this young, grief-stricken woman, the film is a debut of startling promise for both Mr. Jackson and Ms. Jensen. Perhaps no more than 40 people caught this film during its two screenings in Park City, but both of these extremely talented individuals will surely be heard from again. One hopes that a film as difficult yet thoughtful as this can find its place with an adventurous distributor.