Back to selection
Sun Don't Shine Acquired by Factory 25 for World Distribution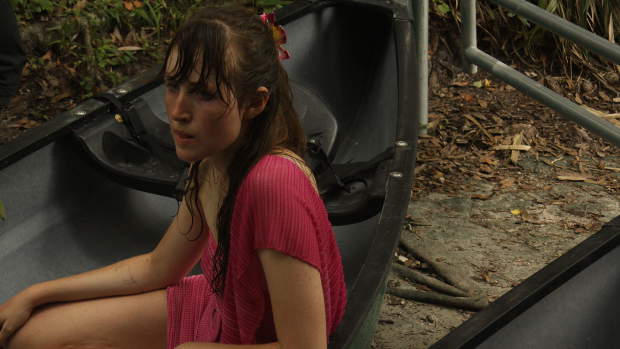 Factory 25 announced today that it has acquired world rights to Indiewire's number one undistributed film of 2012 and SXSW award-winning film Sun Don't Shine. Written and directed by acclaimed actress/filmmaker Amy Seimetz (Tiny Furniture and Sundance Film Festival 2013 films Upstream Color and Pit Stop), Sun Don't Shine was nominated for the "Best Film Not Playing" category at IFP's Gotham Independent Film Awards in 2012 and was produced by Kim Sherman, a member of last year's edition of "25 New Faces" here at Filmmaker.
Sun Don't Shine follows Crystal (Kate Lyn Sheil) and her boyfriend Leo (Kentucker Audley) on a tense and mysterious road trip through the desolate yet hauntingly beautiful landscape of central Florida. From the outset, the purpose of their journey is unclear, and the motivations behind their heated altercations and shady errands are hazy, but sporadic moments of tenderness illuminate the loving bond between the two that exists underneath their overt tensions. As the couple travels up the Gulf Coast past an endless panorama of mangrove fields, trailer parks, and cookie-cutter housing developments, the disturbing details of their excursion gradually begin to emerge, revealing Crystal's sinister past and the couple's troubling future.
Filmed on location in the environs of Seimetz's hometown of St. Petersburg, Florida, Sun Don't Shine is a subtly cryptic story driven by the powerful performances of its lead actors and its eerily poetic setting. The film premieres theatrically across the country on April 26th with screenings throughout the spring and early summer. Factory 25 will also be releasing the film digitally on April 26th via cable VOD, iTunes, Amazon, VUDU, X-Box, Sony Playstation and other digital outlets followed by a late summer DVD release.