Back to selection
DETAILS ON APPLE'S NEW IMOVIE FOR IPAD2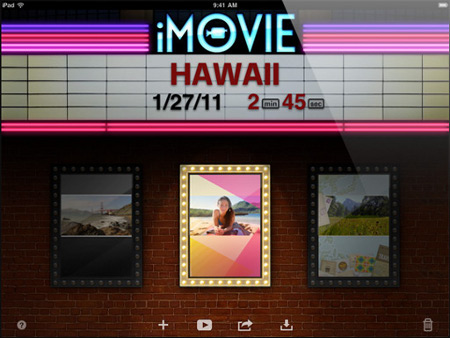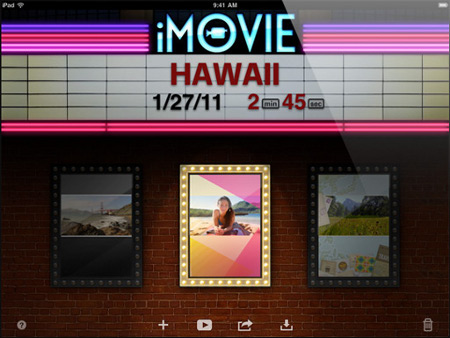 Apple announced the new iPad 2 today, and with the announcement came a new iMovie for iPad. The iPad itself is thinner, has a faster processor, has both front and rear-facing cameras (although the still camera is not of iPhone 4 quality), and can be outfitted with a new and very cool protective covering that snaps on via magnets and can be folded for use as a stand. As for iMovie, Jobs said at the keynote that with its precision editor and touchscreen interface multi-track audio "you can really edit a movie on this thing." I'm not sure I'd go that far, but it's definitely cool to see this added functionality to the iPad. (Unfortunately, the new iMovie won't work on the existing iPad 1.) There's also a dock connector that outputs HDMI in 1080P from, said Jobs, any app, which is a feature I'm sure many independent filmmakers looking at apps as possible distribution outlets might be interested in.
More on the iPad 2 and video from Ars Technica:
A 1GHz dual-core A5 processor will power the iPad 2's 1024×768 display. Though the screen's resolution remains the same, Steve Jobs said the iPad 2 would be able to support 1080p video out and mirrored video through an HDMI adapter, which Apple has priced at $39. However, the iPad 2's video codec specs top out at 720p, so it's all but certain that the 1080p output is only upscaled 720p.

The long-awaited front- and rear-facing cameras have been added to the iPad 2, with the rear one able to record 720p video and the front at a VGA resolution. The iPad 2 will be able to get service on either AT&T's HSUPA or Verizon's EVDO network, but customers will have to choose one carrier or the other. Unfortunately, the iPad 2 won't be able to act as a hotspot like the iPhone 4, and no mention was made of support for either carrier's faster LTE networks.
Further details come from Robert Scoble, who was at the keynote and filed an audio report. He said, "The new Garagebank and iMovie were really nice, although the iMovie… cannot import directly off my Canon 5D Mark 2. So it's still not a professional tool. It's designed for people who have an iPhone 4 to take that video, or using the cameras in the iPad, which are pretty good quality cameras, and bringing that video straight into iMovie and editing it there. I could downsample my videos — you have to bring it in at 720P and my Canon shoots at 1080P, and [the iPad requires] H.264 compatible video. So it's not a tool for the high-end prosumer."
Listen to his complete report at the link. And watch the Apple video below.