Back to selection
Sony 4K News and ARRI ALEXA 3.2K ProRes Recording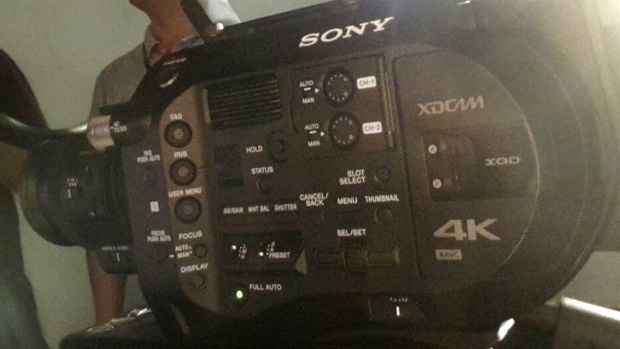 Is this the next Sony 4K camera?
It's been another interesting week for 4K video, and all the news may not be out yet!
New Sony E-Mount 4K?
Rumors have been swelling the last few days about a new Sony 4K E-Mount camera that may be announced prior too – or at – IBC. There's even talk that it will be called the FS700 II, though that seems odd given that the camera in the picture looks very, very different to the current FS700. Of course, there could be two cameras… but I've been wrong before when I've tried to make sense of Sony product naming and announcements, so I'm not going to go down that path again.
Honestly, we all know that a 4K E-mount camera is coming; it's just a question of when? And the feature set…and the price.
But if this camera does have all the features currently being thrown about — internal 4K recording, RAW support, 180fps, and is priced less than $10,000 — how will Sony continue to sell the F5 for $16,500?
Goosing the Sony PMW-F5 to 4K internal recording
One feature that differentiates the Sony F5 from the $29,000 F55 is that the F55 offers internal 4K recording.
Cameraman and F5 owner Paul Ream discovered that he could edit the setup files for his camera and, through a process of trial and error, enable 4K recording on the camera. NewsShooter.com has interviewed Paul about how he did it and what he thinks about the ethics of the hack.
Sony has also made their position clear:
Sony is aware of the All File modification that was done by some F5 owners to enable 4K XAVC recording in the camera head. As a matter of policy Sony cannot approve any modifications that are not part of an official firmware release. All firmware updates from Sony come with quality assurances that guarantee high quality performance. Furthermore, unauthorized modifications to the product are not covered by, and may void, Sony 's product warranty.
ARRI announces another software upgrade – ProRes 3.2K
Last week ARRI announced a 4K "upgrade" for the AMIRA. Now they have announced an enhancement for the ALEXA which will come in a software update scheduled for early 2015. It's not quite 4K, but ProRes 3.2K recording will, according to ARRI, "allow for simple up-sampling to UHD or 4K in a quality at least as good as other contenders."
ARRI suggests in their materials that the ProRes 3.2K recording (of the 16:9) image area is suitable for UHD TV. For cinema 4K they recommend ARRIRAW Open Gate, a feature that was released earlier this year and captures 3.4K in a 1.55:1 aspect ratio. To accomplish that higher resolution, the area being recorded includes and extends beyond the surround view area (an area around the edge of the image in the view finder that wasn't being recorded.) Open Gate is available for ALEXA XT models, but not for the ALEXA Classic with the XR upgrade. The ProRes 3.2K upgrade will work with the ALEXA with the XR upgrade, as well as the ALEXA XT.
ARRI: New ALEXA ProRes 3.2K for UHD TV
ARRI: ARRIRAW Frequently Asked Questions
Filmmaker: ARRI AMIRA To Do 4K, New GoPro Tutorials, and a New 50mm Cine Lens from Samyang
Correction: The original version of this article listed Photokina instead of IBC.