Back to selection
Smooth Criminal: A Look Inside Michael Winterbottom's The Killer Inside Me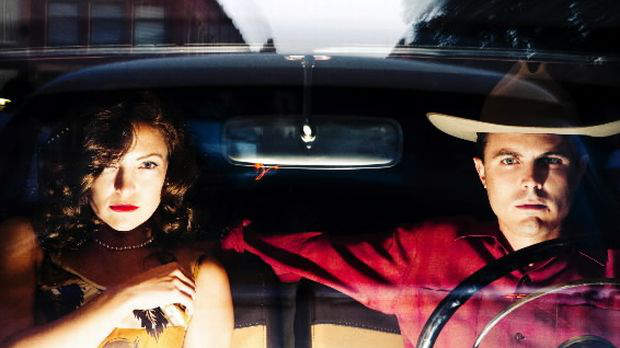 This piece was originally printed in our 2009 Fall issue.
As a filmmaker, British writer-director Michael Winterbottom (24 Hour Party People, In This World, A Mighty Heart) doesn't linger long in one place. Just consider the globe-hopping locations he shoots in (Scotland, Pakistan, Iran, Shanghai), the hyperkinetic pace at which he works (there have been 18 features since 1995), and the versatility of his films, which cover every conceivable genre from sultry neo-noir and dolorous period drama to near-future sci-fi and Gold Rush-era Western. But the restlessness extends to his personality as well. In conversation, Winterbottom is so voluble that he can be hard to decipher, the words spilling out miles ahead of his own thought process. He is, to be sure, an artist in perpetual motion.
It's late August, and Winterbottom has just completed principal photography in Guthrie, Okla., on The Killer Inside Me, adapted from the 1952 cult crime thriller by American pulp writer Jim Thompson (The Grifters, The Getaway). The novel tells the story of a seemingly mild-mannered deputy sheriff in West Texas, Lou Ford (played in the film by Casey Affleck), who is gradually revealed to be a deranged personality bent on sexual violence and murder. Thompson's key innovation in the book was his clever, insidious use of first-person narration, through which we come to understand Lou's grotesque logic and self-estranged state of mind. Jessica Alba is Joyce Lakeland, the prostitute who willingly succumbs to the young peace officer's kinky, sadistic charms, and Kate Hudson appears as Amy Stanton, Lou's adoring, well-bred girlfriend. Like the townsfolk in Central City, she remains clueless about his homicidal proclivities — "the sickness," Lou calls it — until, of course, it's too late.
"There's something about the way Lou narrates his own story that makes you feel sort of close to him," says Winterbottom, on the phone from the London offices of Revolution Films, where he has just begun editing footage with longtime producing partner Andrew Eaton. "You feel as well that's something going to happen to redeem him. And what's brilliant about the way Jim Thompson tells the story is you're constantly feeling that you're going to come to this moment of knowledge — and then the book ends. [laughs]" Many, of course, regard Killer as Thompson's masterpiece, both for its tawdry Oedipal twist on psychopathology — repressed memories of sexual abuse figure prominently in Lou's confessional monologue — and its cunning inversion of oafish, country-bumpkin mannerisms. Even Stanley Kubrick, for whom Thompson penned The Killing and Paths of Glory (largely uncredited), called it "probably the most chilling and believeable first-person story of a criminally warped mind I have ever encountered."
But for Winterbottom, there's a Shakespearean dimension to the story too, and he was keen to draw out the tragic human subtext of Ford's wicked impulses. "There are stories about people who seem to live normal lives, love their children and wives, and then they decide to destroy everything, to tear everything up," he says. "Lou is that sort of character. The people who he kills are quite close to him; people love him despite the fact that he's been violent towards them. There are psychological explanations in the book, but it's more the sense of the pointlessness and waste that violence creates, and the tenderness of the situation that attracted me." In that sense, he agrees, the film echoes Butterfly Kiss, Winterbottom's 1995 road movie about itinerant lesbian lovers whose serial-killing spree, while horrific, never eclipses our sympathy for them: "There are many elements of a love story we're trying to make with The Killer Inside Me."
Winterbottom has a reputation for unorthodox adaptations of classic novels. He has twice interpreted Thomas Hardy for the big screen (Jude, The Claim), and his ultracontemporary tweak on Laurence Sterne's Tristram Shandy, considered to be an unfilmable book, earned high praise from scholars and critics alike. For The Killer Inside Me, Winterbottom says he was attracted to the pace of the narrative ("Thompson is a brilliant dialogue writer and plotter… the story unfolds incredibly fast") and decided he wanted to honor the verbal spirit and lean structure of the source text. "In terms of individual scenes, [John Curran's screenplay] was very close to the book anyway, but the order had been changed. So my approach was to go back to the original story and really keep the film as accurate and as faithful to the text as possible."
Eaton and Winterbottom teamed up with producer Bradford L. Schlei for Killer, their first U.S. production, and originally intended to shoot in West Texas. But financial incentives led them to relocate to Oklahoma, Thompson's birthplace, where they found well-preserved turn-of-the-century architecture that evoked the post oil-boom '50s. "Obviously you respond to the landscape you're filming, the places you're filming in. Looking at archival material from the '50s and going to visit the arid landscape in Texas where it's set — and looking at the towns, the much more lush town squares in Oklahoma and Texas — we were trying to find some kind of palette to make sense of that." Although Winterbottom has ventured into noir territory before with I Want You, he's not wedded to maintaining rigid genre codes for the film's visual scheme. "It's not a particularly noir-looking film," he says, adding that he used bold colors to outfit the actors, which he plans to desaturate in post. "It was very bright and hot when we were filming, so you have these bright, kind of flat, washed-out exteriors. And then the much more gloomy, dark interiors. But all of these things come from the natural way the story is and the locations, as opposed to being necessarily imposed."
Asked if he's seen Burt Kennedy's 1976 version of The Killer Inside Me, Winterbottom says, "To be honest, I didn't realize there was a version when I read the book. I chased down the producers who have the rights and they said there was one. And by that point, because I was already hoping to make the film, I said I didn't want to be doing a remake. So I haven't seen it yet. In fact, I think I'll wait till I've finished this and then watch it." In the meantime, he has his work cut out for him, editing rushes, correcting color and choosing music (a mix of classical and Western swing from old radio broadcasts). But one thing is certain: By the time we lay eyes on Winterbottom's Killer, he'll have vanished like quicksilver into the next shoot.
The Killer Inside Me is due in early 2010, with France's Wild Bunch handling worldwide sales.