Back to selection
OPEN SOURCE FILM TOUR – OR HOW I'M TRYING TO SPARK A POPULIST FILM MOVEMENT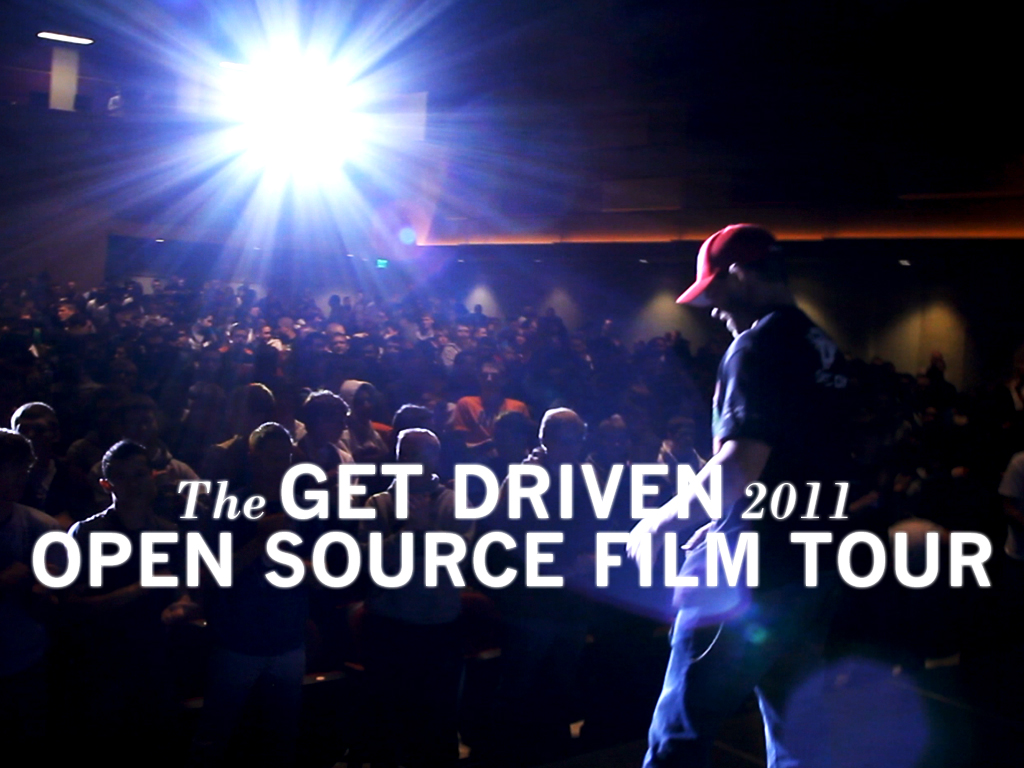 "You have no idea what you've created, and how many people this will help"
I was wrapped in warm embrace with a woman I had just barely met when she whispered this sentence into my ear. We were standing in the lobby of the Egyptian Theater in downtown Boise, Idaho where my film, JENS PULVER | DRIVEN, had just let out after a lengthy and fairly emotional Q&A with me and Jens Pulver, the subject of my film. This surprising interaction was the first of many that night, and one that came as quite a shock to both myself and Pulver.
I knew from my very first meeting with Jens that he was of that special breed, that wholly engaging personality you would gladly have bend your ear for hours. As he says, he's "not famous, just popular," and for good reason. Not only a champion in his sport (mixed martial arts), but a true underdog who had to pioneer a weight class just to have a shot at the big time. And, outside the excitement of the cage he is warm and approachable, the guy that will give you the shirt off his back, and has on multiple occasions. Jens, as one fan frames it, "creates such emotion for fans…you almost feel like you're rooting for a relative."
As I began to understand these things about Jens throughout the process of making the film, it became very apparent to me that the distribution of this film, like the film itself, needed to mirror Jens' personality and demeanor. So, from early on I was convinced that we would be taking the film, Jens, and his message on a national tour of one night screening events.
For months I've been out pounding the pavement to this end, with a modicum of success. My early approach was not unlike others out there now, seeking private finance or sponsorship to conduct such an endeavor which, would then be produced with a 'top-down' approach of me and my team dictating the what, when and where of things. It's not a bad approach, and it's one that others, filmmakers and musicians alike have had success with. But, I kept having that nagging feeling that it wasn't quite right for what we are hoping to accomplish. A 'branded' event heavy on commerce just seemed out of character.
So, it was with this nagging feeling I found myself in conversation with my friend and fellow filmmaker Hunter Weeks, who had just spent most of the previous year touring his new film, Ride the Divide, about a 2700 mile mountain bike race across the Continental Divide. After screening in over 80 cities across the States they essentially opened up the distribution of the film to anyone with the inclination to screen it by offering a screening kit that allowed a fan to purchase a one time license to show the film…and keep the proceeds. I had also witnessed this approach with my friend Cory McAbee, who created a similar opportunity for fans to screen his films American Astronaut and Stingray Sam.
It felt like a watershed moment. I suddenly couldn't fathom a better way to theatrically distribute this film, which is 100% fan funded, and has been powered by community every step of the way. By 'open-sourcing' the distribution and allowing fans or organizations to create and benefit from their own events, we not only align with Jens' personality and the nature of the film, we create exponential opportunities for the film to be seen across the globe in ways we could never imagine, while at the same time perhaps inciting some good in the world. It is something we simply couldn't do on our own with a top-down approach.
Once decided, much like making the film itself, I dove in whole-heartedly and never looked back. I created a Kickstarter.com campaign to launch this effort and basically followed Hunter and Cory's lead.
So how does something like this work? Well, it's simple really, for $300 anyone can secure a one-time license to do a public screening of the film. They find the venue, set the ticket price, and keep the proceeds. We provide the screener (a DVD or Blu-Ray), some additional DVDs, promotional support and a 'how to host a screening' packet.
Additionally, we provide access to our new website http://opensourcefilmtour.com, and encourage those that screen the film to capture photos and video from the event and post their experiences.
Meeting Jens and making this film has fundamentally and forever changed my ideas about, and approach to, cinema. I still love the cinematic experience, I love the act of making a film, but I feel that simply making something then passing it off and moving on isn't enough anymore. We're living in a world that created 'social media' for a reason…we like to connect with each other. The reason so many filmmakers still hold fast to the theatrical release is because we like to experience cinema communally. Taking this approach to distributing JENS PULVER | DRIVEN offers us untold opportunities to take the film out into the world, and offers those who screen it the opportunity to benefit from that communal experience in a way that is relevant to their community.
When I screened the film that December night in Boise, I thought I had made a pretty decent film about a truly remarkable guy. I walked out realizing that, like Jens, the film had something special going on. It's not something you can plan for or dictate, it either happens or it doesn't, but with Jens it's simply undeniable and he let it ring through on screen. I'll be forever grateful for that. It's what guides me through this next chapter of the film and my fervent pursuit to ensure everyone, that cares to, has the opportunity to witness the humble strength of Jens Pulver.