Back to selection
Beetle Queen Conquers Tokyo — A Hammer to Nail Review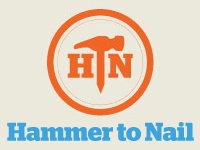 (Beetle Queen Conquers Tokyo is now available on DVD through Factory 25. Visit the film's official website to learn more. NOTE: This review was first published at Hammer to Nail in conjunction with the film's theatrical release at Film Forum on May 12, 2010.)
The knowledge that Jessica Oreck is an entomologist at the Museum of Natural History in New York City who has never previously made a film might cause one to worry that Beetle Queen Conquers Tokyo will be an unavoidably stiff and grueling piece of video academia. Worry not, skeptic. Oreck's wildly precocious exploration of Japan's ongoing fascination with, and connection to, insects just so happens to be one of the more exhilarating new documentaries of 2009. This is a shining example of when a filmmaker's innocence has resulted in something much more vibrant and alive than it otherwise might have been coming from an experienced veteran.
With a sense of natural wonderment and intellectual curiosity, Oreck tackles her subject from as many angles as she can fit inside the frame. In a voice-over that is read in Japanese and subtitled in English (as opposed to being dubbed), we travel back in time to hear many stories that explain the important role insects have played in the shaping of Japanese culture. Celebrated author Dr. Takeshi Yoro delivers his own insights into how interconnected Japanese people and insects actually are. Most of Oreck's footage, however, consists of children, collectors, and sellers who live in a modern day Japan that appears to be consumed by this endlessly wild array of tiny creatures. They're everywhere: in homes, in video games, in stores, on sidewalks. Whether this is, in fact, the case, or if Oreck's overeager vision is painting a somewhat tainted picture isn't the issue here. What matters is that she has managed to transform everyday life into such a mysterious and magical place.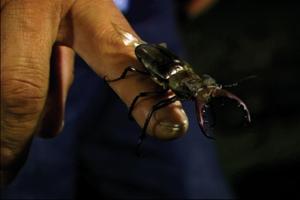 Beetle Queen is as visually dazzling as documentaries come. Sean Price Williams (Frownland) photographs it as if with a microscope instead of an actual video camera. It's gorgeous work, but it also has a purpose. On the insect side of things, Williams needs to shoot in extreme close-up to translate the fascinating intricacies of these creatures. Yet by staying so close on the human beings themselves, Williams does more than just humanize the insects; he insectizes the humans. In doing so, he supports Dr. Yoro's philosophical theory that these creatures are innately intertwined. Williams and Oreck find other striking ways to make these connections, including a high angle view of a bustling street corner in which tiny humans scurry about like busy bugs. On paper, this might sound obvious. In execution, it's breathtaking.
Even for an individual with particularly sharp brain gears, Beetle Queen has so much going on at once—visually, sonically, textually—that it begs for a second viewing in order to fully process its overflowing information. Having caught it on the big screen during its world premiere run at South By Southwest, I stumbled out of the theater, awed and intimidated, grinning but feeling that I had missed so much. Now that I've had the chance to experience it again, I can confirm that I was right (at least for myself). On a first viewing, the presentation, while beautiful, seemed scattered as it jumped from the past to the present, from interview to montage, from poetry to prose. But the second time around, this speedy editorial maneuvering became less jarring and I was able to fully absorb what I was watching, making for an even more enriching experience.
After watching Beetle Queen Conquers Tokyo, all of those giant insect movies from Japan don't seem so farfetched anymore. Are there really creatures like this on our planet? Apparently so. With her debut feature, Jessica Oreck has succeeded in injecting a much-needed dose of fantasy into reality, transforming the ordinary into the extraordinary, helping us to see the world through wide, open eyes.
Filmmaker has partnered with our friends at Hammer to Nail for a weekly "Pick of the Week" post that will be exclusive to our newsletter and blog for a long weekend, at which point it will go live over at Hammer to Nail as well. In the meantime, be sure to visit www.hammertonail.com for more reviews and lots of other great editorial.