Back to selection
THE 2011 KRAKOW FILM FESTIVAL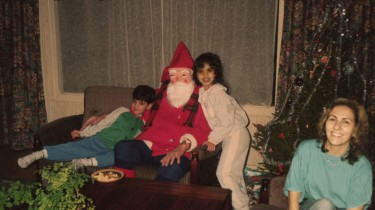 One of the oldest festivals in Europe, the Krakow Film Festival has a reputation among cinephiles as one of the continent's most prestigious venues for short filmmaking and one of Eastern Europe's largest markets for documentaries. Its 51st edition, which came to a close Memorial Day weekend, largely lived up to the hype. Unspooling 87 films of various shapes and sizes during the final week of May, it devoted a significant amount of its program to Polish cinema, with a competition section devoted solely to Polish films regardless or length or type. The shorts programming seems to be the heart of the festival, with many of the prime evening slots in the festival's modernist ground zero the Kijow Centrum devoted to shorts blocks.
Kaveh Terhani's 1994 (pictured above) won the Golden Dragon for best film. A terrifically observed short, comedic doc about an Iranian born immigrant to Norway who worked at his father's Lillehammer Kebab shop during the boom years surrounding the 1994 winter Olympics only to find himself marginally employed and emotionally estranged from his elegant wife fifteen years later, it considers with great care and empathy the role of Middle Eastern immigrants in European society and the seismic economic shifts that have imperiled small businesses the world over. Among the other notable work on display was Maska, a deceptively complex, mostly spectacular adaptation of Stanislaw Lem's story from the Pennsylvania born, European based puppetry legends the Brothers Quay and Aundre Johnson's amusing if not terribly adventurous The Third Rule, which stars Anthony Hopkins as a spiritual guru and Jason Biggs as a guy who seeks his guidance.
Acclaimed British short filmmaker Daniel Mulloy took home the Silver Dragon for best director for his newest provocation, Baby, about the dangerous seduction between an AIDS-stricken young Eastern European girl living in London and the black man who follows her home one night . Mulloy, a thre- time BAFTA award winner for his shorts work, is one of the world's most well regarded short filmmakers, but he may have outdone himself with this one; Baby will haunt you well after its final frame goes dark. Aided by the larger canvas afforded through a partnership with Film Four and the now extinct UK Film Council's Cinema Extreme series, which has funded such lauded shorts  as Andrea Arnold's Oscar winner Wasp, Mulloy's newest film retains the grim intimacy his no-budget work has been so well regarded for.
The most compelling film of the festival, a sneakily gorgeous featurette about the wages of travel, the mysteries and miseries of being "exotic" and the delicate friendship forged between a young boy and girl who live among Polish expatriates in Argentina, Wojciech Staron's The Argentinian Lesson won the top prize in the festival's International Documentary Competition. Shot in 16mm by the director himself, it is part travelogue and part exploration of the ways young people come of age in places where they simply don't have much footing. Over the course of barely an hour this portrait of a couple of Polish-Argentinian families packs an unexpected emotional wallop. Staron's gift for finding magical moments within the dead time in between chores, school assignments and moments of play is simply breathtaking, giving the viewer an occasional dose of the type of delicately observed humanity one expects from the great cinematic capturers of ethereal beauty and human foible (Burnett, Malick, Almendros etc.)