Back to selection
Shape of Things to Come: MOMI's First Look Gives Adventurous New Cinema a Home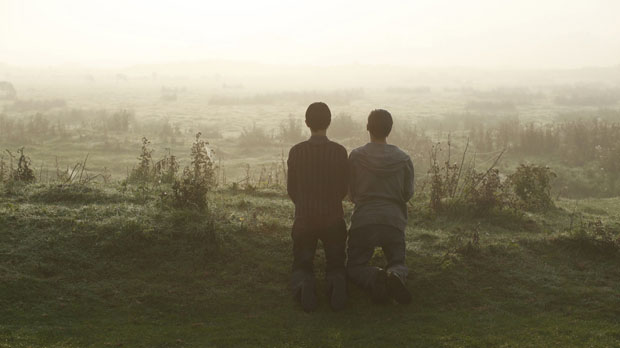 If you're heading off to Sundance in a few weeks (or just wincing at the January film releases), you may want to make a stop off in Queens. First Look, the annual showcase of new international cinema, opens today at the Museum of the Moving Image and offers filmgoers many compelling reasons to shake off the post-holiday doldrums and to leave the Netflix cave. It also suggests the expansiveness of independent cinema worldwide. Curated by Dennis Lim (editor of Moving Image Source, the Museum's multimedia magazine) and the museum's film curators, Rachael Rakes and David Schwartz, the series presents a carefully calibrated selection of 26 features and shorts from emerging talents and established filmmakers from around the world. Many of these films have played at international festivals over the last several years including Locarno, Doc Lisboa, CPH: DOX, and Clermont-Ferrand (among others) and are reaching these shores for the first time. With the exception of the Opening Night selection, Bruno Dumont's Outside Satan (Hors Satan), the films all share the distinction of being without U.S. distribution.
Only in its second year, First Look is quickly establishing itself as one of New York's most forward-thinking platforms for narrative, documentaries and experimental work. Situated at the end of MoMA's year-end wrap-up The Contenders and before the Film Society's more idiosyncratic February showcase Film Comment Selects, MOMI's adventurous series foregrounds work that subverts narrative expectation and/or utilizes hybrid filmmaking practices, and offers a view that is both expansive and highly refined. Last year's edition opened with Chantal Akerman's Almayer's Folly and included films by Raya Martin and Phillipe Garrel, among others. This year's offerings come from twelve different countries and yield new works by revered American filmmakers James Benning and Thom Andersen, each with fresh meditations on space and time, and a slow-burn thriller by established German School filmmaker Thomas Arslan. These resonate with works by new kids on the international block Nicholás Pereda, Pedro González-Rubio, Eloy Enciso and Jang Kun-jae.
Despite the eclecticism, First Look selections nonetheless feel of a piece with their playful formalism, meditative moods and sensuous imagery. Dumont's film, which played at Cannes in 2011, is as much a film about landscape as it is about people wrestling with spiritual crisis. Set on the French Opal Coast near Calais, Outside Satan follows a violent, nameless man who lives in the marshes outside the town and becomes the ambiguous protector of a troubled young woman. The drama plays out across gorgeously gloomy vistas where the mutable coastal light suggests cosmic perspective. Both Benning's Easy Rider and Andersen's Reconversão offer meditations on time and space, albeit on two different continents. Benning's "road movie" revisits the actual locations of the Dennis Hopper's 1969 film, traveling from the West to the South, and conflating cultural and physical landscape. The soundtrack provides the irony, mixing muted bits of the dialogue from the original film with a pop soundtrack that includes, among others, Chan Marshall (aka Cat Power). If Benning is preoccupied with exploring a certain kind of romanticism, Andersen is probing the architectural analogy in his "portrait" of Pritzker Prize-winning Portuguese architect Eduardo Souto de Moura. Focusing on 17 projects, Andersen considers the fascination with the architectural ruin and how it informs the architect's contemporary practice. The film employs subtle stop-motion sequences and was photographed by Peter Bo Rappmund, whose Psychohydrography (2009) utilized the technique to great effect.
While Mexican-Canadian director Nicholás Pereda's Greatest Hits and South Korean director Jang Kun-jae's Sleepless Night couldn't be more different in their relationship to cinematic realism, both achieve an impressive sense of character and place. Pereda's film is a formally slippery work that begins as a naturalistic portrait of a working class mother and her CD-selling son. About 40 minutes in, Pereda makes the first of several moves that offers a radically different perspective on the unfolding narrative. The director's observational style is low-key, deadpan and seemingly digressive: extended scenes of hanging out leads the viewer to question if he/she is watching a film, a documentary, or a rehearsal. But don't be fooled by the off-hand manner. At only 28, Pereda is a seasoned filmmaker (Greatest Hits is his fifth feature) and a regular on the festival circuit, having screened films at Venice, Rotterdam and Toronto. His strategy to alternately lull and destabilize the viewer ultimately pays off.
If Pereda's formal games recall Godard by way of Pedro Costa, Kun-jae's seemingly straightforward Sleepless Night might be channeling Ozu by way of Claire Denis.  Winner of several top prizes at the Jeonju Film Festival, the director's second feature is an intimate portrait of a working-class thirty-something couple, still in the glow of the first years of marriage, and pondering the leap into parenthood. This gentle and exquisitely observed film achieves an impressive emotional poignancy due in large part to the fine direction and wonderful lead performances. Realistic in the best sense, Sleepless Night captures the drama of the present moment in daily life — which is neither predictable nor obviously dramatic, but nonetheless thoroughly engrossing. This brief feature, which clocks in at just over an hour, to the three-act 90-minute feature, which continues to be the standard in much American independent cinema and the demands of the marketplace.  Indeed, the short feature has often been treated as problematic by the U.S. festivals. Matt Porterfield's 2005 debut Hamilton failed to win festival acceptance in part due to its hour-long running time, and its 2006 theatrical run at Anthology Film Archives, which helped it garner critical attention, underscores the importance of institutions stepping in to support new work.
First Look is also bookended by two strong programs of short films. The first weekend offers intriguing work by the young French filmmaker Mati Diop. Most familiar to US audiences for her work as an actress in Claire Denis' 35 Shots of Rum (2010) and Antonio Campos' Paris-set Simon Killer (2011), Diop has been steadily making a name for herself over the last four years as a filmmaker of great sensitivity. Set in the Vietnamese community of Marseilles, Big in Vietnam is an oblique meditation on colonialism that follows a troubled French-Vietnamese film production, while Snow Canon portrays the loneliness and sexual confusions of a teenage girl being cared for by an attractive young American against the backdrop of the French Alps. Combining an observational style, sensual photography that attend and elliptical narratives, Diop's films offer many pleasures, which is also true of the closing night program of work by Kleber Mendonça Filho. The Brazilian director of the acclaimed Neighboring Sounds has been a significant figure in Brazil's film scene for some time, as a critic, programmer and filmmaker and the six shorts presented here (mostly screening in 35mm) show an impressive mix of styles and influences. The Little Cotton Girl (2002) and Green Vinyl (2004) stand out for their overt creepiness and reveal Filho's interest in horror, which underlay the effective unease predominating Sounds. Also included is Luz Inustrial Magica (2008), an experimental meditation on celebrity culture, and Electrodomestica (2005), the darkly funny short film that served as the basis for his debut.  It's clear Filho is on his way to becoming a major international filmmaker and this closing night program is an appropriate selection for a series devoted to mapping out the shape of things to come.
First Look runs from January 4–13 at the Museum of the Moving Image in Astoria, Queens.