Back to selection
FROM BROOKLYN TO FINLAND: DOCS OF SUBSTANCE (PART 2)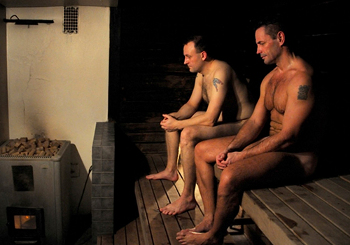 The recent DocPoint NYC featured 47 Finnish documentaries in celebration of the Helsinki festival's 10th anniversary. Here, Stuart Nusbaumer considers two in a weekend that bounced him between DocPoint and the Brooklyn Film Festival.
Part 2: DocPoint New York City


Reindeerspotting: Escape from Santaland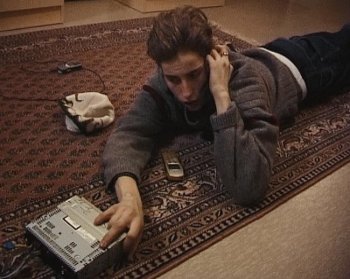 Reindeerspotting is set in northern Finland in the town of Rovaniemi, which is not important since a junky is never part of a town. The central character, 19-years-old Jani, is not particularly important since junkies are nearly all young and mostly all alike. The overwhelming importance of their drug addiction makes the junkies overwhelming the same. The drug of addiction in this documentary is Subutex, probably the least important fact since any drug of addition qualifies for the addicted soul.
Yet, Reindeerspotting has a way of quickly touching and drawing you into the story.
Jani is not that dark urban version of a junkie without a hint of humanity surviving in his ravaged soul. He is charismatic, engaging, boyish looking, yet a junkie still under the control of junk, but less dark and threatening than most. Director Joonas Neuvonen with editor Sadri Cetinkaya keep the story focused. When on the serene Mediterranean, Jani is not serene. He suddenly decides to stop shooting Subutex, yet soon returns to shooting. He envisions a better life, yet does not take actions for that better life. For Jani, place and mood and dreams remain in the syringe.
The whole approach is low-key, deemphasizing morality and not exploiting the drugs highs or highlighting the desperation. No morality play, no sensationalism, just raw and authentic as seen through one junkie.
The film is particularly effective in slipping into the second stage of addiction, when the drug crosses the line from presenting the euphoric to just giving the normal, the struggle becomes more apparent and the desire to escape takes hold. And Jani does escape, Rovaniemi, fleeing to Copenhagen, then Paris, on to Italy and Spain. We hope this is the beginning of his escape from the drug, but it's not. When the pile of money that he stole runs out, he returns to Finland, in every sense back to where he began.
What has pulled Jani to the basement of desperation is only implied. There are hints, but not details. Yet, the culprit is the same for all junkies. What is that? Demons! When I returned from Vietnam, I had demons swarming all over me. Every junkie has demons swarming all over him or her. The question for Jani, then, is not will he stop using drugs, but will he control his demons?
Although a film about a junky is not unusual, one about a junkie by a junkie is. This can bring on all kinds of complications. Too much chemicals in the filmmaker-cameraman and the film's visual can slowly drop into a boring freeze. Too little juice and the picture can turn horribly spastic. In fact, the cinematography was fine. The strength of this film, however, comes from the filmmaker's closeness to the subject, to junk and demons, to the narrow and dark culture, lifting Raindeerspotting into the upper category of films about desperation.


Steam of Life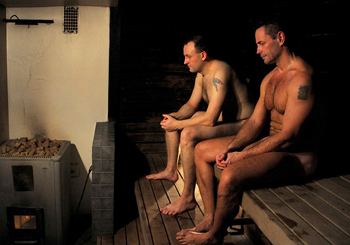 This sounded good: fat middle-age men sitting butt-naked in a sauna sipping beer. Something to take me to the other side of Finish life, far from young males ravished by drugs, something more quintessential Finish and closer to me. Yet, after watching Steam of Life, I entered the confused zone.
In this documentary, there are all kinds of saunas, from a small trailer transformed to finely wooded saunas, and a diversity of males in those saunas, from homeless to soldiers to executives. The intent is clear: Steam of Life is about the broad cross-section of Finnish males who are acting very Finish. Not the fringe as in junkies, but the heart and soul of Finnish manhood.
The overwhelming focus of their discussions is nearly exclusively domestic: wife and children, grandparents and childhood. Nearly 50 minutes into the film, a man who had a tour of duty in Afghanistan, yet he talks about his mother who died and his wife who ditched him. Where is the war? Where are the careers? Where are the concerns about success?
These are men who trust emotions and distrust rational and seem to embrace male softness. There is crying. There are declarations of dependence. One proclaims, "Solitude is the worst thing."
Last year at the Copenhagen Documentary Film Festival — Steam of Life has been on the film festival circuit for nearly a year, generally receiving high praise, and winning several awards –- there was much discussion about this film. Most praise seemed to come from women who were shocked yet delighted to hear men speak so openly and with such sensitively about domestic concerns. On the other hand, often but not exclusively, males were distrustful that Finish males were so disengaged from the wider world and willing to discharge all traces of the stoic and competitive attributes. This was from fellow Scandinavians.
What confused this American was the great diversity of Finish men were incredibly homogeneous in what they said, diversity of class and circumstances yet strikingly singular in expressing their intimate thoughts. Their message can be boiled down to concerns and thoughts similar to the traditional female when she was restricted to home and children and husband. The men sounded quaint, lacking the broader life-perspective and viewpoints of modernity. They are certainly moving at times, but only about the private life.
If we watch films not for pure entertainment but to be challenged and stimulated, then Steam of Life is a success. It challenges our traditional paradigm of men. But independent films also inform. And I wondered, is this really Finish manhood? Not a slice of Finish manhood, but the essence of men in northeast Scandinavia?
At the end of Steam of Life, we see the sauna men standing and sitting in groups, dressed according to different occupations and class, singing the same song. A song about a baby squirrel safe in its nest, about gentleness, about peace and happiness… in diversity is the unity of Finnish men singing the same message.
Steam of Life is a journey into a world of men that is seldom revealed, where men are caring and loving, concerned about their love ones, and allow themselves to be soft and emotional. But men are also more. In presenting a nation of men so narrowly, I began to think just how broad, diverse and complex males are. And I also thought how the scourge of the drug was narrowing Jani, stealing his beauty and drive and complexity, and his softness.