Back to selection
Lady Vengeance: 2011 New York Asian Film Festival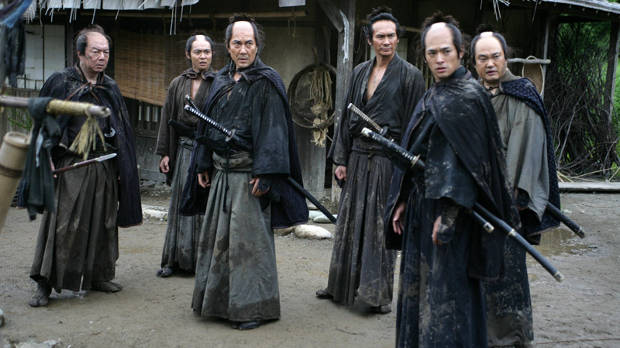 Running for nine solid years and organized by the folks over at Subway Cinema, the New York Asian Film Festival is a genre lover's dream — a carefully curated crop of new films from Korea, Thailand, Japan, Taiwan, and anywhere else on the continent they can get their hands on a good movie, watched in the company of equally discerning fans. The 2011 edition is kicking off on July 1 with the film Milocrorze: A Love Story, a genre-bending samurai romance in the form of a musical variety show, from Yoshimasa Ishibashi.
I'm intrigued already.
I remember the first time I attended the festival back in 2006, when I thrilled in the violence/silence that fell over the theater during A Bittersweet Life and swooned over Bae Doo Na in Linda, Linda, Linda. Most of the screenings I attended were in the adorable Imaginasian, still one of my favorite theater names of all time and a venue that gave the festival a slightly homegrown, renegade feel. They have tried out several different theaters before and since then, from the IFC Center to Anthology Film Archives, but this year Subway Cinema has returned to do business with the decidedly more upscale Film Society, with a second set of screenings and events taking place at the Japan Society the week afterwards. Will the festival lose any of its street cred as a result of movin' on up to the West Side for the last few years? If the typically, gloriously madcap programming is any indication, absolutely not — if anything I would imagine Film Society is hoping to gain a little cred of its own from the association with NYAFF.
The festival has expanded by close to 50% since the Imaginasian days, from about 30 features in the 2006 lineup to 45 in 2011. There are countries being represented this year, like the Philippines, that American audiences are sadly underexposed to in the genre scene and in general. The focus on some lesser-known members of the burgeoning Southeast Asian film industry, like the Philippines, or Malaysia, seems like a timely move. One thing that hasn't changed is not only the quality, but the breadth of the programming. This year's buffet runs from goofy to ultra violent to dramatic and everything weird and wonderful in between. In honor of the festival, and to help those lucky enough to be in NYC the first couple weeks of July pick tickets before they sell out as they have for several screenings in past years, here are five picks from Lady Vengeance.
1. Ninja Kids!!! / 13 Assassin's: Director's Cut (Takeshi Miike)

Always a welcome addition to any genre festival, the prolific and outspoken Takashi Miike has two films at NYAFF this year, which I'm sure is a point of pride. Ninja Kids!!! is an adaptation of the long-running Japanese show Rantaro the Ninja Boy; it is always worthwhile to see what happens when the twisted mind of Miike takes on a children's movie. 13 Assassins (pictured above) is his relatively restrained samurai epic that killed it on the festival circuit this past year and can be seen here in its full glory.
2. Detective Dee and the Mystery of the Phantom Flame (Tsui Hark)
Okay, so this big-budget historical mystery is a bit ruminative and even clumsy at times, but that's not always a bad thing, particularly when it comes to a good slow burn with a hint of wacky melodrama. Like an ancient Asian Poirot with serious sword skills, Detective Dee smugly thinks his way through a series of tight spots and unexplained spontaneous human combustions. The festival will be screening several Tsui Hark films as he is receiving the 2011 Star Asia Lifetime Achievement Award.
3. Machete Maidens Unleashed (Mark Hartley)
It is nice to see a documentary at a genre film festival every now and again, and this one, from the director of Not Quite Hollywood, is an equally (translation: mind blowingly) thorough exploration of Filipino exploitation films being made by the truckload in the '70s and '80s. The film, which features interview with the likes of Roger Corman and Eddie Romero, can get a bit repetitive, but the archival is simply too good for that to matter.
4. Bedeviled (Jang Cheol-Su)
This repulsively harrowing female revenge flick made serious waves at this year's Fantastic Fest, and with good reason. When a woman returns to the isolated island where she grew up, the horrible treatment of her childhood friend reminds her of how much she's repressed. Loved or loathed, the film brings up a lot of issues about revenge tropes and gender portrayal, and features some creative killings to boot.
5. Ocean Heaven (Xue Xiaolu)
When it's time for a break from all the murder and mayhem, this drama, which I have not yet seen, pairs up legend Jet Li with cinematographer Christopher Doyle, to tell the heartbreaking story of a father trying to teach his autistic son how to take care of himself.
In the spirit of reminiscing on genre festivals past, it is only fair to make a bonus suggestion of some of the festival's excellent repertory programming. Highlights include rare 35mm prints of Tsui Hark's 1983 zombie epic Zu: Warriors from the Magic Mountain and girl-power-before-it-was-cool 1992 swordswomen showdown Dragon Inn, Ryuhei Kitamura's cult classic 2000 film Versus, about an unlikely band of travelers trapped in The Forest of Resurrection, and of course Kinji Fukasaku's utterly unforgettable Battle Royale, one of the more accurate portrayals of middle school emotional politics committed to cinema. Here's to a walk down spiked, bloody, undead, and/or entrail-covered memory lanes.
FARIHAH ZAMAN began working in film as a Programmer for Film South Asia documentary film festival before moving to New York in 2005, where she was the Acquisitions Manager at independent film distribution company Magnolia Pictures. In 2008 she coordinated IFP's No Borders program, the only international co-production market in the US, before becoming Program Manager of The Flaherty Seminar until 2010. Farihah currently writes for The Huffington Post, as well as online film journal Reverse Shot, among others.