Back to selection
TIFF: "I AM A GOOD PERSON/I AM A BAD PERSON"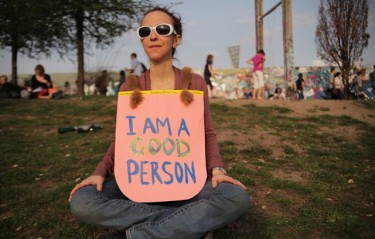 Ingrid Veninger's latest film has to be the fastest movie ever made for TIFF. The Toronto filmmaker was on her way to unspool her 2010 feature, Modra,  at film fests across Europe when she seized the opportunity to shoot an entirely new film.
That meant 19 days of scripting, casting and rehearsals in Toronto in March this year, 13 days shooting in north England, Paris and Berlin, then wrapping with five weeks of post in T.O. to make the TIFF deadline. That also meant Veninger presenting Modra in one cinema and then becoming "Ruby White," who was premiering a fictitious film at the same festival at the same time. I don't even think John Cassavetes took personal filmmaking this far.
The constraints Veninger placed on herself and her skeleton crew and cast probably made i am a good person/i am a bad person a better film. In fact, it is a strong, lively drama, full of laughs, twists and honest character study. The film centers on Veninger's alter ego, White, a bohemian filmmaker struggling with a lousy marriage, and her daughter Sara (real-life daughter Hallie Switzer), who wrestles with a secret pregnancy.  Ruby invites Sara to be her assistant on the festival tour, but really she wants them to bond. In an amusing role-reversal, Ruby stays up all night partying while Sara goes to bed. After the first festival in Bradford, Sara demands head-space and splits to Paris to stay with a cousin while Ruby ventures to Berlin alone and lonely.  Each woman does soul searching, with Sara asking herself if she's a good person or a bad one.
"The intent was to make her [Hallie] happy," Veninger explains after the second Toronto screening, "because she wasn't keen on going back on a festival tour." The Modra publicity tour began last September and was supplemented by a Canadian theatrical release in February. "She was burnt-out," says Veninger, "but the flights were booked. So I proposed we bring her boyfriend." Braden Sauder doubles as Sara's boyfriend on screen and as the film's sound recordist, given his work as a sound engineer and musician.
"It came out of having another adventure with her, so we could do something fun," Veninger simply says. "It was about spicing up the promotional tour and taking advantage of these amazing locations we would be in. It was a total experiment not knowing whether it would work or not."
Sauder came aboard by March 1, just 19 days before their flight. In that time, Veninger enlisted d.p. Benjamin Lichty and knocked out a script that she and Switzer rehearsed. Meanwhile, the Bradford International Film Festival supplied her headshots of local actors who Veninger auditioned over Skype.
Shooting was just as busy. There was little time for her to check takes on the monitor, so Veninger invested a lot of faith in her d.p. for the visuals, her daughter for the performances, her sound man for the audio, and herself.  "I hoped that years of acting would not fail me," she says. Luckily, the crew was so small and the cast were her family (like a home movie) that police allowed them to film in public.
The 41-year-old has worn many hats: producing, directing, writing and acting, but hasn't pulled an Orson Welles until now. "I've never acted in something I've solely written, directed and produced."
All this freedom came with a price. good/bad person is a credit card film. Even now, Veninger hasn't applied for funding from the usual Canadian suspects (Telefilm, broadcasters, distributors), which would have taken much, much longer and subjected her project to rewrites and re-casting. "I wanted to be free to take risks until the very end." Looking ahead, she isn't seeking traditional distribution but direct DVD sales through Amazon, and is even delivering a live personal director commentary in a viewer's home.
Though Veninger is producing a documentary, she doesn't have another screenplay in reserve. She prefers being inspired and working in the moment. It must be said that Anglophone-Canadian films (as opposed to Quebecois cinema) suffer from over-intellectualizing and self-consciousness. Because it was made guerilla-style so quickly, good/bad person crackles with immediacy and life without sacrificing conflict or character. It's no masterpiece, but it is a gem. Veninger simply says,  "With this film I wanted to push my own boundaries."
She has succeeded.