Back to selection
"TAKE SHELTER AND WEEKEND" — A HAMMER TO NAIL REMINDER!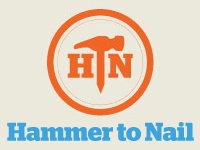 (Visit the official websites for Take Shelter and Weekend to find out when they will be playing on a big screen near you.)
Though I often complain about how content oversaturated and short-attention-span diseased our lives have become and how these factors have directly hindered the ability for any independent film to gain even a fraction of legitimate theatrical traction anymore, the truth is that at Hammer to Nail, we share in the guilt. We post reviews on/around the day of a film's initial theatrical release in either NY/LA and don't continue to remind readers when these films open in new cities in subsequent weeks. Granted, that is a full-time task in and of itself, and unfortunately, we don't have the manpower right now to be a comprehensive resource when it comes to posting platform release schedules for every film that we review (we do include a link to the film's official website at the beginning of each post in the hope that the filmmakers themselves will provide this information just one short click or two away). Take, for example, our Hammer To Nail Pick of The Week here at the Filmmaker Magazine blog. Every Thursday we pick a newly released film that we feel strongly that people should see. But this week in particular, as I scanned the list of options, I realized that the two films I personally think should be seen the most aren't being released this week at all (no disrespect to films opening this Friday, thank you very much). They are the previous two Pick of the Weeks.
The fact that two of the very best — "very best" as in not just Top 10 but Top 5 worthy—films of 2011 — are not only still in theaters, but are making very important expansions this week, has led me to go against the grain and change the Pick of the Week moniker to REMINDER of the Week. Those films are Jeff Nichols' Take Shelter and Andrew Haigh's Weekend.
Mercifully, both Take Shelter and Weekend did quite well for themselves in their extremely limited debut weekends (I say "mercifully" because if both of them had flopped, I was seriously contemplating quitting this game for good). Take Shelter is only in its second week, and though Sony Classics appears to have an impressive release schedule mapped out for it, tomorrow (October 7th) it spreads from three to nine screens (new cities: Costa Mesa, Encino, Pasadena, San Francisco, CA; Chicago, Evanston, IL; previous/current cities: NYC, LA). Sundance Selects is widening Weekend from six screens in three cities — NYC, LA, Chicago — to 15 total screens (new cities include Montclair, New Haven, Pleasantville, Philadelphia, Red Bank, Washington DC, Berkeley, San Francisco, and San Jose). It should also be noted, especially for those of you who don't live in any of the aforementioned cities, that Weekend is also now available through Video on Demand.
The beauty of both of these films is that as timeless as their themes are, they both have so much to say about the present day world in which we live. Revisit my full Pick of the Week reviews of Take Shelter and Weekend, then be sure to put them at the tippy-top of your must-see list. In production terms, they are "small" movies, but they are bigger and better than just about anything else you'll see this year.
Filmmaker has partnered with our friends at Hammer to Nail for a weekly "Pick of the Week" post that will be exclusive to our newsletter and blog for a long weekend, at which point it will go live over at Hammer to Nail as well. In the meantime, be sure to visit www.hammertonail.com for more reviews and lots of other great editorial.