Back to selection
NYFF: WEST MEMPHIS 3 ON HAND FOR UNVEILING OF NEW "PARADISE LOST 3" ENDING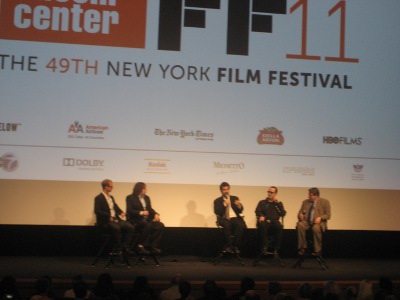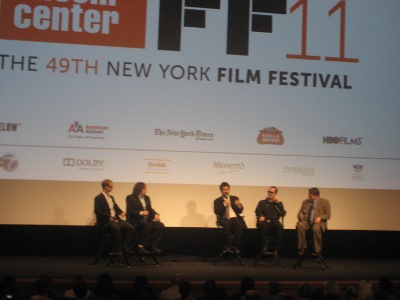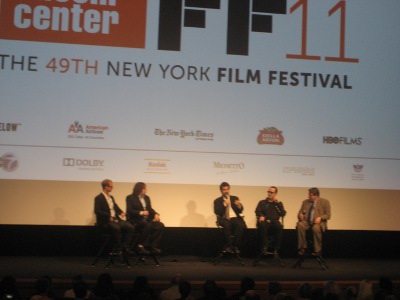 You probably know by now that the West Memphis 3 (Damien Echols, Jessie Misskelley Jr. and Jason Baldwin) were released from prison after giving an Alford plea — a guilty plea but not admitting to the act and asserting innocence — in August. At the time directors Joe Berlinger and Bruce Sinofsky were locking up their third film on the WM3, Paradise Lost 3: Purgatory, when they heard the news of the surprise development and raced down to Arkansas. Unable to put the footage of the three being freed in the film before screening it at the Toronto International Film Festival, Berlinger and Sinofsky unveiled the new ending tonight at the New York Film Festival.
And adding to the excitement, Echols, Misskelley and Baldwin were on hand in their first public appearance since being freed.
For Berlinger and Sinofsky, screening at NYFF brings things full circle. As Berlinger noted before the screening, their first Paradise Lost movie screened at New Directors/New Films in 1996.
Like Paradise Lost 2: Revelations, part 3 looks at new findings by the defense team that their clients did not murder the three young boys found in West Memphis, Arkansas in 1993 while backtracking to highlight the prosecution's questionable tactics to convict the WM3 and look at the families effected by the murders/aftermath. All captured beautifully by DP Robert Richman (An Inconvenient Truth, Metallica: Some Kind of Monster).
Also similar to Revelations, in part 3 the most eye-opening footage is that of the victim's families. The theatrics by John Mark Byers, the stepfather of one of the victims, is some of the most memorable moments from the first two films. At one point he was even considered a suspect and took a polygraph to prove his innocence. Well, in Purgatory questions are raised about another stepfather of a victim, Terry Hobbs, as new tests show his DNA on one of the ropes used to tie up the victims. Byers, who now believes the WM3 are innocent, shows no quarter to Hobbs as he  pulls out a poster board from his truck that outlines the reasons why Hobbs is innocent and the reasons he's guilty (obviously the reasons of guilt are a lot longer).
Undoubtedly the most memorable moment of the evening didn't happen on screen but as the credits rolled. While the theater was still dark and Metallica — a staple through all three films — blasting through the speakers, a stoplight shed light on the balcony to show Berlinger and Sinofsky standing next to Echols, Misskelley and Baldwin as they waved to the crowd.
Echols and Baldwin joined the directors for the Q&A as Misskelly stayed up in the balcony with friends and family.
"I'm trying hard not to think about it anymore," said Echols about giving an Alford plea and admits he doesn't care much about a pardon anymore. "It won't give back our 20 years."
And asked what they plan to do next, Echols says he'll continue to write, which he did a lot of in prison, while Baldwin says he's going back to school. "I want to help prevent similar situations like this from occurring to teens."
Though it wasn't brought up in the Q&A, many wonder, is this the final Paradise Lost? Here's what Berlinger and Sinofsky told us when we asked at TIFF:
Berlinger: For us, it feels like the end of an era after devoting nearly two decades to this case. However, there is a lot of talk of doing a fourth film and if HBO believes there is an audience for a fourth film, we certainly want to keep that door open. Maybe it's the start of a new era with a happier conclusion.

Sinofsky: As far as we know, this is the final movie about the West Memphis Three. But the first question on everybody's mind is -– now, what happens? How do these men's lives continue beyond the interruption of eighteen years of prison? How does it feel for Damien to walk from death row into a marriage he has never experienced before? There is a tremendous amount of interest in these men's lives. The possibility of a fourth movie, to explore what happens after the West Memphis Three, is present in more than a few minds.
Paradise Lost 3: Purgatory will air on HBO in January 2012.