Back to selection
TWILIGHT OF THE STARS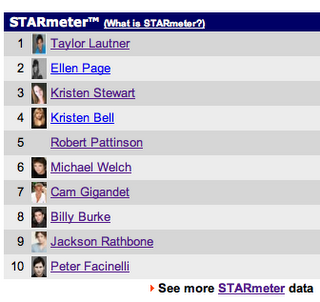 Jamie Stuart forwarded the screen cap pictured here from IMDb. It's a grab from the "pro" version of the site's Starmeter which, you'd think, would provide some sort of ranking of top movie stars. But no, the Starmeter is more a measure of transitory popularity. As the site notes about the rankings:
Plain and simple, they represent what people are interested in, based not on small statistical samplings, but on the actual behavior of millions of IMDb users. Unlike the AFI 100TM or Academy AwardsTM, high rankings on STARmeterTM and MOVIEmeterTM do not necessarily mean that something is "good." They do mean that there is a high level of public awareness and/or interest in the title or person.
So, if this Starmeter snapshot is to be believed, Catherine Hardwicke's Twilight, in which eight of the ten top stars appear, should be the biggest movie of the year.