Back to selection
FROM HERE TO AWESOME ANNOUNCES LINE UP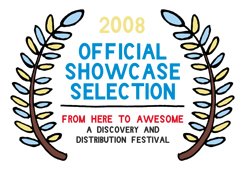 Along with their DIY DAYS, FHTA will also use the event in L.A. this week to unveil the films that will be showcased in their traveling distribution film festival around the country in the next six months.
They are…
FEATURES
Abel Raises Cain – directed by Jenny Able and Jeff Hockett
An unprecedented glimpse into the life and bizarre career of infamous media prankster, Alan Abel, told from the viewpoint of his daughter, Jenny. An offbeat portrait of an eccentric father, the film takes the audience on an unusual ride through the myriad of outlandish stunts and satirical campaigns that Abel concocted over the years – all with the intent to provoke, amuse and bring to light the act that we must always question everything we see, hear and read.
All for Melissa – directed by Gerard Elmore
Set in Hawaii, ALL FOR MELISSA tells the story of a young man whose obsession for Hollywood's "It" actress leads him on a quest to meet her and win her heart. During the journey, he discovers he may already be in love with another girl, his best friend.
The Book of Caleb – directed by Matthew Von Manahan
Is it better to out-monster the monster or to be quietly devoured? A comfortable underachiever and serial prankster, in the midst of their quarter life crisis, reunite against childhood enemies in a contemporary suburban epic.
Charlie – directed by Salvatore Interlandi
Charlie is a working-class guy who discovers that his wife has a lover. He confronts her, throws her to the floor then storms out of their house, vowing to kill the man responsible for his hurt. Charlie then goes on a two-day odyssey around New York that is one of self-discovery.
Damage Done – directed by Roy Burdine
The story of a man whose inability to deal with the losses of his past leads him into a desperate attempt to save a woman whose life is out of control.
In Search Of – directed by Zeke Zelker
In Search Of, explores the lives of people who use sex as a vehicle to gain something out of life without thinking about the repercussions or consequences of their actions. Thought-provoking and inspiring, In Search Of comments on the sexual tendencies of today's impulsive society. What are you in search of?
Johnny Appleweed – directed by Johnny Cotugno
Johnny Appleseed planted apples, this guy's planting a level one narcotic. Three friends travel the countryside planting glorious herb as police and a reality TV team threaten their mission.
The Lonely Bull – directed by Thaddeus C Sweet
A down on his luck rodeo clown attempts to change his losing ways and win the love of another through a dream of becoming a professional Matador.
Moonshine – directed by Roger Ingraham
A young convenience store clerk's passionless existence is altered eternally when a vampire steps out of the shadows.
Meditate and Destroy – directed by Sarah Fisher
A documentary focusing on the bestselling author of Dharma Punx and Against the Stream, Noah Levine. Tattoos, motorcycles, and an engaging punk rock soundtrack are featured in this powerful look at how Buddhism has a place in the world of punks.
The Other America – directed by Eugene Martin
"The Other America" is centered on Ari, a homeless urban teenager. It is a coming of age story in the context of poverty, disillusionment, and the failure of the American dream to embrace perceived outsiders, especially children.
Tothehills 2 – directed by Fritz Donnelly
Living on credit? Roommate sneaking your milk? Caught under uncomfortably long eye-contact? Run tothehills… Fill your closet with other peoples' clothes, buy 'real' estate on the moon, travel time, lose friends over a moustache and gain them back online. Do it all and be everything, tothehills.
SHORTS
AI – directed by Raffi Asdourian
A young woman, haunted by the memories of her parents being murdered, discovers the truth about herself and her sensei.
America's Phoneless – directed by Ted Prescott
The world is a cruel place for those without a cell phone. Meet Cliff, a quiet, unassuming man whose world is about to be turned upside down, all on account of being out of touch with society.
Fragments – directed by Brendan Prost
An abstract thriller that explores a certain memory of one man as he begins to recall it after years of repression.
Game Over – directed by Pete Curran
What would you do with just a few hours left to live? (If you'd been bitten by a zombie.) Game Over is a cynical take on how the Gamer Generation would react to a zombie outbreak, complete with falling cabinets and squishy footsteps.
I F*cking Hate You – directed by Zak Forsman
A compelling glimpse into a young man''s ill-conceived scheme to redeem himself in the eyes of his ex-girlfriend.
Louder Than Words – A Flipbook Story – directed by Glenn Ripps
A young man tries to poison a bunny rabbit for eating from his perfect little garden. As a result, he discovers that for every action there's an equal and opposite reaction.
Ring of Blood – directed by Javier Prato
A mercenary hired by the Asian mafia to steal a diamond ring worth millions of dollars decides to go against them and keep it for himself, bringing a bloodshed to everyone who gets close to it.
Memoirs of the Elderly – directed by Edgar Nielsen
A young man meets an old stranger at the park who likes to recall memories of his twisted past.
Rectify – directed by Dan Humphrey
A man sits down for a meaningful conversation with his wife in an effort to rectify a past mistake, but some mistakes cannot be undone.
Soledad is Gone Forever – directed by Mabel Valdiviezo
A psychological drama that explores the chilling consequences of political persecution through the eyes of Soledad Gonzalez, a young Chilean photographer living in San Francisco. Based on real accounts, this short to feature presents an intimate portrait of the Chilean exile community in the United States.