Back to selection
SEEING RED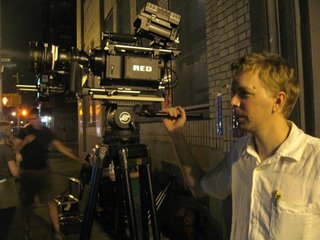 Directors Bradley Rust Grey and So Yong Kim just directed a short film for the Museum of Chinese in America Chinatown Film Project. Grey also acted as d.p. and shot the film on the new Red camera — the same camera Steven Soderbergh used to shoot his recent CHE. Grey plans to use the Red to shoot his next feature, which should begin this fall, and was kind enough to send us this entry for the blog in which he quickly summarizes his impressions of the experience.
I haven't written a blog before. So I'm just sort of thinking of this as an email to someone I don't know who might be interested… is that a blog?
RE: RED
We just shot a short film in Chinatown with the REDOne camera for a project called CHINATOWN FILM PROJECT produced by Karin Chien. The film was also meant to be a test-shoot for a feature, THE EXPLODING GIRL, that we are currently preparing. The camera was provided by MBS Productions, who are also overseeing the post-production workflow. I'm writing this to give my impressions of the camera from a layman's point of view as I'm not really a DP.
WEIGHT AND SIZE
First of all, the camera is much larger than I envisioned after seeing a photo of it on the Red website. It's more the size of a shoebox, rather than say a hot dog bun. It's also heavy. Imagine filling a shoebox with sand and putting it on your shoulder and then adding lenses, rods, etc. But, I'm a small guy, so maybe others wouldn't think so much of it.
HAND HELD
The camera comes with a small shoulder pad plate which attaches very precariously. So precariously that the camera wobbles when you slide it on. Not to mention that it's not very comfortable. Fortunately, our first AC, Alva Holmes, had worked with the Red before and he knew a guy in the city (Steve from DuAll) who had designed a special shoulder rig just for the Red. We rented that for a nominal fee and it helped solve two problems. 1) It was more comfortable and stable, and 2) It had a standard plate attachment which meant we could switch between hand held and sticks quickly.
EASE OF USE
The camera has a very easy to follow visual exposure meter for all three color fields. We put our light meter away and just used this to adjust exposure. There are also the standard zebra pattern stripes for hot spot over exposures. As well, there is a bizarre switch which can help you see exposure by changing all of the colors in the image to some sort of "Predator-vision" experience. I'm sure it's a great feature, but i didn't have time to deal with it, so we just went with the regular exposure meter. Apparently, there's another setting which graphically shows if you're in focus… and again, it was explained to me by the first, but I didn't see the benefit of it.
We didn't have an eyepiece so we used the small monitor which comes with the camera. One advantage of this is when you're checking focus by eye you have a bigger image to look at. As well, by pressing a button on the side of the camera you can "pop/zoom" into the image to check focus and then pop back out. This "pop" feature doesn't work while you're shooting, however — only when the camera is in standby mode.
I guess I should mention we were using "Build 15," which is the software update level. Currently, they are in "Build 16 Beta" mode which is supposed to help with shooting in low light situations. I was told it re-interprets the way the camera displays "noise" or "grain" in the blacks. One of the amazing things about the Red is that as people are using it, they can request new features which can then be downloaded directly into the camera in new build updates. For example, apparently they're working on a new feature which will record 5 seconds before you press the record button as well as save 5 seconds of footage after you stop. It's like a constant recycling memory drive. Anyway, if enough people wanted to be able to "pop/zoom" into the image while in record mode, they could email the Red technicians and request that feature to be added to future build updates.
That said, the menu which takes one through the camera features is not designed by Apple. I wouldn't have been able to figure it out, but our 1st seemed to have the hang of it, so we were in good shape.
SHOOTING SPEED
The camera is rated at 320ASA. You can adjust the speed, but one should think of the base as 320. For example, I wanted to rate the camera at 100ASA for our first shot, but we made some phone calls and were told this wasn't recommended. Because when you over expose anything at that level, you have no additional room for error. You'll be at the end of what the camera can handle. Meaning, if you could ND the shot down, or stop it down and rate the shot at 320ASA and you overexpose, you still might be able to pull some image out of the whites. I haven't seen the footage color corrected yet, so I don't know the results of this, but we followed that advice.
On the opposite end of the spectrum, near the end of our shoot I tried a shot in light which was at least two stops below our exposure to see what we'd get. I couldn't see anything in the viewfinder when our characters went into the shadows, and guessed at the focus. So, I basically just assumed this shot was lost and we reset in a brighter location. (We tried to do the shoot from 5pm through magic hour into the night using only available light to see what we'd get.) However, when we looked at the footage on our computer there was an image. I'm really interested to see this on a studio monitor, as we only have a 32 inch HD apple display at home.
RED HARD DRIVE
We shot onto one of the Red 320Gig drives. This attaches onto the camera in a slot which holds the hard drive and the battery. This giant block of heavy plastic can then be attached to the camera anywhere you want it… but it remains heavy. Something we learned is that the hard drive is quite sensitive to shaking. We shot on the Manhattan bridge looking down into China town and whenever a train came by we started dropping frames. We knew we were dropping frames because there's a handy graphic which shows you if you drop frames during a shot. If we were hand held this wouldn't have happened, but the vibrations carried through the sticks to the camera were more than the hard drive could handle. The solution was to have our friend who owns the Red and loaned it for our shoot, Jason Diamond, hold the hard drive. I'm curious about car mounts though, and I wonder if recording onto the smaller cards would be able to solve this vibration problem.
DOWNLOADING
Transferring the footage was a breeze. You firewire800 it to your computer and just drag the files onto the hard drive. No software is necessary. Looking at the footage requires an Intel processor on the Mac I'm told. We have an Intel based Mac so we didn't have any problems with this. Each Red file comes in a folder with 4 Quicktime "wrappings." I'm not sure about this terminology. Basically, you can look at the footage in full resolution or compressed by selecting the different QT files. They're not full QT movies, they really just reference the original Red file. I'm sure there's a lot more information on this on the Red website, but for me it was easy to get the footage into Final Cut to look at it. One just drops the "M" file into Final Cut and then it plays right away. The EDL will then reference back to the original files when we online. I'm assuming, fingers crossed.
IMAGE QUALITY
Unbelievable. Basically, we're editing using the smallest QT "wrapping" they have. However, you're welcome to open the larger one if you wish, I just don't think our computer could handle editing that file size. We have a 32 inch HD Apple Monitor. When you open the full size file it doesn't fit on the screen by a long shot. It's probably 3-4 times larger than our screen. Unbelievable.
We shot our first feature on a Sony PD100 and a small one-chip Sony. We then did a 4k blow up in Warsaw. When you watch the film on 35mm you're basically seeing giant squares move around the screen, especially on the 1-chip sections.
We shot our second feature on the 24p Panasonic Mini-DV camera and did an HD blow up. This I think looked amazing when it was projected.
We then shot So's most recent feature on super-16mm and did a DI with "grain reduction" to 35mm blow up. Obviously, film carries light in a special way and you can really see it when projected. But, in terms of detail you still feel the grain of the film.
Looking at this Red footage is totally different than any of our other experiences. It's like looking at high quality digital stills. The amazing thing is that it has the depth of field of a 35mm camera because of the lenses and digital aperture built into the camera. The only reason to shoot on 35mm would be to get the feel of the light that only film can handle. But, in terms of tonal range I think this is really close.
Basically, I've been waiting a very long time to shoot on 35mm and we have a feature lined up to do on 35mm next year. This is the first time I've actually began to think about doing it on the Red. It's really really amazing.
LAST THOUGHTS
So Yong and I were talking about the shoot last night after seeing the footage for the first time and we began to get into a conversation about of the "language" of film and how our we've approached our films based on the technology we've been using.
Up to this point, I'd say all of our films have been quite "subjective" because they are primarily composed of close-ups of the protagonist, and the protagonist's POV's. Part of this comes from our approach to the films, but also from the fact that if you shoot really wide shots in 16mm or mini-dv you get a sort of unintentional distracting blurriness. Not because the image is falling out of focus, but because there's not enough information on the recording material.
In the new film we our currently prepping for, I have a feeling I want it to be more "objective" in terms of some of the storytelling. Using this camera is a way for me to help see the world with a different eye and open those new options. Because when you watch this footage, it feels like you're standing on the location looking at the characters in the world as you would see it normally, not as if it was compressed into a small video file. I think overall, we try to make films which feel like you've stepped into someone's world and you have to absorb their life by watching it. Using the Red I think will hopefully just make that world seem more real.