Back to selection
25 NEW FACES UPDATE #8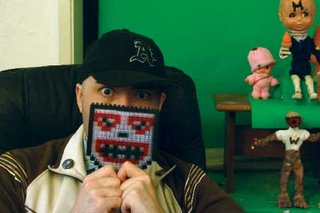 M. Dot Strange, writer/director, 2007: Since being the only one hiding his face amongst the 25 I posted my animated feature film We Are the Strange on youtube subtitled in 17 languages where combined it has been viewed over 1.1 million times adding to my international audience. I did an animated music video for the NYC band "Mindless Self Indulgence" for the song "Animal" and it was included with the bands new album "IF" I'm currently completing the animatic for my new animated feature film Heart String Marionette. It is scheduled to be completed in January 2010 with production beginning in February 09, and is completely self funded thanks to the DVD sales of We Are the Strange. I've also been lucky enough to be flown to 7 different countries for speaking engagements since I was in the magazine, and they keep inviting me.
My advice to the new 25 faces… Do something to stand out from the crowd… don't just climb the Hollywood ladder and do the things that are "good for your career" as your agents and lawyers might tell you. Do what feels right… If you just want to be another rich director jerkface driving around L.A. in a black BMW banging talking blowup dolls then do that… but if you make films for reasons other than fame and fortune follow your heart… not the people waving the paychecks… Money talks… but it doesn't mean you have to listen. This is a new time… a new age wherein filmmakers have the opportunity to make their films their way… Will you make something completely new and unique or will you just be another brick in the wall to be forgotten and stepped by bolder filmmakers in the future? Thats the question you need to answer.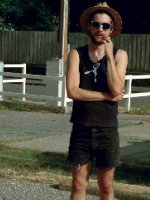 Kentucker Audley, writer/director, 2007: Kentucker Audley's first feature 'Team Picture' will be released by Benten Films August 26th 2008. He is currently editing his 2nd feature, untitled at the moment. It'll raise the question: how much of this was improvised? Attend a film festival for the answer.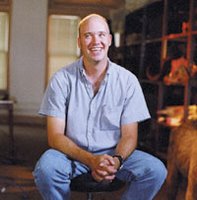 Brett Ingram, writer/director, 2003: I was fortunate enough to be included in the Summer 2003 edition of "Faces" when I was working on my first feature length documentary, MONSTER ROAD, about Seattle animator Bruce Bickford.
Since then…
I completed MONSTER ROAD and…
MONSTER ROAD won Best Documentary at the 2004 Slamdance Film Festival, 2004 Ann Arbor Film Festival, 2004 Independent Film Festival of Boston, and won 13 other awards before airing on Sundance Channel for two years.
Last year, I was awarded a Fellowship from the John Simon Guggenheim Memorial Foundation in support of my second feature documentary that I'm just finishing up now. The film is entitled ROCATERRANIA and it's the story of 76-year-old scientific illustrator Renaldo Kuhler, who invented an imaginary country (you guessed it, "Rocaterrania") when he was a teenager and has secretly illustrated the nation's history in notebooks for the past six decades. As it turns out, the history of Rocaterrania is the coded story of Renaldo's own life as a troubled outsider.
I'm just beginning to submit ROCATERRANIA to festivals now, so the premiere date and location is still up in the air. Here's a link to my website with the trailer for ROCATERRANIA:
Brett Ingram
Rocaterrania clips.
This year, I also released Bruce Bickford's animated film, PROMETHEUS' GARDEN on DVD after the film lay dormant for 20 years on a shelf in Bickford's basement:
On a personal note, I got married in 2004 to Dorothy Hans and we honeymooned in Annecy, France, where MONSTER ROAD was playing at the Annecy International Festival of Animation. Last year, we had our first child, a daughter, Nuala Siobhan.
That's about it.
Hope all's well in your world. I'll keep you posted on ROCATERRANIA.
Thanks for championing true independent filmmaking. Viva Filmmaker Magazine!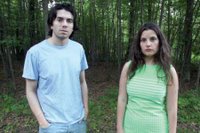 Brian Cassidy and Melanie Shatzky, writer/directors, 2007: We have two projects that we are currently working on.
"Francine" is a narrative feature about an aging inmate on parole who moves to a dreary lakeside town and takes a series of jobs working with animals where she is forced to reconsider the meaning of captivity. The project is currently in development and was recently selected for Cinemart at Rotterdam.
"The Patron Saints", currently in production, is a disquieting documentary that centers around a beautician who works from the basement of a nursing home. The beautician, herself approaching old-age, narrates this episodic portrait about the present day realities of her customers, many of whom face great physical and emotional challenges, as they make the most of the time they have left. "The Patron Saints" will participate in this year's upcoming Spotlight on Docs section of Independent Film Week.