Back to selection
"LOUIS C.K.: HILARIOUS" | director, Louis C.K.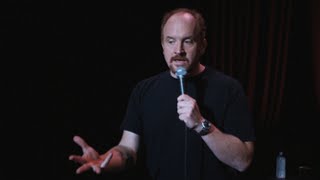 [PREMIERE SCREENING: Tuesday, Jan. 26, 5:30 pm — Library Center Theatre, Park City]
The hardest decision was the location. I had to choose between Boston, Milwaukee, Cleveland and Minneapolis. The criteria was that I needed a theater that I could sell out twice in order to shoot two performances. Those were the cities where I was selling tickets the fastest.
Minneapolis has great crowds but the theater is white and kind of sterile and the audience is separated from the stage. Cleveland is great but the show I had booked there was a little too late in the year. I wanted to shoot this when the material was peaking. By Cleveland, it would have gotten stale. Boston is my hometown and the Orpheum Theater, where I played in Boston, is a gorgeously disgusting old place where rats have been known to come on stage during shows. But it's 2,600 seats and that's a lot of tickets to sell twice over.
Milwaukee won because it's a worn-out old place with a long history dating back to vaudeville, but it's also snug and intimate. We sold many tickets there very quickly. I don't have much personal history with Milwaukee but I've played there throughout my career and always found the crowds to be a perfect mix of people who are very ordinary and yet up for going anywhere I felt like taking them.
In any case I agonized over the location a lot because that one decision impacts every frame of the film, which takes place in only that location.