Back to selection
Lady Vengeance: The Genre Fan's Guide to Jim Henson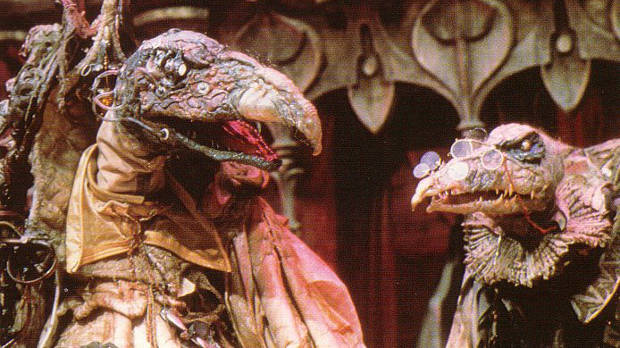 By now many have experienced the clever, goofy, unfiltered joy of The Muppets, a film whose  success reflects the plight of its characters – out of the spotlight for far too long and working their way back into the the public consciousness. While the film's potent mix of charm and nostalgia is undeniable (if you didn't tear up during the performance of Rainbow Connection, you're inhuman), it might leave some of us hungry for more, and I don't mean the soft stuff. While the film is true to one facet of Henson's work, he was a mad, prolific genius who got involved with many projects in which the touches of the dark or surreal that only made the occasional appearance on his most populist fare like The Muppet Show and Sesame Street were allowed to fully develop.
Below, ten of the most wonderfully weird works from the sometimes-twisted mind of Jim Henson.
VISUAL THINKING (1960s)
In some of his earliest work Henson seemed fascinated by brain function and found creative, comical, but seriously strange ways of exploring it visually. Embedded in this episode of the very kid-friendly series Sam and Friends is not only an early Kermit, but a bit that imagines what it would be like if we could give words, thoughts, and music physical shape, a sophisticated joke in addition to being a pretty meta- meditation on what Henson does; make imagined creatures, fictional worlds, and abstract ideas a physical reality.
TIME PIECE (1966)
An experimental short combining live action, archival footage and animation that was nominated for an Academy Award, Time Piece is a highly rhythmic journey through time via the explosive moments contained within the quotidian, such as the instant a bowling ball hits the pins, the spark of a lighter jolting to life, or the freefall that occurs after the "boing" jumping up from a diving board. Henson connects seemingly disjointed images through his protagonist, who runs  back through the history of human culture, and single elements such as a distinctive color, sound, or type of action.
RIPPLES (1967)
This short film (and clocking in just shy of a minute, I mean very short) features an existential architect whose simple act of dropping a sugar cube into a cup of coffee sparks a multi-layered reflection on human civilization, from artifacts, to art, to family. It's little piece of science fiction that underscores the ability of the human brain to function as the ultimate time machine, and with its unnerving, sped up journey through advertisement-style pop culture images of what it means to be human, was somewhat reminiscent of a film I reviewed earlier this year – The Man Who Fell to Earth.
THE CUBE (1969)
Among Henson's more dystopian efforts is The Cube, a surreal hour-long television collaboration with Jerry Juhl for NBC. An unnamed man is trapped inside a white tiled room that resembles a bar bathroom for unnamed reasons, and while he seems to be unable to leave, others can come and go freely. Parodies of cultural tropes of the time – the groovy folk singer, the jet-setting designer, the swinging femme fatale, the jargon-spewing physician – come in to distract from or highlight the hero's plight, providing discomfitingly vague commentary on American society in what is ultimately an unconventional horror movie.
LIMBO, THE ORGANIZED MIND (1974)
At first glance, this short about the workings of Jim Henson's own brain, which aired on The Johnny Carson Show when Henson was a guest in 1974, appears to be a sweet reflection on the artistic process. But considering what this reflection entails – creepy animated string facial features standing in for Henson as he narrates in a voice much gruffer than the one we associate with Kermit, floating over smoking, bubbling depictions of neurons and memories, scored by experimental jazz musician Raymond Scott – this film actually has a lot more in common with Henson's dark science fiction ruminations than might initially seem to be the case.
THE DARK CRYSTAL (1982)
Unlike much of his work in the 80s and 90s which featured a mix of puppets and people, The Dark Crystal consists almost entirely of his felted creations, deepening the sense of a universe that is completely other, yet includes our moral constructs and some vaguely humanoid creatures. His message about good and evil being flipsides of the same coin, and the necessity of this duality for equilibrium, is deceptively simple, a rather ambiguous conclusion for a so-called children's film. It is truly astounding when the craggy, villainous Skeksis and monk-like Mystics morph into one balanced being.
FRAGGLE ROCK (1983 – 1987)
Oh, does nostalgia and have you recalling Fraggle Rock as just a bunch of cute furballs singing about being friends and stuff? Then you must have forgotten the trippy premise of the show, in which the Fraggles and the world they inhabit, Fraggle Rock, is contained within the space behind the wall of a gentleman named Doc, and that one of the Fraggles was a "space explorer" who reported back to his people about the "aliens," meaning us wacky human beings. The interplay between the world of humanity and Fraggle Rock, and the mirror it holds up to society a la more conventional alien fare, pushes the series into genre territory.
LABYRINTH (1986)
Always one for ingenious, unexpected casting, Henson thrust David Bowie into what became one of his most iconic roles as the Goblin King in this dark coming of age tale which appropriately toes the line between child-like adventure and their adult consequences. Although his spandex-clad, disturbingly sexual form is often the first image of the film that comes to mind, Labyrinth's puppet cast, like Bowie's misshapen goblin minions or Hoggle, the cowardly gnome, are stars in their own right, as are the Freudian, surreal, pulsatingly atmospheric set pieces.
THE STORYTELLER (1988)
Ahead of the revamped-fairytale trend that seems to be all the rage these days, Henson created this series of his interpretations of classic European folk tales (like those of the Grimm brothers), as well as a few stories culled from Greek Mythology, and invited Anthony Minghella to direct. The thirteen stories feature all of the magical happenings, bizarre twists of fate, and cruel and unusual violence expected and enjoyed of classic fairytales, but is elevated by the framework of the narrator and his snarky talking dog sidekick, who usually become integrated into the yarns they weave.
THE WITCHES (1990)
Henson Executive Produced this adaptation of the book by Roald Dahl, another artist who wasn't afraid to keep it real for children, and the film was directed by unlikely candidate Nicolas Roeg. It isn't just the impressive animatronics and puppetry in this tale of a witch conspiracy to turn the world's children into mice that bears Henson's creative stamp; like much of his work, The Witches is a film for adults that children happen to love. It is legitimately terrifying, unexpectedly funny, and features Anjelica Houston in what is, as far as I'm concerned, one of the finest roles of her career.
Many of Jim Henson's rarities are also on view at the excellent Museum of the Moving Image exhibit Jim Henson's Fantastic World, on view through January 16, 2012.
FARIHAH ZAMAN began working in film as a Programmer for Film South Asia documentary film festival before moving to New York in 2005, where she was the Acquisitions Manager at independent film distribution company Magnolia Pictures. In 2008 she coordinated IFP's No Borders program, the only international co-production market in the US, before becoming Program Manager of The Flaherty Seminar until 2010. Farihah currently writes for The Huffington Post, as well as online film journal Reverse Shot, among others.