Back to selection
MUMBLEBEFORE: RICK LINKLATER'S SLACKER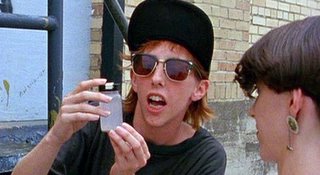 From Matt Dentler and Cinetic Rights Management comes news that Rick Linklater's seminal indie, Slacker, is now available for free viewing on Hulu.
When, in 1996, Filmmaker picked the 50 Most Important Independent Films, Slacker was number 10. Here's what we wrote:
Rick Linklater's Slacker was rejected by several domestic festivals, but then a Film Comment scribe spotted the film at the Seattle Film Festival and wrote a laudatory piece. And when a tape made its way to John Pierson, who forced distribution execs to travel to Linklater's hometown of Austin to attend the film's run at the local Dobie Theater, one of the brightest indie directorial careers of the '80s and '90s was born. Slacker, Linklater's second feature (his first was a little-seen 89-minute Super-8 epic titled It's Impossible to Learn to Plow by Reading Books), was both a no-budget feature which inspired a score of Gen-X philosophizing and a film-savvy work informed by Linklater's days running a local film society. A La Ronde-ish jape in which the camera follows a succession of deadbeat characters, Slacker was capable of both entertaining and boring while always convincing the viewer that a potentially more engaging subject was just a scene or two away.
Kevin Smith, who is a big fan of the film, has a great post on the Hulu blog about discovering the film. Here's his lede:
August 2, 1991. The day of my 21st birthday. Most folks elect to cut loose and enjoy the freedom that turning 21 affords. I, however — being a total loser — opted, instead, to take the 50-mile drive up the Jersey Turnpike with my friend Vincent Pereira so we could peep a film reviewed, quite favorably, by J. Hoberman in the Village Voice. It was unheard of in my neck of the woods to drive that far to see a movie (let alone a movie with zero movie stars in it), but the promise of a scene centered on a Madonna pap smear of questionable authenticity was bait enough to lure us from the Jersey 'burbs into the wilds of Manhattan-after-dark.
Also, sections of Linklater's Slacker book are available for free preview on Google Books.
Check out the film and the lively comment thread, which seems to be all about the fear of a One World government and the observation that if you look closely 58 minutes in you'll see a Ron Paul poster.