Back to selection
MAN ONLINE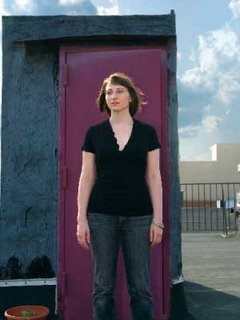 One of the past year's best shorts is now online, courtesy of New York Magazine's Vulture. I'm not sure I'd describe Myna Joseph's Man as the tale of "creepy sisters into the woods," but it does beautifully capture a particular and not often seen on screen sisterly dynamic having to do with burgeoning sexuality, competition and love. Here's what Brandon Harris wrote about Joseph when we selected her for our "25 New Faces List":
A simple and startling premise, the rivalry that exists between sisters, especially when a strange, cute boy is involved, grows into an arresting account of female adolescent sexuality in Myna Joseph's fantastic graduate thesis film Man. Another terrific product of Columbia's graduate film program, Man bowed at Woodstock last year and played Sundance and New Directors/New Films before being chosen for the 40th Director's Fortnight in Cannes, where Joseph was one of only four American directors invited. Initially planned for an even younger pair of girls, Joseph struggled to find actresses who were mature enough to embody the roles. "It's about how sex is a chasm that the older sister jumps over while the younger sister is left behind," says Joseph. "When we couldn't cast those girls, I ended up bumping up the ages and I rewrote the script. That's how I came to what I think is a much more interesting and complicated situation."

Joseph, who lives in Harlem with her boyfriend John Magary, himself a budding young director (he gripped on Man while directing the lauded short film The Second Line), came late to filmmaking. She majored in biology as an undergrad. "If I met my younger self now, I'd be shocked that I became a filmmaker," she says. "It was during college in Boston that I took a Super 8mm class that totally opened my eyes. It was like reading for the first time. It was like, 'What the hell have I been doing! Why haven't I been doing this?'"

Clearly a director who is interested in provoking and challenging the audience, Joseph is currently at work on a feature script entitled My Favorite Nightmare. "It's about a girl who finds herself pregnant," she says. "We meet her when she's on her way to meet the young father. She goes to tell him, but she has second thoughts about telling him. She wants to make him into the person she wants him to be. In some ways it's a reaction to a lot of films that have been about pregnancy recently, where the girl enables the schleppy guy who knocked her up to fix his life."
Photo: Richard Koek. Hat tip: Spout.