Back to selection
RANDALL SHARP, HENRY MAY LONG AND MAX RICHTER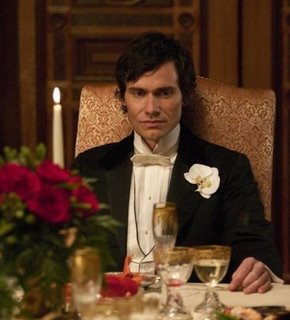 Over on the main page, check out Alicia Van Couvering's interview with Randall Sharp, director of the indie anomaly Henry May Long that plays at New York's Sunshine Theater this week. I call it an anomaly, because you don't see many elegant turn-of-the-centry period dramas arising from the Gotham indie scene. Here, Sharp tells Van Couvering why she chose to set her tale in 1887:
I felt like setting it in that period would wake up the story again. Otherwise it's just another guy shooting heroin, another gay guy who loved a straight guy. Also it's a way to say, have we really come that far? These people are suffering back in this period, and there are people suffering in exactly the same way, today. Some guy messed up and spent his father's money, accidentally started taking Laudanum, I mean have you not heard that story last week? Problems with your social position, with not being rich… these are universal, timeless problems. I thought that maybe people could look at the story with a new eye, because it was set in another world. We wanted to set it in that period to show that people back then are exactly the same as they are now. Death walked next to them more than it does now, but basically people are the same, bumbling through their lives trying to get love.

To me, the 19th-century is the tipping point of the modern world. It's like the last time we had one foot in the past and one foot in the future. 1887 is only a few years before World War 1, and then only a few years after that until the atomic bomb. Some people's lives spanned that entire period, from what could really be the pre-industrial past to what was the modern future.
Henry May Long is scored by the great Max Richter, whose "H in New England," contained in a truncated "ring-tone" form on his new 24 Postcards in Full Colour, can be heard on the film's website. In a previous post, I wrote about the great compositional miniatures on this album, and it's nice to see them not expanded for use in film.