Back to selection
AT SUNDANCE, YOU CAN TAKE THIS MAGAZINE AND…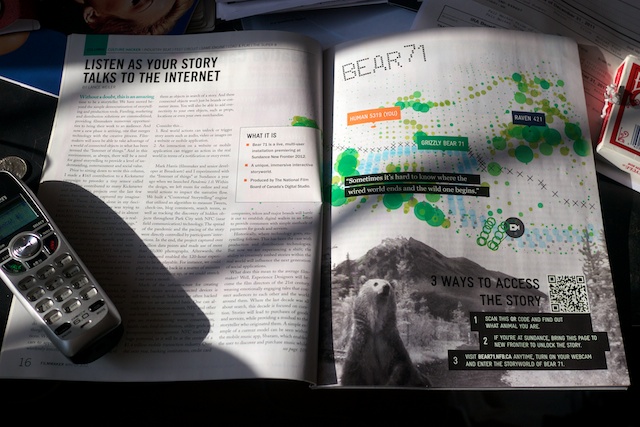 After you get your condo keys, stock up at Albertson's, and pick up your badge, you'll also want to grab the new issue of Filmmaker Magazine once you get to Sundance. Oh, wait, you do that every year? Well, this year especially don't forget to stuff that Filmmaker in your bag because you'll need it to get the most out of Bear 71, a piece showing at the festival as part of its always-exciting New Frontiers section.
About Bear 71 from the Sundance catalog:
Jeremy Mendes and Leanne Allison's poignant interactive documentary about a bear in the Canadian Rockies illuminates the way humans engage with wildlife in the age of networks, satellites, and digital surveillance. Audiences from around the world can use their smartphones to become part of an interactive forest environment rich with bears, cougars, sheep, deer, and people as they follow an emotional story of a grizzly bear tagged and monitored by Banff National Park rangers.
Turn to Lance Weiler's "Culture Hacker" column, read about his work on the piece, and then take the article to the show. By scanning the QR code on the page a new part of the story will be unlocked for you. To experience the piece online, visit Bear 71.